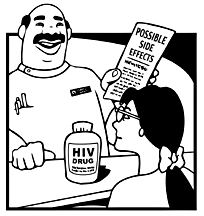 HIV drugs help HIV+ people live longer lives with fewer illnesses. But there are potential side effects associated with all of the drugs. Some of the side effects are worse in women than in men. Fortunately, side effects do not happen all the time and do not happen to everyone.
Anemia
Anemia is a low red blood cell count. Without enough red blood cells, you feel tired. Women in general are at a higher risk of anemia because of blood loss during menstrual periods.
Anemia is common in HIV+ women and can be worse if CD4 cell counts are less than 200. It can be a side effect of AZT. Your doctor can run a blood test to check for anemia.
Skin Rash
Several HIV drugs can cause a skin rash, especially Viramune, Sustiva, Rescriptor, Agenerase and Ziagen.
Women are seven times more likely to get a rash from Viramune than men. If the rash is severe, you will need to switch drugs.
The rash from Ziagen can be caused by a dangerous allergic reaction. If it is, you must stop the drug.
If you develop a rash, get it checked out immediately. It could be a sign of something serious.
Liver Damage
Liver damage is most common with Viramune and the protease inhibitors. Women (including pregnant women) starting on Viramune with a CD4 cell count greater than 250 are 12 times more likely to develop liver problems than other patients. Risk of liver damage is also high in HIV+ people who have hepatitis B or C.
Advertisement
There may be no symptoms of liver damage, although some people do have nausea, vomiting,
fatigue
or yellow eyes and skin (jaundice). It is important that your doctor run liver function tests while you are on HIV drugs, especially if you are just starting
Viramune
.
High Blood Sugar
High blood sugar can be a problem with HIV drugs, especially the protease inhibitors. People who already have diabetes must check their blood sugar carefully while on HIV drugs.
There have also been new cases of diabetes in people on HIV drugs (including pregnant women). Some symptoms are feeling very thirsty and hungry and urinating a lot. Ask your doctor to check your blood sugar along with your regular labs.
Lactic Acidosis
Lactic acidosis is a buildup of acid in the blood that can be fatal. It sometimes occurs along with fatty liver (steatosis) or an inflamed pancreas (pancreatitis).
The combination of d4T and ddI can cause lactic acidosis, especially in pregnant women. Pregnant women should never use this drug combination and nowadays it is almost never used in starting regimens for anyone with HIV.
Let your doctor know if you have any of the symptoms of lactic acidosis: nausea, vomiting, diarrhea or belly pain. The doctor can run lab tests to check for lactic acidosis.
Bone Problems
Decreased bone density and hip and joint problems can be a side effect of the HIV drugs or HIV itself. Severe decreases in density lead to thin or brittle bones (osteoporosis). Women, especially post-menopausal white or Asian women, are at the highest risk for osteoporosis.
Your doctor can do a DEXA scan or ultrasound to see if you have decreased bone density. He or she may recommend calcium, vitamin D, exercise and quitting smoking to maintain bone density. Some post-menopausal women also take hormone replacement therapy to slow down bone loss.
Body Fat Changes
The location of fat in your body may change while you are on HIV therapy. Some women report extra fat in their bellies or upper back and enlarged breasts. They also report thin arms and legs and a sunken face. The longer you are on therapy, the more likely you are to experience these changes. Research is ongoing to find out how to prevent or reverse body fat changes.
Increased Blood Lipids
Increased fats (lipids) in the blood, such as cholesterol, have been reported with protease inhibitor therapy. High cholesterol may increase the risk of heart disease. The risk is highest in people who smoke, do not exercise and eat a lot of saturated fat. Living a healthier life will help your heart!
Keep your doctor informed if you experience side effects so that any problems can be addressed quickly.
Anne Monroe is a medical student with a longstanding interest in HIV clinical trials.