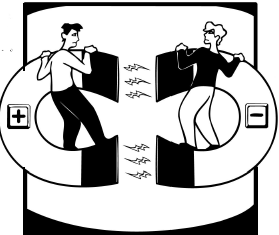 The technical name is "serodiscordant" relationship. The term many people prefer is "magnetic" -- one HIV-positive partner, one HIV-negative partner. Either way, it's a unique relationship, with special blessings and uncommon pitfalls.
Ninety percent of the issues that arise in a serodiscordant relationship are the same issues that affect any relationship: who was supposed to pick up the dry cleaning or whose turn it is to cook dinner. However, the other ten percent can have quite an effect.
Money can be a big issue, especially if the positive partner can't work and feels guilty about it and/or ran up a lot of debt in the past. It's important for the positive partner to research and take advantage of any programs that are available for financial assistance, but otherwise to let go of the guilt. For the negative partner, it's important not to confuse money with power.
Overspending can happen. Sometimes it's the positive person trying to get or do everything, and sometimes it's the negative person thinking the partner deserves everything he or she wants, because of the illness. Try to be realistic. No one gets to do or have everything he/she ever wanted. Overspending on either person's part can eventually tear a relationship apart.
Advertisement
Disclosure of the positive person's HIV status can be an issue, if one person wants to disclose to more people than the other. The hard and fast rule is:
except for medical necessity, the information is absolutely under the control of the positive person.
If you're the negative partner and you really want to tell your mother, but your partner says no, you don't tell. While you can reasonably demand at least one person to talk to, your partner may insist that it be a counselor or other professional who is bound by confidentiality. You may not like this or think it is paranoia. But while you can discuss and negotiate, his/her desire is law on this.
Another touchy issue can be knowledge and discussion of health matters. Some negative partners complain that they are left in the dark: "She never lets me go with her to the doctor," or "He won't tell me what his numbers are."
Meanwhile, some positive partners feel that their sweethearts are too pushy or inquisitive: "I feel like she's in a constant panic, when I'm doing fine," or "I haven't had anyone come to the doctor's office with me since I was eight years old and I don't want to start now."
As with most couple's issues, communication and negotiation are the keys. It's important for negative partners to remember the strain that comes with living with HIV; just taking medications is a constant reminder of the virus. Even those who are healthy are constantly bombarded with reminders that they are no longer like everyone else.
Positive partners need to admit that if the situation were reversed, they would be worried about their partner's health. So provide as much information as you can; lack of knowledge increases fear. If your partner's concern bugs you, try to make specific behavioral suggestions rather than blanket statements.
Sex is one of the first issues everyone thinks about with serodiscordant couples. However, many are able to find a happy and mutually satisfying sex life.
When serodiscordant couples report problems agreeing on safer sex, it is often the negative person who is pushing for sexual activity that the positive person feels uncomfortable with, rather than the other way around. Regardless of who's pushing who, always remember the cardinal rule of consenting adult sex: if either person does not want to engage in an activity, that person has the final say.
The person who "really wants" X, Y or Z has options. He or she can try persuasion, can give up or can decide to end the relationship, but cannot insist on something the other person just isn't comfortable with.
What about dealing with the fear that the positive person will become ill or will die? Truthfully, the uncertainties of life exist in every relationship. When one member of a couple is positive, that fact becomes harder to ignore. Always remember: plan for the worst, hope for the best and remember that reality will likely be somewhere in between.
Sandra K. Trisdale, Ph.D., an expert in HIV and mental health, writes frequently for PositiveWords, WORLD, and other HIV-related publications. She lives in San Diego, CA.