Who CCR5 Inhibitors Can Help
No matter how great an HIV medication looks on the drawing board, the reality is that not everybody will be able to benefit from it. The most effective HIV meds we have do a stellar job of fighting the virus, but there will always be some people for whom they just don't work because of HIV drug resistance. When it comes to CCR5 inhibitors, that number is larger than for the average HIV medication and it has nothing to do with resistance. The reason has to do with the way in which CCR5 inhibitors work.
CCR5 inhibitors are named for the coreceptor they block, the CCR5 (sometimes called R5 for short) coreceptor. Some forms of HIV, however, use another coreceptor to enter immune cells: CXCR4 (R4 for short).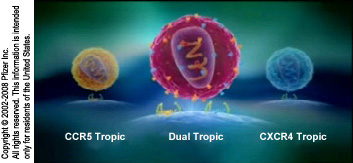 HIV can use different coreceptors to get inside a CD4 cell. The type of coreceptor HIV uses is called its "tropism."
HIV that uses the CCR5 coreceptor is called CCR5 tropic (or R5 tropic), while HIV that uses the CXCR4 coreceptor is called CXCR4 tropic (or X4 tropic). Some HIV can even use both types of coreceptors; these are called dual-tropic viruses. (If a person has some R5-tropic HIV and some X4-tropic HIV in his or her body, we say that person has mixed-tropic HIV.) CCR5 inhibitors will only work if virtually all of the HIV in your body is CCR5 tropic.
What are the odds your HIV is CCR5 tropic? That depends: Research has shown that people who were recently infected, or people who have little to no resistance to HIV meds, are very likely to have CCR5-tropic HIV. Only about half of so-called "treatment-experienced" people -- people who have already taken a lot of different HIV treatment regimens -- are CCR5 tropic. That's unfortunate, because Selzentry has only been approved for use in treatment-experienced people.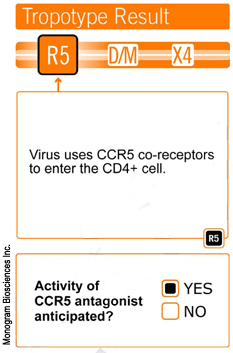 To find out whether a CCR5 inhibitor would work for you, you need to get a tropism test. Above are the results of an actual tropism test. Click here to view the full test.
Tropism Testing
So how can you tell whether you might benefit from a CCR5 inhibitor? A simple blood test called a tropism test can determine whether your HIV is CCR5 tropic, CXCR4 tropic, dual-tropic or mixed-tropic. In fact, getting a tropism test before you decide whether to start a CCR5 inhibitor is a must, because the drug won't work at all unless you have CCR5-tropic HIV. Fortunately, although tropism testing is expensive, most public and private health insurance plans will cover it.

What If You're Not CCR5 Tropic?
Unfortunately, as we mentioned above, many people -- especially those who have developed resistance to many HIV drugs -- have CXCR4-tropic, dual-tropic or mixed-tropic HIV. A doctor won't prescribe a CCR5 inhibitor if this is the case, because studies have shown that CCR5 inhibitors have no effect on those types of HIV.
Meanwhile, researchers are working hard to figure out whether CCR5 inhibitors will be a good option for people who have never taken HIV meds before. Expect to hear more over the next few years about using CCR5 inhibitors when choosing your first HIV treatment regimen.