From The Body
Introduction
This video's terrific imagery may help you understand how CCR5 inhibitors work even though the narration is overly technical. To view, click on the image.

Copyright © 2002-2008 Pfizer Inc. All rights reserved. This information is intended only for residents of the United States.
It's an exciting time in the world of HIV treatment. There are more HIV medications available now than ever before. The new generation of medications, ushered in over the past several years, works better against HIV and seems to have gentler side effects than the meds of the 1990s. But with so many new medications to choose from, getting to know the good and bad points of each can be a challenge.
Take, for instance, a completely new family of HIV medications known as CCR5 inhibitors or CCR5 antagonists. CCR5 inhibitors burst onto the scene in 2007, when the first CCR5 inhibitor, Selzentry (maraviroc, Celsentri), was approved in the United States. With Selzentry's approval came a rush of questions from HIV-positive people and health care workers: How do CCR5 inhibitors work? Who should take them? How does a person know if a CCR5 inhibitor will help his or her viral load become undetectable? What are the side effects and other risks associated with them?
Fortunately, all of these questions have answers -- and in this article, you'll learn all you need to know about the basic ins and outs of CCR5 inhibitors.
What Makes CCR5 Inhibitors Unique
Most HIV drugs attack HIV head on. Like an army charging into the enemy, the typical HIV drug takes aim directly at HIV. However, with CCR5 inhibitors, we have a completely new breed of HIV medication. Instead of going on the attack, CCR5 inhibitors protect a person's immune system like a fortress. By attaching to the part of your CD4 cells that HIV targets, a CCR5 inhibitor raises the drawbridge and blocks HIV's entry into CD4 cells. (See "Lowdown on How the Different Types of HIV Medications Work.")
How CCR5 Inhibitors Block HIV
To better understand how CCR5 inhibitors work, let's review the basics about HIV. Once HIV gets into your body, it seeks out your CD4 cells and launches an attack. Its goal: to get inside these cells, take control and turn the cells into HIV factories, spitting out copy after copy of HIV. The CD4 cell that HIV has taken over will eventually die, and the new copies of HIV will go on to infect other CD4 cells.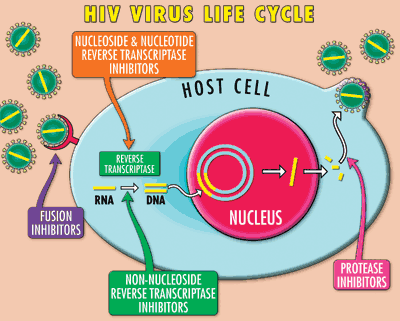 Each type of HIV medication blocks HIV in a different way. Here you can see how each of the older classes of HIV drugs interferes with HIV's plans.

Image from www.HIVwebstudy.org, a product of the Northwest AIDS Education and Training Center.
How does HIV get inside your CD4 cells? Scientists have discovered that HIV first grabs hold of a CD4 receptor, a tiny tentacle sticking out of the surface of the cell. (There are many CD4 receptors on a CD4 cell.) Next HIV reaches for a coreceptor, another arm that pokes out of the CD4 cell near the CD4 receptor. The coreceptor acts like a keyhole: Once HIV has released the lock, it's in.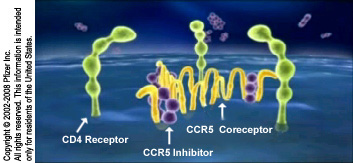 Here is a simulation of a CCR5 inhibitor in action. CCR5 inhibitors (in purple) slide into place within the CCR5 coreceptor on the surface of a CD4 cell. Once they've settled in place, HIV won't be able to lock onto a CCR5 coreceptor anymore, which prevents HIV from entering the CD4 cell and doing its damage.
That's where CCR5 inhibitors meddle with HIV's plans: They plug up that keyhole, preventing HIV from getting inside the cell. Without access to the CD4 cell, it can't set up shop inside the cell, and thus can't harm your immune system or force your cell to pump out more copies of HIV.
In large studies of Selzentry, the medication appeared to do its job exactly as scientists had hoped: When Selzentry was used as part of a specially selected HIV treatment regimen in people whose tests predicted that they would respond to CCR5 inhibitors, Selzentry helped their CD4 count rise and their viral load, the amount of HIV in their blood, fall. (Later in this article, we'll talk more about how doctors can predict who Selzentry will work for.)