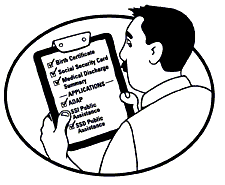 You wait on pill line several times every day. You see a health care provider regularly. You attend a weekly support group. If you are HIV-positive and behind bars, this drill may sound familiar. You may be looking forward to the day when you will be out of prison, but you may also be asking yourself, "How will I fight this virus once I'm out?"
There is no easy answer to this question. But there are of plenty of things you can do from the inside that will help you prepare for living with HIV on the outside. Start early. Contact the discharge planning center 6-9 months before your release date for help gathering your paperwork. Remember that you're not alone and you're not expected to know everything. There are organizations out there that will help you. You may find that taking action while behind bars helps you mentally prepare for taking care of yourself and your HIV once you're free.
Here are some things you can do to prepare for living with HIV on the outside:
Get copies of the following:
Birth Certificate, Social Security card and fee waiver applications.

Advertisement

SSI, SSD public assistance applications.
ADAP (AIDS Drug Assistance Program) application. It must be completed by a correctional health care provider.
Medical discharge summary. It must be current (within 45 days of release) and include: your HIV status,T-cell count, any OIs (opportunistic infections), current medications and a description of your general health.
Connect to services on the outside:
Contact local HIV service organizations. (Ask a health care provider or minister for a resource book or magazines, like Body Poz, that offer listings by state.) Call or write and ask about referrals for transitional housing, drug treatment, medical care, support groups and job opportunities.
Talk to community providers that come into your institution -- they may be great links!
Try to secure yourself a case manager at one of these outside agencies.
Ask about volunteering at local HIV service agencies. This can be a great way to help you ground yourself when you are released, access HIV related services, and create future job possibilities.
For further information on pre-release planning, contact Althea Brooks at the Fortune Society, 39 W. 19th St., 2nd fl., NY, NY 10011; 212.206.7070.
Sarah Leibel is an HIV treatment advocate in San Francisco.