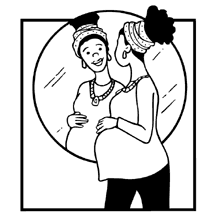 The recommendations for starting HIV treatment are the same for men and women. But for women who are pregnant, things are a little more complex. A pregnant woman has to think about her unborn baby as well as herself. It is important to treat her own HIV infection if the time is right and also to try and prevent mother-to-child HIV transmission.
Luckily, there's help. A set of guidelines for HIV+ pregnant women was released in 1998 and has been updated numerous times since then (the full report is available at www.aidsinfo.nih.gov or by calling 1-800-HIV-0440).
The recommendations say that all HIV+ pregnant women should consider the three-part AZT regimen that has been widely used since 1994 to significantly decrease mother-to-child HIV transmission. Under this approach, AZT is usually started at week 14 of pregnancy (alone or in a combination regimen), intravenous AZT is given during labor and delivery and the baby is then given AZT for 6 weeks.
The guidelines recommend women who are not on HIV medications start therapy after the first trimester (three months) of pregnancy if they fall under the standard recommendations for beginning treatment (CD4 cell count less than 350 and viral load more than 55,000). The guidelines also recommend that any pregnant woman with a viral load above 1,000 should take AZT in combination with other HIV drugs to prevent mother-to-child transmission.
Advertisement
Women already taking HIV treatment who find out they are pregnant during the first trimester should talk to their doctor about the potential benefits and risks of continuing HIV drugs during this time. If the decision is made to stop treatment during the first trimester, all drugs should be stopped and restarted at the same time to avoid the development of resistance. Women who are taking HIV therapy and find out they are pregnant after the first trimester should continue their HIV treatment.
In all cases, if the current HIV regimen does not include AZT, it is recommended to add it. Certain drugs, such as Sustiva and Viramune, and combinations of drugs, such as ddI and d4T, should be avoided or used with caution because of possible side effects in the pregnant woman or developing baby.
A woman in labor who has not taken HIV drugs during pregnancy can still reduce the risk of infecting her baby by using medication during labor and delivery and to treat the baby for a short time after birth. There are a number of HIV drugs that are recommended alone or in combination for this purpose, including AZT, Viramune and 3TC. Finally, babies born to moms who received no HIV treatment at any time still have a lower risk of becoming infected if they are given AZT immediately after birth.
HIV can be transmitted from mother to child at any viral load, but there is evidence that a low viral load decreases the risk. The best way to reduce viral load is through a combination regimen of HIV medications. In other words, taking HIV medications during pregnancy is not just about protecting the baby from infection but also about protecting the mother from disease progression. Keep this in mind when you talk to your doctor about how to have a successful pregnancy for both you and your baby!
Anne Monroe is an HIV clinical trials advocate in New York City.