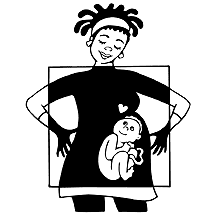 Many HIV+ women are taking HIV medications so they can live longer, healthier lives. As they think about the future, some of these women are deciding that they want to tackle the challenges and experience the joys of being a mom.
For HIV+ women who choose to have a baby, there is good news. Over the years, researchers have learned important lessons about preventing mother-to-child HIV transmission. In a clinical trial called ACTG 076, a group of HIV+ pregnant women took AZT (Retrovir) starting in the fourth month of pregnancy, then received I.V. (intravenous) AZT during labor and then gave their newborns AZT for six weeks after birth. Another group took no treatment. The HIV transmission rate was 25% in the group that did not receive AZT, but only 8% in the group that did receive it.
As soon as the results of the trial were known in 1994, it was recommended that all HIV+ pregnant women take AZT to reduce the risk of transmission. Since that time, the rate of mother-to-child transmission has continued to decrease to less than 2% in women on successful combination HIV treatment. (Other ways to reduce risk include delivering by elective Caesarian section under certain circumstances and not breastfeeding.)
Things are a little more complex these days because more HIV medications are available and they are taken in combinations to avoid drug resistance. Many women are already taking HIV medications when they become pregnant. This can reduce the viral load, which helps keep the mom healthy and reduces the risk of mother-to-child transmission.
Advertisement
Women on HIV drugs who are in the first three months (first trimester) of pregnancy should consider staying on their drugs. However, they should talk to their doctors about the potential harm and benefits that the drugs may pose to a developing baby. Women who decide to stop their treatment temporarily for the first trimester are encouraged to start again in the fourth month, preferably with a combination that includes AZT.
Women who are not already on treatment, or do not find out they are HIV+ until they get pregnant, may also want to consider beginning HIV combination therapy, including AZT, by at least the fourth month of pregnancy. Women who do not take combination therapy at any time during pregnancy can still reduce the risk of transmitting the virus by taking HIV medications, including AZT, 3TC and/or Viramune, during labor and delivery and by administering these drugs to the newborn for a short time after birth. Finally, babies born to moms who received no HIV treatment at all still have a lower risk of becoming infected if they are given AZT immediately after birth.
Don't make these decisions alone. An obstetrician with HIV experience can help you figure out what is best for you and your baby.
Resource: Federal Treatment Guidelines for Pregnant Women (www.aidsinfo.nih.gov/guidelines)
Anne is a medical student with a longstanding interest in HIV clinical trials.