"I am 45 years old, I've been living with HIV 27 years, and I'm undetectable," says Chicagoan Joy Morris-Hightower. "I've been through every complication of HIV/AIDS in the '90s. I'm a recovering addict and a recovering prostitute -- I really do believe it was an addiction. I was addicted to the money and the drugs that came along with it. I'm grateful that I survived."
Joy told her mother when she was five that she was going to be a girl. "She gave me a whupping and told me I was a boy. But I was still feminine and got beat up by the boys. I suppressed my feelings because of my family's morals, but at 18 I became transgender when I went to the streets. There were no jobs for transgenders, although it's better today. We all wound up in the sex trade."
She says she suffered from depression and fear. "I was in a lot of pain. It wasn't easy to stop drugs. I've relapsed and relapsed since I've been in my recovery, but it was nothing like when I was in my addiction. I was on a suicide mission."
She was diagnosed with HIV in 1986, but believes she contracted it in 1981 from a lover who died in 1984. "The doctor told me I had six months to two years to live. This was when there were no medications, no medical nothing. I went directly into my drug addiction and stayed there for the next 16 years. And when I realized I wasn't going to die and that God had a plan for my life, I changed."
She entered drug treatment at the Haymarket Center in Chicago.
"I had wasting syndrome and was in a nursing home. I was still in my addiction. They gave me hope in Haymarket. They gave me encouragement, they gave me faith. They gave me my life back. I'm truly in debt to them. I left the nursing home and made it to the city in March 2002 and I haven't looked back."
What she found at Haymarket was a loving support she had not expected. "[Counselor and Associate Program Director] Kenis Williams at Haymarket was so understanding and open-minded, not discriminatory. She made me feel that I could do this, that I could recover from my addiction."
It was in recovery that she says she discovered someone else who wasn't discriminatory.
"I didn't realize it until I started working the steps [of Narcotics Anonymous], the whole process is getting back in touch with God. Some people say Higher Power."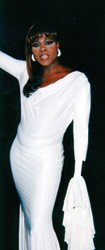 An important part of her recovery was releasing the condemnation she's felt from religious leaders. She believes the eunuchs of the Bible, including Daniel from the Book of Daniel, would be considered transgender today, and that they were glorified, not damned.
"They were considered noble, honorable wise men of that era, but today we have been demonized, ostracized, and outcast. We're told we're going straight to hell. They demonize gay people and say we're an abomination. Meshach, Shadrach, Abednego, and Daniel -- the eunuchs are the ones who will be singing hallelujah to Jesus. They had the favor of God on them and I know God favors me."
She says she uses the term "gay men" because "that's how they put us, all in the same chart."
"[Ministers] Farwell, Farrakhan -- they say HIV is a curse for gays. I know that was a lie because I'm still here. And ministers are still lying. I had believed all those things those preachers said all those years. Being gay meant being HIV-positive. If you're gay, you're already an outcast. Then if you're positive, you're a leper. That's how everyone treated you. But just looking at the evidence, I know that God loves me."
Ironically, joining the recovery support group that Haymarket runs with TPAN helped her greatly, ironically because TPAN was unable to help her 15 years ago.
"It wasn't TPAN necessarily that was uncomfortable as it was the group. I felt out of place in a room full of MSM (men who have sex with men). They talked around me as if I wasn't there. I didn't feel like I could relate to what they were talking about, and there was nobody there like me. I wasn't in denial about my HIV, but it was hard to talk about it. I didn't have anyone to talk to. It wasn't a welcoming feeling and I was discouraged. I didn't feel accepted, I didn't feel welcome. Now [when she returned to TPAN] I didn't feel ostracized, I didn't feel rejected.
Although the support group she attends here today has only a few transgender individuals, Joy feels at home.
"My purpose is to help people. I try to encourage them. I try to show that by me living with this disease, they know they can live," she says. "I tell people, hold on to your dreams.
"You don't have to be ashamed or afraid to talk about this disease, because it's not a curse from God."
The pain she felt before, she says, had come not only from not being accepted for being transgender and for being HIV-positive, but for not having an education. "Basically, I felt like a failure. Today I have my high school diploma and a little bit of college, and I'm gainfully employed. I'm an outreach consultant. My whole philosophy is to prevent this disease."
She has volunteered with the HIV program planning councils for the city of Chicago and the state of Illinois, and several other organizations.
"Today I work with Men and Women in Prison Ministry. I'm on the board of directors developing an orphanage in Africa (www.thefutureofbenin.com)."
Her family has changed with her.
"I talk to my mother all the time, and my father too. Today they are my best friends. They're older and mature, and now understand. Back then they thought it was a phase."
Got a comment on this article? Write to us at publications@tpan.com