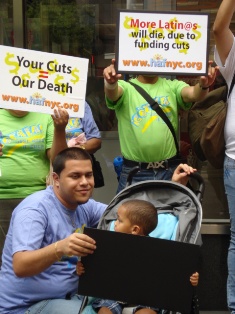 At the ABAC rally: Even kids know ... funding cuts won't end the epidemic
On Wednesday the New York City Department of Health released updated numbers using CDC's methodology that showed HIV incidence rates are higher than previously believed. In 2006, 72 of every 100,000 of New Yorkers were newly infected in 2006, compared to 23 per 100,000 nationally. Half of these infections were among men who have sex with men. Forty-six percent were among African-Americans and 33 percent were Latino.
Assistant Commissioner for the Bureau of HIV/AIDS Prevention and Control Dr. Monica Sweeney said in a release that these numbers "shows who is getting infected now and where we need to direct resources for prevention, testing, linkage to care, and partner notification." In actuality the city and state decreased funding for AIDS prevention and testing this year.
Advertisement
Advocates who hadn't already left for the holiday weekend were outraged but not surprised by the new numbers, which don't signify a rise in new infections, but rather newly reported infections.
"The high incidence numbers are a direct result of programs and policies in New York City that inadequately meet the sexual health needs of gay and bisexual men of color," said Coco Jervis, director of policy for the Community HIV/AIDS Mobilization Project. "New York City and State officials continue to drastically cut already under-funded HIV prevention, education and supportive services around the city, and the communities being hit the hardest are the very ones that are already severely underserved and most vulnerable HIV."
New York City AIDS Housing Network member Robert Jones agreed. "I haven't seen much outreach in the neighborhoods where it's most needed," he said.
Harlem United Deputy Director for Policy and Government Affairs Soraya Elcock said, "It's not enough for the AIDS community to be outraged -- the city and the state needs to be as well. They are the ones who have access to the billboards, they're the ones with the resources to reach people, particularly African-Americans and gay men who are most affected."
Housing Works President and CEO Charles King said, "New York legislators including Mayor Bloomberg, Council Speaker Quinn and Governor Paterson are talking out of both sides of their mouths. On the one hand they say they want to test more people with HIV while on the other hand they are cutting testing and other resources that will keep people alive. They need to get real about what it will take to end the AIDS epidemic in New York, particularly among poor people, people of color and men who have sex with men. Until then, New York legislators are going to continue to be embarrassed by reports like the one the Department of Health released today."
New York City's AIDS organization have begun a spirited fight to push back against government neglect of AIDS services. Two weeks ago, the newly formed AIDS Budget Action Coalition, the brainchild of New Yorkers living with HIV/AIDS, gathered some 150 people representing dozens of the city's AIDS groups for a protest outside of Gov. Paterson's Manhattan office.
Speaking of the CDC ...
Last week the CDC announced that it will be cutting funding for eight states and Puerto Rico for future monitoring using the advanced tracking HIV system. While the CDC doesn't expect this to hurt the accuracy of the overall U.S. numbers, it's a blow to jurisdictions that need the accurate incidence data for their own planning and purposes. In Puerto Rico, tracking numbers are especially abysmal, and the cuts will only make it worse. CHAMP board member Walt Senterfitt said that other "noteworthy losses" are Maryland, since Baltimore is one of the remaining IDU centers of the epidemic, as well as Georgia and Pennsylvania.
But the larger issue is that CDC funding has actually decreased over this decade. Advocates are asking for an additional $1.3 billion in funding.
"The big story is the same as for other particular issues: Rollback the cutbacks!," Senterfitt said. "Expand the shrinking pie to meet the real human needs. To quote Barack Obama in thanking Bill Clinton on Wednesday: 'Put people first!'"
NASTAD executive director Julie Scofield said that because funding allocation is based on the AIDS surveillance system, it's essential that it be stellar.
"In some ways HIV/AIDS surveillance is really the Cadillac of surveillance systems. But it has to be, because of the way we use it," she said. "As long as Ryan White funding depends on surveillance numbers, we're really letting it slide."
To sign on for a $1.3 billion increase for CDC funding. contact Anna Ford at aford@aidsaction.org by September 3.