The Lotus Project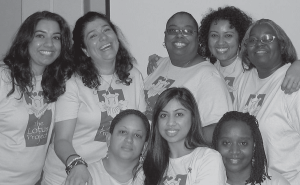 Shailey Merchant, Lotus Project Manager; Alejandra Cano & Anna Jackson, Lotus Project. Trainers; Shalini Eddens, Lotus Project Coordinator; Pat Kelly, Lotus Grad ATL; Christine Gordon Regional Dir. Hope Health; Nitti Champaneria Lotus Project Asst.; and Mulamba Lunda, Dir. Of Program Services Hope Health.
The Lotus Project, a collaborative program between WORLD and the Center for Health Training, continues to grow and blossom. The goal of the program is to increase and strengthen peer advocacy for women living with HIV throughout the U.S. The Lotus Project is funded by the Health Resources Services Administration (HRSA) for five years. At the heart of the project is the belief that Peer Advocates are the key to empowering and supporting women living with HIV. The project takes a community-centered approach partnering with women's agencies around the country to provide trainings to women. These organizations are a vital link to support, information and advocacy for women living with HIV in their community. Many of them are very grassroots with only 2-3 staff members. So far, Lotus has traveled to South Carolina, San Diego, Atlanta, New York, San Antonio, and Seattle, as well as right here in our own backyard of Oakland and San Francisco providing training in English and Spanish. 150 women from ages 19 to 67 have participated in Lotus and are blossoming in their journey towards growth. For some women, the Lotus training leads towards volunteer paid work, or simply educating others about HIV.
Advertisement
WORLD's HIV University Goes to South Africa
In the small township of Mpophomeni, South Africa a group of about 15 HIV positive women are coming together to learn about WORLD's HIV University program. HIV University is an HIV/AIDS treatment and advocacy course established by WORLD in 1995, by and for HIV positive women. HIV positive women meet in private and decide on the structure of their HIV University, including what topics they want to learn, who they want to teach them, and who else (besides women with HIV) they would like to attend -- such as family members, partners, friends. The students also decide what criteria will be used for graduation, and set their own ground rules.
In 2005, WORLD Board Member Moher Downing visited Mpophomeni with Professor Jane Salomonsen from the University of Oslo in Norway and talked about WORLD and HIV University. HIV has heavily impacted this community, with about 50% of the population being HIV positive. Earlier this year WORLD received an invitation from Professor Salomonsen to work with HIV positive women leaders in the community to launch their own HIV U.
WORLD Staff member, Shalini Eddens, arrived in Mpophomeni in early April to begin work with a small group of positive women. "The women we are working with are incredibly resilient. Many of them are open about their status, but there is also so much silence about HIV in this community, even though there are many organizations and a testing and counseling site in the community. The women are so excited to be able to create something of their own -- they have already chosen some classes and teachers and have great momentum toward getting HIV U running," reports Eddens.
WORLD's Positive Women's Network
We are excited to announce the formation of a new national program! WORLD's Positive Women's Network is a national membership body of HIV-positive women designed to strengthen our power at a national level to create and demand policies and programs that fit the realities of our lives. All women living with HIV are welcome to join to ensure that their voices and issues are heard! PWN membership forms can be found on our website. All information is confidential. More information about the Network, as well as regionally based PWN caucuses, will continue to become available as the Network develops.
POWERR (Prevention Outreach with Women Empowering Risk Reduction)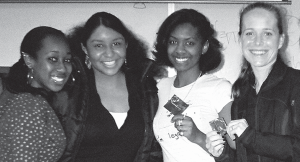 POWERRful Girls: Teju Adisa-Farrar and Sheena Castrejon, WORLD Peer Health Educators; Surita Allen, WORLD Volunteer; Piper Hyland, POWERR Facilitator & Outreach Coordinator.
The POWERR Project just had its first birthday! POWERR is WORLD's first foray into an official prevention program targeting young women, and was born from a focus group held in 2006 with HIV-positive women, who indicated they would like to be more involved in prevention work with young women in their communities. We talked to young women (14 to 19) to find out what information they need about HIV, and how, where, and from whom they would like to receive it. From there, the POWERR Project was born. POWERR is a seven-part workshop for teenage girls in Alameda County, CA co-facilitated by a youth Peer Health Educator and an adult ally living with HIV. The workshops address Gender, Stages of Relationship, Communication, HIV and STI's, Safer Sex, and Visioning the Future. POWERR is funded through the
GENERATIONS: Strengthening Women & Families Affected by HIV/AIDS Initiative
, a project of the National AIDS Fund and Johnson & Johnson.
Speaker's Bureau Update
The Speaker's Bureau continues to expand and reach out to new places to raise the issues of women living with and at risk for HIV locally, nationally, and internationally. Over the past year, WORLD has sent plenary speakers to HPLS (HIV Prevention Leadership Summit) and Staying Alive, presented a workshop at VOICES 2007, presented a workshop in Kenya, participated in a Congressional Briefing, spoken at San Quentin State Prison, numerous faith-based institutions and health fairs, and spoken to students at colleges, high schools, and middle schools around the Bay Area. WORLD's Speakers Bureau consists of HIV+ women and allies -- those who want to advocate for HIV-positive women and prevent new infections in women and girls. As part of our commitment to working more with the affected community, WORLD recently held a training for speakers which included both HIV-positive women and the affected community. Participants ranged from age 22 to 55 and included an HIV-positive woman with her negative male partner as well as the daughter of a woman who died from AIDS.
WORLD Summit
To commemorate World AIDS Day 2007, WORLD hosted the first-ever Bay Area Community Summit on Women and HIV. It was a powerful day, with almost 300 attendees from around the U.S., half of whom were women living with HIV. The day opened with a panel profiling HIV-positive women leaders from around the U.S. -- Cecilica Chung from Transgender Law Center, Vanessa Johnson from NAPWA (the National Association of People With AIDS), Dawn Averitt Bridge from The Well Project, and our very own founder, Rebecca Denison. The day consisted of breakouts in English and Spanish along three tracks: Emotional Wellness, Treatment Updates, and Advocacy. Participants and staff left feeling inspired, empowered, and involved in a larger movement of HIV-positive women and their allies. We can't wait to host another Summit, or better yet, a National Conference on Women and HIV! Look out 2009!
Peer Advocate Program
The Peer Advocate Program is perhaps the oldest program at WORLD, and we continue to grow to address the needs of the WORLD community of women. Today, WORLD has six paid Peer Advocates on staff: Margaret Giordano, Sylvia Young, Anna Jackson, Sharon Gambles, Liz Bates, and Felecia Greenly. Liz was part of the LINCs program at WORLD and now serves the same clients through the Peer Advocacy Program. Felecia has joined us temporarily to assist with our services. Sylvia works specifically with WORLD's Latina community. She has also recently taken on a new role as Peer Advocacy Coordinator, assisting the Program Director with administrative tasks. Janie Riley, MFT, serves as Program Director, and provides clinical support and supervision to the Peer Advocates. While the Peer Advocates usually serve HIV+ women on a one-on-one basis providing emotional and practical support, the program staff works together as a team. Peer program staff coordinate and facilitate WORLD's weekly Women's Support Group and both Sylvia and Anna are a part of The Lotus Project traveling around the country educating other women to be Peer Advocates.