Larry Bryant is the director of national advocacy for Housing Works, a New York City-based HIV service organization. He also works very closely with the Campaign to End AIDS.
Tell me a little bit about your experience at this year's conference.
This is actually my first international conference and it's my first time in Mexico City, so it has been a sensory overload since Day One.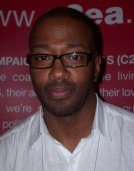 Larry Bryant
It's been a mixture of energy and activism with a backdrop of corporate AIDS, Inc. stationed behind us. There's been a lot of emotion from both ends from people who are literally
protesting
and sending messages about life, about their own lives, and being heard, not just being consoled.
I had this really weird analogy that someone brought to me. It's like HIV-positive people are being treated like puppies. We'll pet them, we'll say nice things to them, but we won't take them in because we can't afford to really take care of them.
It's just been a very strong disconnect. Hopefully a lot of the push, a lot of the energy, a lot of the rallies that have been going on, will wake us up and make us develop some kind of action after the conference and after the press conferences.
Tell me a little bit about some of the rallies you've been to.
Housing Works, working with other organizations, has had rallies every day this week. They've all symbolized demand for housing for people living with AIDS -- not just in the United States, but around the world. We've had die-ins and taken over the media center. Actually, we shut down the whole main aisle here with dozens of people laying on the carpet as people walk and step around under sheets that say, "Please house me. I'm HIV positive."
We've had these signs that say, "I need housing now for HIV-positive people living in ______" and then you fill in the blank with your country or your city. We have, literally, 500 or 600 of these 24-by-36 sheets spread out all over the conference. I don't know if you've been outside to the walkways. They're all over there.
It just brings to life this demand of housing -- we're not just here giving lip service. We're not demanding a raise. We're talking about a basic primary need for people who are HIV positive, for their families, to survive. That message has to be not just delivered, but delivered again and again and again.
Don't you think that these conferences are so used to protests that they are almost like the entertainment -- like the kids in the playroom: "They mess up the whole playroom and we know that they're going to do that, so we just ignore them"?
So we have to get louder! We have to be louder. We have to deliver that message with more of a sense of urgency.
There is a certain element of fun, of release, in doing the rallies. But we have to remember that these protests are not for show and they're not to break up the monotony, so to speak. They are a demand [for conference attendees] to pay attention to the fact that people are still out there dying.
Even though we've had Dr. Fenton, Bill Clinton and others speaking about the tragic rise in infection rates in the black community, for example, the fact that people are still homeless and don't have access to medications -- none of this is new. Every international conference, someone delivers a speech on how horrible the stats are and there should be something we should do.
Back in the States, we have the United States Conference on AIDS, we have all these different domestic conferences where we talk about the need for doing things, but no one is really doing anything about it. We need to start listening to the urgency! We need to go back to -- if it means shutting down a conference, if it means stopping traffic and making noise, if it means inconveniencing some people for a minute or 10 or 30 -- it depends on how much energy we have.
We have to keep getting louder; we have to keep delivering that sense of urgency. Otherwise, it's just going to be the soft music behind us. People are going to keep walking by and not really pay attention.
Are there also back-room talks -- discussions with people in great power about some of these issues of homelessness?
Some people are a little shy or reluctant to publicly understand the urgency of what's going on. I think, also, people are a little bit reluctant to want to say anything about it. We'd love to support you publicly, but because of my position we can't. So I go up on this mic and I say, blah, blah, blah, blah, but give you a wink -- that doesn't really help anybody.
What we need is visible, vocal leadership from our leaders: our social leaders, our faith-based leaders, our elected leaders on down the line. The back-room conversations are nice. You get that invisible pat on the back, but we need visible, vocal leadership.
If you were in total control of the universe, what would you do at this conference?
Shut this down. Shut this down. When I stepped into this exhibit hall, I thought I was going to turn the corner and see the 2008 Prius. It's like a car show in here! People are selling their wares --
You mean in the commercial exhibition hall?
Yes, in the commercial exhibition hall. It's very corporate. I understand that this element of the whole machine that is AIDS, Inc. is -- I don't know if it's a necessary evil -- but it exists for a purpose, hopefully.
There's this sterile desensitizing of the individual as you step in here. HIV-positive people turn into consumers when they come in here and people are selling their wares. It dissolves the message and it takes away, again, the basic need, the fundamental fact that we need to save people. We need to act on changing policy. We need to make sure that our political leaders, our soon-to-be-elected leaders, and on down the line have an unfiltered message that we need to end the epidemic and this is how we need to do it.
On a personal note: How have you found this conference?
I hate all conferences, honestly. I think they're corporate exercises within the AIDS, Inc. machine. In my personal opinion, they're only in existence to make money and to market an organization. Black AIDS Institute, NMAC [National Minority AIDS Council], whoever it is, passes out these papers and distributes some here so that people can see them. This is the report we have, great, so what are you doing about it?
Leave the press conference room, leave all the folders and the bright, shiny five-page documented stats releases on the table and then go outside and talk to people! Go to the Global Village! Those are the people that need to be spoken to and need to be heard and need to be addressed directly.
I realize that this is one opportunity here at the international conference where people from around the world are in the same place at the same time. But, as I was talking to [Black AIDS Institute founder and executive director] Phill Wilson the other day, he asked me how I found the conference. I said it's long, it's a lot going on, but you make it purposeful.
Sometimes -- most times -- purposeful isn't on the agenda, so you have to make it happen yourself. Most times in conferences you go to the end of the day, end of the week. What have you done? What have you learned? What are you taking home? I don't mean the monogram bags and mugs and all those kinds of things. What message and information are you taking home that's going to substantially help your community and develop leadership at home?
You didn't find it at all interesting, or gratifying in some way, to meet so many other HIV-positive people from around the world -- from the Philippines and Africa and Canada and South America and Latin America?
Yes, I do think that that was an amazing thing to see how the epidemic is addressed internationally, to see and hear the emotion, and sometimes the desperation, of people coming from all corners of the world and essentially all yelling, chanting, wanting the same things. End the epidemic! Address our basic needs! We're not asking for anything more than just a chance at life. That comes in so many different languages. That part of it is, in its purest sense, why we should be here. But that part of it isn't always on the front page of the paper. That part isn't going to be on the agenda. That part isn't necessarily encouraged.
When we're doing rallies, when we have these spontaneous marches, whether it's French, whether it's South African women that did it earlier today, whether it's Housing Works or Campaign to End AIDS, you get that sense of core energy, that heat right in the center. People passing by, eyes are rolling [and they're thinking]: "Oh, there they go. Why don't they just go somewhere and sit down, have a nice free biscuit in the PWA lounge, and we'll take care of the real work?" No, that's the mentality that we have to shake free from when we come to these conferences.
But you get lulled to sleep with the corporate sensibilities of marketing and sending a good message that embraces but doesn't rock the boat. No, we need to rock the boat.
Do you have any more protests or actions planned?
Today there are a few going on with other organizations. Housing Works is going to have one tomorrow. Not sure what that one's going to be, but I'm sure we'll hear about it. We'll probably have something set up for the closing.
Someone said something to me yesterday about the rallies: "Do them every day." Sometimes if it's not carried out well, if it's not delivered with that sense of urgency, then people do get kind of bored with seeing the same kind of thing all the time. But you can't stop. We have to come with that same energy.
I equate it to if you're starving to death and you're asking someone for a sandwich, and you keep asking, you keep asking, and they say no, do you stop asking? No, you keep asking until you get that sandwich, until you get fed. Because otherwise you will die of hunger.
We have to keep demanding these things. We have to take these rallies, this energy, back home. It doesn't stop Saturday morning when everyone's going to the airport. It has to continue!
In fact, that's when it begins. Because all those different connections that you talk about between HIV-positive people from around the world, from neighboring countries that have never met each other -- we have to continue to build those links. Not just around the States but around the world. Until we do that and have that unified message of ending the epidemic for all, not just for some, then I guess I'll see you at the International AIDS Conference, Year 30.
Thank you!
Thank you.
This transcript has been lightly edited for clarity.
To read more about Larry, click here.