Wary of Olympic Crackdown, Chinese AIDS Activist Li Dan Comes to U.S.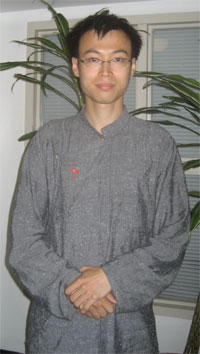 Li at Cylar House
With the world focused on China and the Olympics,
the popular narrative in the Chinese media
is that the government has made huge strides in addressing the AIDS epidemic. But Li Dan, a Chinese AIDS activist doing a summer fellowship at Housing Works, said the reality is more complex.
"The Chinese government wants to cover up the AIDS problem because they want to focus on economic development," Li said. "The AIDS situation may stay the same for a long time, because the Chinese government has very little influence to control the sex industry and combat the blood-selling problem."
The soft spoken Li, 30, who has often been at odds with the his government, is staying at Housing Works' Keith D. Cylar House as part of the Advocate Summer Haven Program run by Asia Catalyst. Asia Catalyst has placed six Chinese advocates in fellowships at AIDS groups in the U.S., Hong Kong and Malaysia. The timing isn't a coincidence. Chinese activists are wary of being in China during the Olympics, especially given the recent three and half year prison sentence handed out to prominent AIDS activist Hu Jia. Hu was detained last year for "inciting subversion of state power and the socialist system".
Advertisement
"There are a lot of international reporters in Beijing now and if we reported that the government is addressing AIDS, that would be fine. But if we reported how the AIDS situation actually was, of course the Chinese government wouldn't be happy," Li said.
There are approximately 700,000 people living with HIV/AIDS in China. Li said that there are still many Chinese who sell blood for money, although a recent UNGASS progress report says that the practice is all but eradicated. The government claims to be providing prevention to drug users and sex workers, but Li said, "It's hard to control these industries, and the government doesn't work to control sex workers since it's good for the economy." In addition, schools have no formal sex education and AIDS is rarely mentioned by teachers. "Most youths learn through the Internet or other publications, so the message isn't always accurate," he said.
Astrophysicist to Activist
In 1998, when he was an astrophysics graduate student, Li saw a screening of the film Philadelphia. He was so moved that he decided to fight AIDS in his own country. First, he made a documentary about a village ravaged by the epidemic. Then, in June 2003, he set up a school for AIDS orphans in China's Henan province, where a botched blood-donation campaign and a cover-up by corrupt officials resulted in a massive HIV epidemic. Li was beaten up at a government office, and local officials shut down his school.
Since then Li has received international media attention and funding for his organization, China Orchid AIDS Project. With assistance from Asia Catalyst, the organization has established the Korekata AIDS Law Center, protecting rights of people with AIDS who are frequently discriminated against because of stigma around the disease. "Often hospitals and doctors will refuse to see AIDS patients," Li said. "Only a couple of people in China are open about their HIV status in the media." China Orchid AIDS Project is also working on translating AIDS literature from other countries into Chinese to educate people with AIDS and non-governmental organizations.
Like most independent NGOs in China, China Orchid AIDS Project receives no government funding. The country has about 500 NGOs addressing AIDS, most with skeleton staffs, in a country of well over a billion people. After attending the United Nations High Level meeting on AIDS in June, Li was struck by how organized many foreign NGOs are. "Chinese NGOs need to build links with the world AIDS movement," he said.
Li hopes to apply in China what he is learning on his visit to the U.S. He was particularly inspired by U.S. legal services for people with HIV/AIDS, by POZ magazine (he plans to publish an AIDS magazine in China), and with Housing Works' social enterprise organizations. "If foreign foundations start to believe that China is solving the AIDS crisis, we won't have any other sources of funding," Li said. "It's important to learn to raise money on our own."