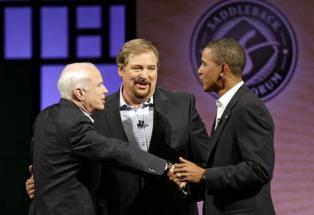 A missed opportunity to chat about AIDS
AIDS advocates were excited when word came that Rev. Rick Warren would be interviewing presidential candidates John McCain and Barack Obama. While some of Warren's views are a little too religious-right for our taste, Warren (with the help of his Saddleback megachurch) has been more committed to AIDS than almost any other public figure in the U.S. And it was World AIDS Day 2006 at Saddleback when Obama "respectfully and unequivocally" denounced abstinence-only HIV prevention policies. "We cannot ignore that abstinence and fidelity may too often be the ideal and not the reality -- that we are dealing with flesh and blood men and women and not abstractions -- and that if condoms and potentially microbicides can prevent millions of deaths, they should be made more widely available," Obama said at the time.
But while Warren alluded to PEPFAR at last Saturday's Saddleback Civil Forum on Leadership and Compassion, (in the context of creating a similar financial committment to help orphans), AIDS, and health in general, was MIA from the agenda. At the International AIDS Conference in Mexico City two weeks ago Warren specifically told Housing Works President and CEO Charles King he would ask at least one domestic AIDS question, and even gave King his direct e-mail address and asked him to suggest a question. "I am extremely disappointed that he did not follow through with his commitment," King said. "I fear we have lost our best opportunity to get McCain, in particular, to discuss AIDS, especially domestic AIDS, before the election."
According to a spokesperson from Saddleback Church, Warren decided to go for "depth instead of breadth" in his questioning and didn't have time for all the questions he had planned for the last portion of the interview in which he would have asked the candidates their views on health issues, the environment, the Constitution and other topics.
Advertisement
While neither candidate has made AIDS a central part of his platform, McCain's record is particularly sparse. He didn't respond to the
AIDSVote
questionnaire, and most recently in response to the Centers for Disease Control and Prevention's rise in new reported infections he issued a generic statement that, "As President, I will work closely with non-profit, government, and private sector stakeholders to continue the fight against HIV/AIDS. By focusing efforts on reducing drug costs through greater market competition, promoting prevention efforts, encouraging testing, targeting communities with high infection rates, strengthening research and reducing disparities through effective public outreach, we as a nation can make great progress in fighting HIV/AIDS."
Obama's statement called for a national AIDS strategy and noted, "Combating HIV/AIDS also demands closing the gaps in opportunity that exist in our society so that we can strengthen our public health. We must also overcome the stigma that surrounds HIV/AIDS - a stigma that is too often tied to homophobia. We need to encourage folks to get tested and accelerate HIV/AIDS research toward an effective cure because we have a moral obligation to join together to meet this challenge, and to do so with the urgency this epidemic demands." Obama has issued a platform on global and domestic AIDS.
Comment by: Andrea Cossman
(Cincinnati, OH) Thu., Oct. 23, 2008 at 2:48 pm UTC
This is an extremely important issue, and it is imperative that all Americans know where each candidate stands on the subject of HIV/AIDS, not only those living with the disease. We may all be touched in one way or another by HIV/AIDS at some point in our lives, whether through our own infection or the infection of friends or loved ones. If we are not, we must still provide care and support for those who have been. The stigma that is still attached to the disease compounds an already devastating diagnosis. There are those who still fear and discriminate against HIV/AIDS patients, including members of religious and government institutions, due to ignorance regarding the disease and its transmission. It is 2008, and it is time that our leaders gave more attention to the issue so that we may work toward one day eradicating the disease. Obama clearly is doing so, and this is one of many reasons that I will be voting for him in November.