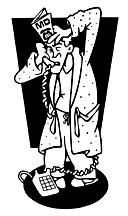 You may experience many symptoms as an HIV+ person. Most of the symptoms do not mean you have a serious medical condition. Sometimes, however, they could indicate an acute and possibly-life threatening medical emergency. Get in touch with your doctor immediately if you experience any of the symptoms listed below!
"I can't keep any food or liquid down." -- This can lead to dehydration. Vomiting is a common cause, but if you can't eat for other reasons (such as painful swallowing), you might need treatment with intravenous (IV) fluids.
"My stomach hurts so much." -- When abdominal pain is beyond the point where you can tolerate it, and/or is getting worse, it must be dealt with. If you are on ddI, ddC or d4T, severe pain in the middle of the abdomen could signify pancreatitis or lactic acidosis.
"I can't breathe." -- Also known as dyspnea, if you cannot breathe well, you need medical attention, no matter what's causing it. There are serious HIV-related conditions, such as PCP, other pneumonias, lactic acidosis or Ziagen hypersensitivity, which could be the cause.
"My chest is killing me." -- If you have chest pain, a feeling of tightness and shortness of breath that lasts more than a few minutes, you should see your doctor immediately or go to the emergency room. These can be signs of a heart attack.

Advertisement

"My vision is going blurry." -- Especially if your CD4 cells are low, (less than 50), this could be the beginning of cytomegalovirus (CMV) retinitis. CMV can cause blindness if not treated. An ophthalmologist (eye doctor) should examine you as soon as possible.
"I feel like killing myself." -- Depression and suicidal tendencies increase in HIV+ people. This may be even more likely for people taking Sustiva. Depression can be treated! If you feel you are losing the "battle" with depression, get help.
"This is the worst headache of my life." -- Most severe headaches in HIV+ people have nothing to do with the HIV. Still, if this headache is worse that any you have had before, call your provider.
"I am passing blood in my stool (or vomit)." -- A small fleck of blood is not necessarily an emergency. This can happen with a condition such as hemorrhoids. But if you go to the toilet and what comes out looks like actual blood, call your provider.
"My mouth is on fire." -- If you have had a rash, especially when starting a new medication (such as Bactrim), and then develop fever, nausea, and notice that the lining of your mouth (mucous membranes) is becoming inflamed and seems to peel off, it could be serious. This condition, known as Stevens-Johnson syndrome, is a major allergic reaction. If you don't treat it, it could be fatal.
For more information, call the Project Inform Treatment Hotline at 800-822-7422.
Mark Katz, M.D., is Regional HIV/AIDS Physician Coordinator of Southern California Kaiser Permanente.