A Groundbreaking Satellite Session and Daily Protests Put Housing on the World's AIDS Agenda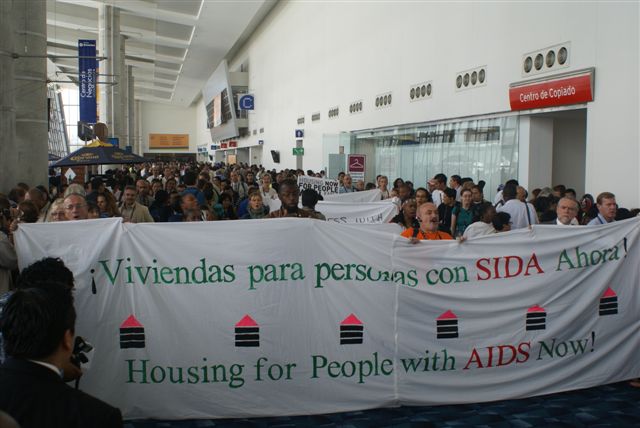 IAC delegates hear about AIDS housing
This week at the International AIDS Conference in Mexico City, housing activists took a major step forward in ensuring that world leaders, governments and other AIDS advocates understand that without universal housing we'll never end the global AIDS pandemic.
On Sunday, the first-ever IAC satellite session addressing homelessness and AIDS attracted an audience of more than 150 people, which led to a pledge from the International AIDS Society to confront the lack of adequate housing as a barrier to HIV prevention, treatment and care. Throughout the week, activists staged protests that turned up the heat on IAC dignitaries Bill Clinton and UNAIDS executive director Peter Piot and showed conference attendees the growing international muscle behind the housing movement.
The week started off with a bang. Housing Works activists Julia Pena and Shasta Harrison smuggled two halves of a banner reading "Housing for People with AIDS Now!" into the IAC's opening ceremony under long skirts. When Piot approached the podium to speak, they and other activists hung the reconstructed banner from a balcony and shouted, "What do we want? Housing! When do we want it? Now!" The action provoked rousing applause from the crowd and held up Piot's speech. Check out Notibote.tv.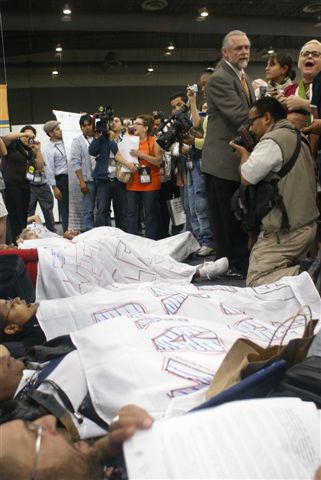 Homeless encampment in the press room
Advertisement
Earlier that day, the National AIDS Housing Coalition, Housing Works, the San Francisco AIDS Foundation and the Ontario HIV Treatment Network hosted a groundbreaking International Summit on Poverty, Homelessness and HIV/AIDS satellite session. AIDS advocates from dozens of countries attended the summit to exchange information and learn about the link between housing and the treatment and prevention of AIDS and HIV. While a growing body of research in the U.S. has shown that housing is critical to both health outcomes for people living with HIV/AIDS and to reducing behaviors through which HIV is spread (visit the
"resources" page of nationalaidshousing.org
to learn more), the session made it clear that housing was an issue in rich and poor countries alike.
"Is black life that cheap in my country?" asked Yvette Raphael, a South African activist and session panelist. "We have to tackle housing the same way we do treatment."
"How many people with HIV/AIDS have sold everything they own to get treatment?" asked Enrique Chavez of Aid for AIDS.
The session crowd was energized when International AIDS Society official Ron MacInnis accepted a declaration signed by hundreds of people demanding that "policy makers address the lack of adequate housing as a barrier to effective HIV prevention, treatment and care; and that all government's fund and develop housing as a response to the AIDS pandemic."
"No government in the world can't afford this," McInnis said. He also said the IAS was committed to housing and urged the session participants to "hold us accountable."
Bumping Heads With Bill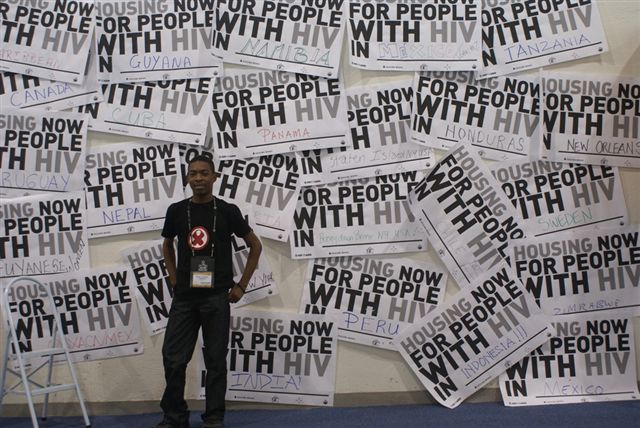 Chisolm in front of delegates' demands for housing
On Monday, advocates for people with AIDS interrupted Bill Clinton's speech to the IAC, with a peaceful demonstration demanding housing for people with AIDS. A dozen activists silently held white sheets scrawled with variations of "Homeless with AIDS! Please help!" in English and Spanish. After Clinton's speech was finished, the demonstrators created a "homeless encampment" outside the session room and chanted slogans demanding housing for all people living with HIV/AIDS.
Clinton didn't acknowledge the protesters until the end of his speech when he said that his foundation will begin working with the U.S. "It is important before we conclude that we have to remember that there is still a lot of work to do in high-income countries," Clinton said. "That is what these people holding these signs are trying to remind us of. We have got a lot of homeless people in rich countries because of the declining condition of the home mortgage crisis, the rising price of gasoline." Clinton ignored the fact that homeless people with AIDS is as huge a problem in developing countries as it is in the wealthy ones.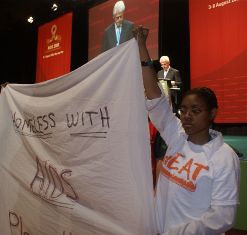 Chakena Conway protests Clinton's speech
BBC, El Mundo and the Palm Beach Post all reported on the disruption.
On Tuesday, a press conference highlighting the lack of housing for people with HIV and AIDS turned into a 200 person march and rally through the IAC conference center. Raphael, Esther Boucicault of Haiti's pioneering Fondation Esther Boucicault Stanislas and Shirlene Cooper of New York City AIDS Housing Network spoke to reporters about the respective problems of housing in their countries. Demonstrators, holding the banner that had been hoisted at Piot's speech (now fastened together by velcro), won applause from folks in the PWA Lounge, then moved on to the Global Village, an area outside the conference center open to the public. There a die-in took place, with about 40 people—including little people clowns—who also staged another homeless encampment. Screams were heard throughout the center as the "homeless" shouted "Housing is a human right!" and " Que Queremos? Vivienda Digna!" (What do we want? Housing with dignity!).
On Wednesday, 35 people lay outside of conference center windows, and each held a double-sided sign with a single letter of the alphabet written on it. Together, the signs spelled out "People with AIDS Demand Housing" on one side and "Personas Con SIDA Demandan Viviend" on the other. A bullhorn went off every 15 seconds to symbolically acknowledge that a person dies of AIDS every 15 seconds.
Said a Mexican activist who held up the "P" in People and "S" in Personas, "Housing is such an important issue. How can people take their medications if they don't even have a place to put them?"
Throughout the week of IAC, Housing Works encouraged conference attendees to fill out signs that said "People with HIV Demand Housing in " and put the name of the country or city from which they came in the blank space. On Thursday, the signs, filled out by people from Madagascar to South Africa to Uruguay to the Bronx, were posted throughout the IAC convention center, so everyone who passed would understand that people with HIV/AIDS need housing.
UNAIDS Youth Delegate Korey Anthony Chisolm of Guyana grasped the message right away." In Guyana it takes years to get a house," he said. "If I'm living with HIV, and I don't have somewhere to stay, that will affect my health."
Housing Works President and CEO Charles King was pleased that housing advocates were able to make that kind of impression over and over this week. "The seeds were planted to help build housing for people with AIDS into a global movement," he said. "Conference participants will bring back to their home countries the knowledge that housing is essential for not only stopping people with HIV and AIDS from dying, but to allow them to live."