With respect to HIV, Black America looks more like many developing countries than like the high-income North in which it is geographically located.
With nearly 39 million people,5 Black America would be the 35th most populous country in the world if it stood on its own.6 Based on income earned in 2006, Black America would rank as the 28th largest economy in the world.7 Black America boasts almost 45,000 physicians and surgeons, 80,000 post-secondary teachers, nearly 50,000 lawyers, and more than 52,000 chief executives.
8
Yet although Blacks in the U.S. reside in the most economically powerful country on Earth, they do not benefit equally from the fruits of America's affluence. And with respect to HIV, Black America looks more like many developing countries than like the high-income North in which it is geographically located.
Two Americas: The Economic and Social Reality of Black America
Key indicators definitively demonstrate the existence of "two Americas," divided by race, wealth and vulnerability to disease. Moreover, these indicators reveal that Black America fares poorly in comparison with other countries, possessing an economic, social and health profile that more nearly resembles populations in many developing countries.
Life Expectancy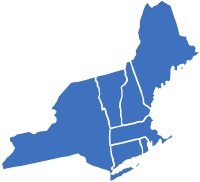 If Black America were a country, it would have about the same population as New York, Massachuetts, Connecticut, Rhode Island, New Hampshire, Vermont and Maine combined.
Black America would rank 105th among countries
9
in life expectancy (73.1) years.
10
Life expectancy for U.S. Blacks in 2004 was 5.2 years lower than for whites.
11
Black Americans' life expectancy is lower than in Algeria, Dominican Republic and Sri Lanka.
12
Health Coverage
More than one in five (21%) Blacks lacked health insurance in 2006, compared to 10.8% of whites.13 Blacks' rate of health coverage compares poorly to rates in other high-income countries, all of which but the U.S. ensure universal health coverage.
Infant Mortality
The infant mortality rate in Black America (13.6 per 100,000 live births14) -- twice as high as the rate in Cuba and markedly higher than rates reported in Belarus, Bosnia and Herzegovina, Estonia and Russia15 -- would rank it 88th among countries.16 The infant mortality rate among infants born to Black women in America is 2.5 times higher than for white newborns.17
Income
Median income in 2006 in Black households was 61% of median incomes for whites.18 One in four Blacks (24.3%) lived in poverty in 2006 -- a rate three times higher than for whites19 -- and a rate substantially higher than in any of the 27 countries in the European Union.20
Unemployment
The unemployment rate for Blacks in April 2008 (8.6%) was nearly twice that of whites (4.4%).21 In 2007, 105 countries had an unemployment rate lower than the rate reported in April 2008 for Black America. The unemployment rate in Black America is higher than in Laos, Myanmar, the Philippines, Russia and Tajikistan.22
Prison Population
The 872,000 of its people who were in prisons or jails in 200523 would rank Black America ahead of all but three countries (e.g., U.S., China, Russia).24 With a total population comparable to Black America, Poland (2008 est. pop. 38.5 million25) imprisons only one-tenth the number of Blacks who are incarcerated in the U.S.26 Blacks are nearly seven times more likely than whites to be in prison or jail.27 Although the U.S. has the highest population-based rate of inmates of any country in the world,28 the number of Black male inmates per 100,000 population is more than six times higher than the U.S. average.29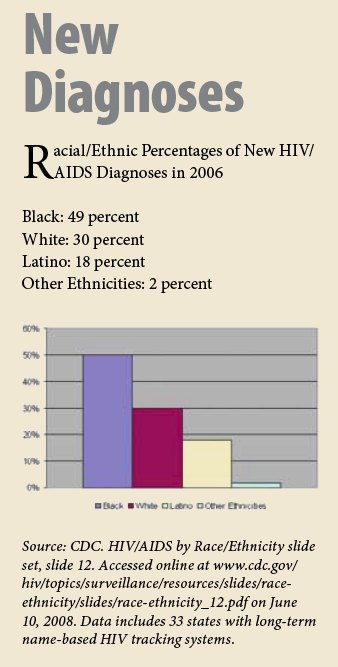 Two Americas: HIV and Black America
Similarly, with respect to HIV, Black America is more comparable to many low- and middle-income countries than to whites in the U.S.
Even when AIDS was widely regarded by the news media and the general public as an epidemic of white gay men in the 1980s, the disease was affecting Black people in numbers substantially greater than their share of the U.S. population. Between 1981 and December 1983, at a time when Blacks made up 12% of the U.S. population, they accounted for 26% of the nation's first 3,000 AIDS cases.30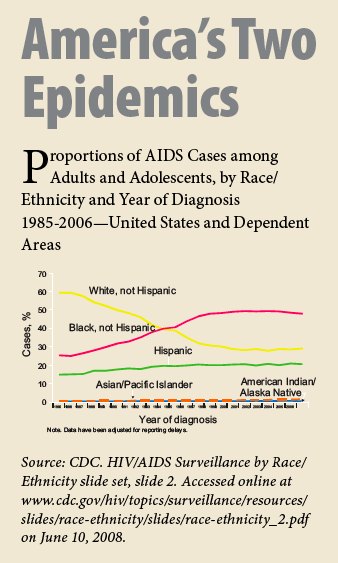 The epidemic's burden on Black America has dramatically worsened in the intervening 25 years. The imbalance in AIDS case rates for Blacks, as compared to whites, more than doubled between 199131 and 2006.32 The CDC now estimates that more than 500,000 Blacks are living with HIV/AIDS, and it is believed that between 20,000 and 30,000 Blacks become newly infected with HIV each year.
Even though there are more than six times more whites living in the U.S. than Blacks, the cumulative number of AIDS deaths among Blacks (218,000) nearly equals the number of whites who have died of AIDS (239,529).33 In 2006, nearly twice as many Blacks (7,426) died of AIDS as whites (3,860).
A free-standing Black America would rank 16th in the world in the number of people living with HIV. The number of Black people in America living with HIV exceeds the HIV population in some of the world's most heavily affected countries, including Botswana, Côte d'Ivoire, Lesotho, Swaziland and Ukraine. The number of Black Americans living with HIV is greater than the HIV population of seven of the 15 PEPFAR focus countries. Outside sub-Saharan Africa, only four countries have HIV prevalence higher than the conservative 2% estimate for Black America. In the Western Hemisphere, only two countries -- the U.S. and Brazil -- have a larger number of people living with HIV than Black America on its own.34 HIV infection levels are especially high (3.6%) among Blacks aged 40-49, with males in this age band having an HIV prevalence (4.5%)35 approaching the region-wide prevalence in sub-Saharan Africa (5.0%).36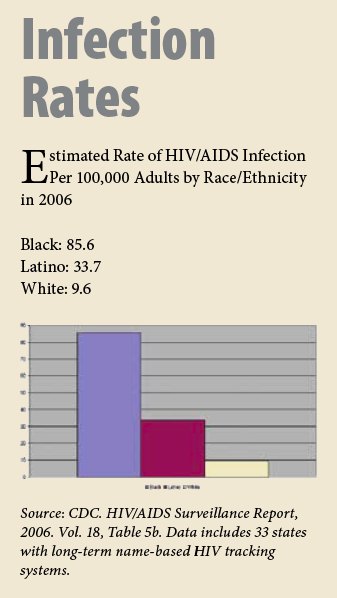 Although these national statistics are sufficiently dire on their own, they fail to fully convey the epidemic's extraordinary impact in the cities and states where Blacks have been most heavily affected:
These sobering statistics reflect a profound failure on the part of the world's most powerful country to protect its own citizens, while demonstrating shocking similarities between Black America's AIDS epidemic and the epidemic in some of the world's most impoverished nations. Yet even against this backdrop, it is clear that opportunities exist to strengthen the AIDS response in Black America. In recent years, AIDS awareness has significantly improved among Black Americans, and strong grassroots support is evident for a more vigorous fight against the epidemic. In a 2006 survey, Black Americans, alone among racial and ethnic groups in the U.S., ranked HIV/AIDS as the single most urgent health problem.54 Eighty percent of Black Americans believe the federal government spends too little to fight AIDS in the U.S., compared to just over half (52%) of the general public. More Blacks (56%) believe the U.S. is losing ground on AIDS than making progress (32%).55
The extensive civil society infrastructure in Black America is also giving greater priority to AIDS issues. The Congressional Black Caucus spearheaded creation of the Minority AIDS Initiative, which seeks to close gaps in the HIV prevention and treatment continuum in hard-hit minority communities. At the 2006 International AIDS Conference, 25 leaders representing many of Black America's leading institutions joined together to launch a national call to action and declaration of commitment to reverse HIV infection among Blacks by 2011; these leaders also called on Congress to repeal the longstanding ban on federal funding for needle and syringe exchange. Many of these organizations have already developed their own strategic action plans to make good on these commitments.
Increased awareness of HIV among Blacks appears to be encouraging more widespread knowledge of HIV serostatus. Two-thirds of Blacks report having ever been tested for HIV, compared to 45% for whites.56 Experience also teaches that favorable behavior change can curb the spread of HIV in Black communities; HIV/AIDS rates in Florida, for example, decreased fastest among Blacks between 1999-2004, and CDC concluded that this drop reflects the beneficial effects of widespread changes in sexual behavior.57
These and other favorable signs are the building blocks on which to establish the kind of high-level response that the AIDS crisis in Black America deserves. However, so long as the media, the American public and key decision-makers continue to view domestic AIDS issues as a secondary concern, the epidemic in Black America will never be attacked with the requisite degree of urgency and commitment.
Given these sobering facts, were Black America its own country, it would undoubtedly elicit a high level of concern from the U.S. government and would qualify as a PEPFAR country. In the real world, however, the U.S. has lost interest in the AIDS crisis in Black America.
Here and There
The Bush administration has been lauded for its investment in global AIDS. In 2003, President Bush launched his President's Emergency Plan for AIDS Relief, which directs heightened aid to HIV programs in 15 hard-hit countries. If Black America were its own country, it would have a larger HIV-positive population than seven of those selected for aid.
HIV Population of Countries Receiving Emergency U.S. Aid, by Rank
South Africa: 5,500,000
Nigeria: 2,900,000
Mozambique: 1,800,000
Tanzania: 1,400,000
Kenya: 1,300,000
Zambia: 1,100,000
Uganda: 1,000,000
Côte d'Ivoire: 750,000
Black America: 500,000-600,000
Ethiopia: 420,000-1,300,000
Botswana: 270,000
Vietnam: 260,000
Namibia: 230,000
Haiti: 190,000
Rwanda: 190,000
Guyana: 12,000
Source: Pepfar.gov, 2008 Country Profiles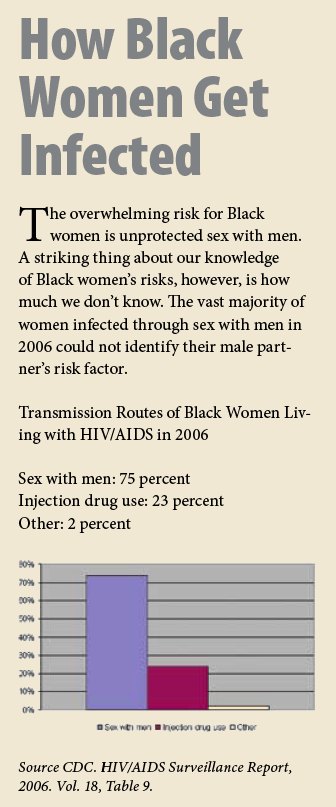 Prison Nations
A free-standing Black America would have more people behind bars than all but three countries. That's a theoretical comparison with real-world implications: A host of studies have found that high incarceration rates in actual America are helping to fuel the Black epidemic.