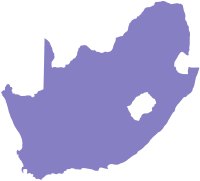 If Black America was a country, its economy would be almost as large as that of South Africa.
Although there are more Black Americans infected with HIV than the total HIV populations in seven of the 15 President's Emergency Plan for AIDS Relief focus countries,
1
the U.S. government's response to what is perhaps the most serious health crisis facing Black America remains timid and lethargic. Ironically, were Black America a country on its own -- with its current health, social and economic indicators, and with the same severe HIV epidemic it is presently experiencing -- it would undoubtedly elicit major concern and extensive assistance from the U.S. government.
This new report by the Black AIDS Institute suggests that American policy-makers behave as if AIDS exists "elsewhere" -- as if the AIDS problem in the U.S. has effectively been solved. This false dichotomy between the global and domestic epidemics not only blinds decision-makers to the serious epidemic in Black America, but leads the federal government to pursue an approach to AIDS in Black America that is strikingly at odds with its successful PEPFAR initiative. While the U.S. government insists that all countries that receive PEPFAR support have in place a national strategy to tackle the AIDS epidemic, America has no strategy for its own epidemic. The U.S. government has dramatically scaled up funding for foreign AIDS assistance as the global epidemic has expanded, while cutting spending in real terms for domestic HIV prevention and care initiatives as HIV caseloads in Black America have sharply increased. This report urges immediate action to address the growing AIDS crisis in Black America. It urges that America be held accountable for its failure to respond effectively to its own epidemic. And it urges that the U.S. government bring to bear all proven strategies -- including those learned from experience in developing countries -- that can help reduce the epidemic's burden on Black America.
What If Black America Was Its Own Country?
Standing on its own, Black America would constitute the world's 35th most populous country and its 28th largest economy. Yet although Blacks in the U.S. reside in the most economically powerful country on Earth, they do not benefit equally from the fruits of America's affluence. Black America would rank 105th among the world's countries in life expectancy and 88th in infant mortality; Blacks in the U.S. have a lower life expectancy than Algeria or the Dominican Republic, and the infant mortality rate in Black America is twice that of Cuba's. More than one-fifth of Black Americans lack health coverage, and nearly one in four live in poverty -- patterns that differentiate Blacks in the U.S. from all other high-income countries. On every major health, social and economic indicator, Blacks in the U.S. score significantly more poorly than whites.
A free-standing Black America would rank 16th in the world in the number of people living with HIV. Outside of subSaharan Africa, only four countries -- and only two in the Western Hemisphere -- have adult HIV prevalence as high as the conservative estimate (2% among adults) for Black America. In the locales where HIV among Black Americans is heavily concentrated -- such as Detroit, Newark, New York, Washington, D.C. and the Deep South -- infection levels among Blacks approach those reported in the most heavily affected countries in Africa. For example, HIV prevalence among middle-aged Black men in the Manhattan borough of New York City is almost as high as overall prevalence in South Africa, which has the world's largest population of people living with HIV. Representing about one in eight Americans, Blacks account for one in every two people living with HIV in the U.S., and notwithstanding extraordinary improvements in HIV treatment, AIDS remains the leading cause of death among Black women between 25-34 years of age and the second leading cause of death in Black men between 35-44 years of age.
Black America and the Global AIDS Epidemic: Common Threads
In reality, no gulf separates Black America from the rest of the world in its experience of the AIDS epidemic. On the contrary, were policy-makers open to the many commonalities between the domestic and global epidemics, important lessons could be drawn that would strengthen the AIDS response in the U.S. and abroad.
Using the Proper Public Health Paradigm
With a relatively low overall HIV prevalence, the federal government has almost exclusively applied the prevention paradigm recommended for concentrated epidemics, focusing overwhelming attention on so-called "high-risk" groups. Yet as in many other countries throughout the world, AIDS in Black America is a generalized epidemic, with significant transmission beyond vulnerable populations, especially among heterosexuals. To effectively respond to the generalized epidemic in Black America, the U.S. must use more generalized approaches, supplementing targeted programs for high-risk populations with broader-based initiatives that mobilize entire communities and protect individuals whose low levels of risk behavior nevertheless place them at risk of HIV infection. In particular, effective strategies are urgently needed to address the role of concurrent partnerships in the rapid spread of HIV transmission in social networks in both Black America and sub-Saharan Africa.
Addressing the Epidemic's Gender Dimensions
As in other parts of the world, many Black women in the U.S. are rendered vulnerable to HIV as a result of gender inequality. Fearing violence from their male partners, Black women are often unable to insist on abstinence or the use of condoms. Few proven interventions exist to promote more-equitable gender norms or to influence male behavior, underscoring a programmatic and research priority both in Black America and throughout the world. Development of female-initiated prevention methods is also a critical priority in all regions.
Protecting Young People from Infection
In both Black America and other parts of the world, young people are often at highest risk of infection. Young people share key elements of vulnerability -- inadequate knowledge of HIV infection, a high prevalence of inter-generational relationships, and a shortage of youth-tailored HIV prevention programs.
Preventing HIV Transmission Among Men Who Have Sex With Men
In all regions, men who have sex with men are at extremely high risk of HIV infection. Among men who have sex with men worldwide, Blacks in the U.S. may have the highest HIV prevalence, with a rate of infection more than twice as high as among their American white counterparts. American Black men who have sex with men share important attributes with their peers in other regions, including a common fluidity of sexual identity and the experience of severe stigma and discrimination that often impedes HIV prevention efforts.
Addressing Drug Use and HIV Infection
Drug use is the source of one in three new HIV infections outside sub-Saharan Africa and one of the leading modes of HIV transmission in the U.S., particularly among Blacks, who account for more than half of drug-related HIV infections in the U.S. With regard to drug use, Black America shares some of the same challenges to effective HIV prevention as other regions, including official hostility to evidence-based harm reduction strategies. American Blacks are also several times more likely to be affected by HIV in prisons, yet another parallel with international experience, as infection levels among incarcerated populations are almost uniformly much higher worldwide than in non-incarcerated populations.
Promoting Optimal Medical Outcomes Among People Living With HIV
Just as Blacks living with HIV in the U.S. are significantly more likely to die than their white peers, survival in low- and middle-income countries where antiretrovirals are accessible are 28% poorer than in high-income countries. The same factors that impede favorable HIV-related outcomes in American Blacks are the same that contribute to excessive death and morbidity in developing countries -- late initiation of treatment, a high prevalence of co-occurring medical conditions, and impediments to treatment adherence.
Reversing the AIDS Epidemic in Black America: An Action Agenda
No single actor or constituency can alone reverse the legacy of neglect that has contributed to the present severity of the AIDS epidemic in Black America. Rather, diverse stakeholders and communities must join together to give AIDS in Black America the attention it deserves. Linking the AIDS response in Black America to the fight against the global epidemic can buttress efforts in all regions and accelerate progress in achieving international AIDS goals.
Black Communities
Where national AIDS responses have succeeded, communities have mobilized to fight stigma, overcome prejudice and promote solidarity in the fight against the epidemic. While leading Black organizations, publications and constituencies are placing increasing priority on the fight against AIDS, they are typically doing so without the support of the U.S. government. Lacking sufficient resources, the efforts of these groups have yet to achieve maximum impact. Enhanced support for community mobilization in Black America is urgently needed.
The U.S.-Based Public and Private Sectors
Support for the scale-up of essential HIV prevention, treatment and care services in Black America should be significantly increased. In particular, increasing funding for HIV prevention efforts in Black America is a critical priority.
International Agencies
Global AIDS leaders should break the silence on AIDS in Black America. Although the U.S. government should be lauded for its landmark PEPFAR initiative, it should also be held accountable for its failure to address the epidemic within its borders. The fact that the U.S. is one of about 40 countries that failed to submit national AIDS progress reports to UNAIDS in 2008 is telling.
Researchers
Government and non-government funders should step forward with greater resources to fill the gaps in the evidence base for effective AIDS action. In particular, funders should prioritize research on HIV-related issues that Black America shares in common with other countries.
Note
Over the last five years, the President's Emergency Plan for AIDS Relief (PEPFAR) has provided more than $3 billion annually in assistance for scaling up HIV prevention, treatment, care and support in low- and middle-income countries. PEPFAR focuses heightened assistance on 15 countries: Botswana, Côte d'Ivoire, Ethiopia, Guyana, Haiti, Kenya, Mozambique, Namibia, Nigeria, Rwanda, South Africa, Tanzania, Uganda, Vietnam and Zambia.