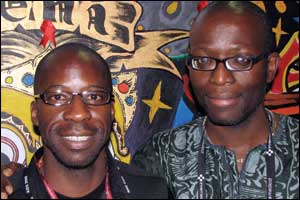 Edward Thomas (New York) and Cheikh Traore (London)
Mexico City
-- Gay and bisexual men account for more than half of new U.S. HIV infections and experience the highest HIV infection rate of any demographic group, according to the Centers for Disease Control and Prevention (CDC).
"The data confirm what we knew before: that the epidemic was severely impacting gay men and impacting African American and Hispanic communities," said Dr. Kevin Fenton, director of the CDC's National Center for HIV/AIDS, Viral Hepatitis, STD, and TB Prevention.
On Saturday, the CDC revised upward its estimate of U.S. HIV incidence, which it had underestimated by 40 percent. Men who have sex with men (MSM) -- the description preferred by public health officials, since men label their sexual identity in ways that may not accurately describe their sexual behavior -- now account for 29,000 or 53 percent of, new infections each year, a rate the CDC says has increased steadily since the early 1990s.
Advertisement
Glaringly absent from the CDC's report was specific data on Black MSM, whom experts have long known experience the highest rates of HIV infection in the United States. The CDC also acknowledged that 80 percent of targeted prevention messages calling upon MSM's engaging in high-risk behavior to reduce those behaviors were not reaching their audience.
"This is a massive failure of our public-health system," said Edward Thomas, a New York health-department professional. "I'm outraged in general -- and upon hearing this news. What the [expletive deleted] happened? How did we not know what the real numbers are?"
For years studies have indicated that HIV-rates among young Black MSM in major cities have hovered near 50 percent, a rate more than twice that of white MSM (21 percent) -- and perhaps the highest HIV-infection rate of any demographic group anywhere.
Surveys in six U.S. cities, show that Black gay and bisexual men are eight times more likely than white men to not know that they're infected. Another study showed that 34 percent of Black men who have sex with men also reported having sex with women; however, they may not call themselves bisexual.
Public-health surveillance data lag behind the epidemic. The most recent estimate was developed using "breakthrough technology" providing the "clearest picture to date of HIV epidemic in U.S.," Fenton stated.
Why are HIV rates among Black MSM so high?
"Black gay men are not riskier. If anything, they are slightly less so," says Walt Senterfitt, an epidemiologist with the Los Angeles County health department and chair of the board of directors of the Community HIV/AIDS Mobilization Project, an HIV, human rights and social-justice group in Los Angeles. "Once there's a much higher prevalence of HIV in your partner pool, then your risk of getting infected is much higher." He noted that most people pick partners of their own race or ethnicity.
Poverty, homelessness, higher STD rates and having concurrent partners also play important roles in the numbers. So do stigma and homophobia, which prevent people from acknowledging their risk and accessing services and positive social networks that could help sustain health and safety, including getting HIV-tested.
While Thomas believes that individual Black MSM need to know their HIV status and communicate to their partners, he also believes to stop the pandemic the Black community must take charge.
"We need to become more outraged about this. We need to become better informed. We need to go to our churches and build strategies around how we can change this. We need to talk with our families and friends about what we can do to make sure that the next person that we know does not become HIV-positive.
"There is failure within the health care system, but when there are failures we don't have to accept those failures," Thomas adds. "We have enough intelligent, qualified, people to speak for ourselves, advocate for ourselves and train ourselves on how to address this health disparity -- and we need to do it."
Hilary Beard, a freelance writer, specializes in consumer health issues.