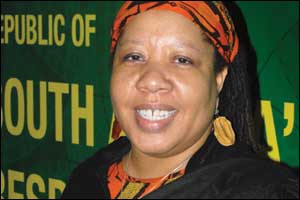 Dazon Dixon Diallo
Mexico City
-- In and around Atlanta,
Dazon Dixon Diallo
has been known as "the lady with the dildoes." That's because her organization,
SisterLove Inc.
, hosts graphically entertaining Healthy Love parties to teach women the basics of HIV/AIDS prevention and safer sex practices while affirming their right to control their sexual health and have a little fun, too.
Diallo, 43, has also been known as "that woman who'll show you her cervix." Her group also sponsors Community PROMISE, a program that teaches women attending historically Black colleges and universities in Atlanta about sexually-transmitted infections, including HIV.
But these days, for several months a year the 20-year veteran of HIV education and community advocacy has a different gig: She's a farmer. In 2004, Diallo formed a partnership with three HIV/AIDS organizations and 66 community members affected by AIDS in South Africa to form the Thembuhlelo Trust Cooperative. Their collective, which owns 668 acres 90 miles east of Johannesburg, grows vegetables and raises chickens and cows. It provides food and hope for a rural area that's been devastated by both HIV/AIDS and poverty. The staff and volunteers of "the farm" also offer HIV education, counseling and testing between chasing chickens and managing their land. "When women are poor and economically dependent on men they are vulnerable to HIV," says Diallo, who presented a poster about her program at the XVII International AIDS Conference in Mexico City. She also participated in a satellite session on AIDS, Race, Gender and Inequality in the Americas on Tuesday.
Advertisement
"We realized that if we had even a little bitty piece of land and could feed some chickens and milk some cows, we could feed ourselves and sell whatever we don't need. We could give women and families living with HIV and affected by the disease empowerment and independence and help restore dignity and a sense of self."
Diallo's cutting-edge work -- on both continents -- illustrates both the similarities and differences of the global HIV/AIDS epidemic and its effect on women of African descent. According to the most recent UNAIDS report, worldwide, women account for half of all people living with HIV, and nearly 60 percent of HIV infections in sub-Saharan Africa. In South Africa, three out of every 20 citizens is infected with HIV, and disproportionately women.
In the United States, HIV prevalence in locations where African Americans are most heavily concentrated approaches those reported in South Africa and other greatly affected African countries. In both Africa and the United States, the overwhelming risk for women is unprotected sex with men.
Though SisterLove's approach is vastly different in Atlanta than it is in rural South Africa, Diallo points to the shared experiences. "We must address what we have in common as women of African descent," says Diallo. "Women of African descent worldwide are bearing the brunt of the epidemic. Whether in Africa or in modern, post-feminist America we don't own our sexuality and in our relationships we defer to men. We act as if every woman who is positive has made a choice to have unsafe sex. But in reality, most of our decisions are really non-choices."
As in South Africa, at the heart of Diallo's work in the United States is the message that HIV prevention is a social justice and human rights issue. "I have a saying 'if you change women's lives, you change the epidemic,'" she says. "Women around the world are the backbone. Though we are the caregivers to our community, we have a voice we don't use. We have to get the power to women."
Linda Villarosa, a former New York Times reporter and editor of Essence Magazine, is a freelance writer based in New York.
lvillarosa@gmail.com
www.lindavillarosa.com