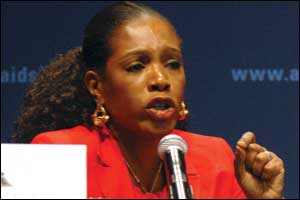 Sheryl Lee Ralph
Mexico City
-- Jamaican born, internationally recognized HIV/AIDS activist
Sheryl Lee Ralph
, has used her success as a highly talented singer and actress to make a difference in fighting the world's deadliest disease.
Even before appearing in the smash hit Broadway musical "Dream Girls" in 1982, Ralph has been committed to advocating for safe sex and for HIV/AIDS education, prevention and testing. During that year, Ralph recalls the experience that propelled her into activism.
"I saw all of my friends just dropping dead. Gay Black men and white men just dropping dead like flies. It was awful. People were embarrassed and they did not want to talk about it," she said. "And then, I saw how terrible people treated other people who had [AIDS]. That's when I decided to get involved."
Advertisement
Birthed around the same year as her classic musical, the 27-year-old epidemic has spread to consume people all around the globe. According to a report from the CDC, at the end of 2007, the worldwide population of people with HIV was 33 million. A new report this week indicated that in America there are 56,000 new cases of HIV infections every year, most of them in African Americans.
With this fact, Ralph has become more angry, committed and passionate than ever, serving as a powerful voice for the voiceless victims of this epidemic. Her work has taken her to several countries abroad, such as Botswana, Cape Town, South Africa, and many others. Her most recent contributions were in Mexico City at the XVII International AIDS Conference, where she talked about the toll this epidemic is having on Black America.
"Black people need to get over the stigma, and let's get over the shame," she said, referring to the many African Americans who out of fear of how they will be perceived by others, don't get tested, don't share their statuses with their partners, and therefore endanger themselves and others.
"You must do everything possible to protect yourself," said Ralph. "Men, stop having sex with women knowing you don't have a condom. Women, stop having sex with men you know are HIV positive. Stop having sex without condoms. You are playing Russian roulette with your life."
To many, the challenge in confronting the HIV/AIDS epidemic in the Black community is that people are unable to identify successful methods of getting the word out and educating people in poor urban communities. While there are many ways people are trying to eliminate HIV/AIDS, obviously very few present true solutions. According to Ralph, the arts are an important way to get people of color to listen.
"Black and Brown people have always responded to the beat of the drum, whether it was through dance, through singing or through spoken word," said Ralph.
That is why Ralph makes sure to incorporate that into her work. As a matter of fact, her famous stage play, entitled "Sometimes I Cry" does just that. With references to people of Black and Latino backgrounds, she places aspects of both cultures into her performance by speaking in English and at times in Spanish. But of course the main message is to know your status, which is why she leaves no doubt about which presidential candidate is best suited to confront the issue of HIV/AIDS in the United States.
"See I'm a person of change," she said. "I am a member of the YES WE CAN Campaign, and I know that my candidate, Barack Obama has gotten tested publicly for HIV. That is a very important message to send to the public. One of the first things I stress to people is to get tested.
Along with her husband, Pennsylvania Sen. Vincent Hughes (D) Ralph has launched a Web site called Testtogether.org. The site is a campaign aimed at getting couples to accompany one another to get tested for HIV. Ralph says that loved ones should be active in ensuring the health of one another.
The CDC says nearly a quarter of people with HIV are untested. An early diagnosis allows a person to get medical treatment sooner, thereby increasing their lifespan. However, the CDC says that by the time many people get tested for HIV, the disease is progressing to the AIDS stage.
The testing movement is just one of the many projects that Ralph has in place, making it impossible to dispute how passionate she is about conquering HIV/AIDS. On Sept. 27 in Washington, D.C., Ralph will be at the Lincoln Memorial wearing red with any and everyone who wants to fight the battle. "If you care about your health, show up," she said. "If we don't show up for ourselves, how can we expect anyone else to show up for us?"
Ivan Thomas is an account executive for Jerry Thomas PR, and is based in Washington, D.C.
ivan@jerrythomaspr.com
www.jerrythomaspr.com