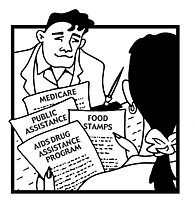 One of the most stressful problems faced by HIV+ people who can no longer work is figuring out how they will support themselves and cover their bills. Fortunately, there are disability benefits and public entitlement programs that can help. However, these programs often provide a lower income than people were receiving from their jobs. In addition, it can be very difficult to go through the application process and there may be waiting periods before the entitlement programs begin. Seeking assistance from an AIDS service agency in your community can make this process a lot easier.
The following are some of the major government benefits programs available to people with HIV/AIDS:
The AIDS Drug Assistance Program (ADAP) provides many drugs used to treat HIV and its complications free of charge to HIV+ eligible people. Almost all states have drug assistance programs. Some states provide extra coverage that can include healthcare and home care services. People whose income is too high to receive Medicaid may still be eligible for ADAP. Information and applications are generally available at county and city welfare departments.
Supplemental Security Income (SSI) is often referred to as a federal welfare program. The program provides monthly payments to low-income, old, blind and disabled people with limited resources. The Social Security Administration determines medical and financial eligibility. A disabled person must have a physical or mental problem that prevents him or her from working. The problem is expected to last for at least 12 months or result in death. The amount of the monthly benefit check depends on what state you live in and increases slightly each year.
Social Security Disability Insurance (SSDI) is the federal government's program for those who have worked and paid into Social Security. The amount you receive depends on your work history. Applicants are subject to the same medical determination as with SSI. For information or to apply for SSDI or SSI, call the teleclaim line at 1-800-772-1213.

Advertisement

Public Assistance (Welfare) provides cash and rental assistance as well as Food Stamps and Medicaid coverage for those with limited or no income and resources. Contact your local Department of Social Services to find out the location of your closest Public Assistance office.
The Food Stamp Program helps low-income disabled and non-disabled persons with limited resources to buy food. Qualified individuals and families receive a monthly authorization that can be used in participating food and grocery stores. To apply, contact your local Department of Social Services.
Medicare covers the cost of certain basic medical services for people 65 and older and some people with disabilities. For those with disabilities who are under age 65, you must be determined to be disabled by the Social Security Administration and receiving SSDI payments for two years. For more information call 1-800-MEDICARE.
Medicaid ("MediCal" in California) is for low-income people or those on SSI or public assistance. It can cover almost all of your healthcare needs (prescriptions, doctors' services, hospitalization) as long as you go to Medicaid enrolled providers. To apply, contact your local Department of Social Services.
If you can no longer work, one or more of these programs may be able to help you. Your eligibility to receive assistance will be based on your medical, financial and, sometimes, immigration status. A case manager or client advocate at a local AIDS service agency or a social worker at the hospital or clinic where you receive your medical care may be able to help you apply and receive the benefits you deserve.
Frank Cevasco is an advocate with a New York community-based organization and has been helping disabled people access benefits and entitlements for over 14 years.