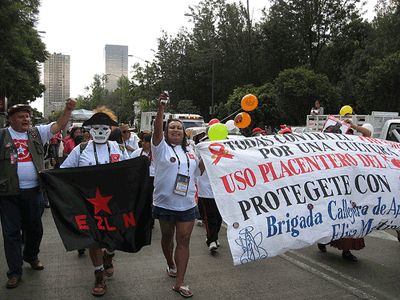 When members of Brigada Callejera, a sex workers' and transgender rights organization in Mexico City, came to the first of the AIDS2008 activist meetings last Saturday morning, they explained the human rights issues that sex workers here face. Not only are sex workers forced to take STD and HIV tests - and carry a card saying they are HIV negative - a new policy requires them to pay for these tests themselves. This repression is in addition to the fact that sex work is still illegal here, and the police are more likely to arrest workers if they carry condoms.
The group, whose members include Elvira Madrid, Krisna, and Elma Delea, also held a lively protest for access to HIV meds in Mexico yesterday. I believe that Krisna said in the activist meeting on Saturday that antiretrovirals cost 7,500 pesos per month (about $750) here in Mexico, but I need to fact-check that. She did say that indigenous people have almost no access to prevention or treatment services.
Advertisement
Elvira explained to me (in my limited Spanish) that the word "Callejera" in their name comes from "calle" which means "street," because they work the streets. More info about Brigada Callejera can be found on their website,
http://www.brigadacallejera.tk/
, which has both Spanish and English pages. They even have their own line of condoms, called "Encanto." Elma also has a group called Angeles en Busqueda de la Libertad, or Angels In Search of Freedom.
Brigada Callejera is a member of the national sex workers network, Red Mexicana de Trabajo Sexual, as well as La Otra Campaña (The "Other" Campaign), a national grassroots mobilization launched by the Zapatistas in 2005, which you can read about at the "Other Journalism" site http://www.narconews.com/otroperiodismo/en.html The Other Campaign is an attempt to form a united opposition to neoliberalism, the current phase of global capitalism, which involves free trade policies such as NAFTA that have had a devastating effect on indigenous people in Mexico, and the nation as a whole.
These photos of Brigada Callejera are from the women's march on Tuesday and the Universal Access to Treatment march on Sunday.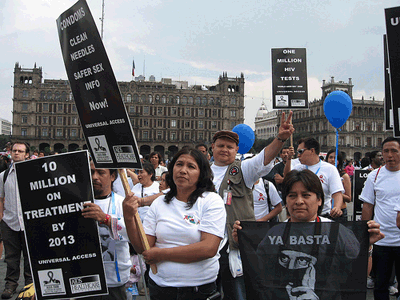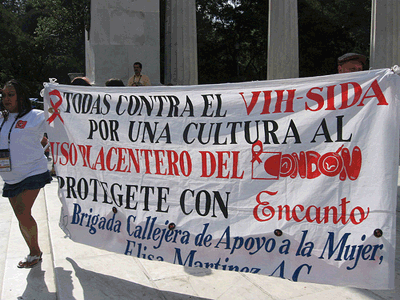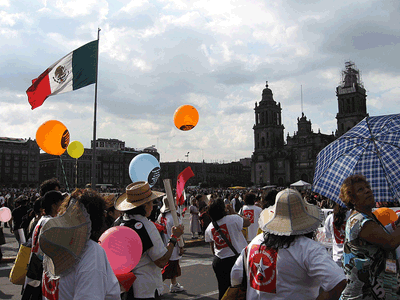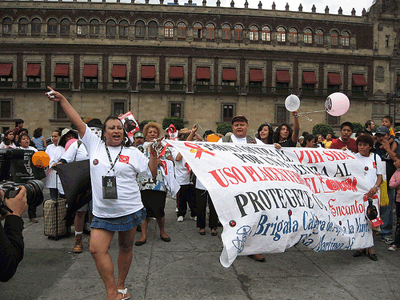 From the group's website, http://www.brigadacallejera.tk:
WHY BRIGADE?
Because we work in promotion, training or lobbying, in small operative groups.

WHY STREET?
Because we make contact with our target population in the street.

WHY FOR SUPPORT?
Because we are in solidarity with people and groups who live discriminatory situations.

WHY TO WOMEN?
Because the active accompaniment we carry out is directed to women, preferentially.

WHY ELISA MARTÍNEZ?
Because with her name, we give faithful testimony to her memory, and give recognition to sex workers who have died of AIDS, been assasinated or have suffered all kinds of discrimination because of being women, working in sex and having been infected with HIV.

WHAT IS HER DREAM?
A new society where women are no longer seen as commercial objects.

TO WHAT DOES HER EXAMPLE GIVE TESTIMONY?
Our commitment to combat all kinds of discrimination and violence towards women and those who are different.

WHAT DO YOU AIM TO DENOUNCE?
Social structures that give prefence to personal profit, selfishness and intolerance, that condemn millions of people to a life of misery, social exclusion and despair, and that reproduce the option of commercial sex as the only survival strategy, and homophobia as a mechanism to control human sexuality: thus institutionalizing two forms of violence against women and transvestites.

WHAT VALUES MOTIVATE YOU?
We are motivated by Faith in the greatness of women and transvestites linked to the commercial sex trade: in their faces are reflected the beauty of creation, their great hearts and their desire to triumph in the face of adversity.
We are accompanied by Hope, that certainty that we can change the current situation of sexual exploitation and homophonbia, and to open a horizon of possibilities such as free choice in sex, non-violence towards women and the different, and a free and voluntary maternity.
We are inspired by Charity, that habit of giving voice to those who have been denied it, to harbor pilgrims, to give refuge to the persecuted, to heal the sick, to satisfy those facing hunger and thirst, to understand those who are not like us, and not to judge those who work in the commercial sex trade.
We are motivated by Solidarity, by struggling together with the most unprotected, to obtain what is theirs and what they need to live a dignified life; what is theirs just because they are people.
We are illuminated by Love for those who live inhuman situations, like having to sell their own body in order not to die of hunger, and to survive in a society that condemns, denies and at the same time reproduces the offer of commercial sex.
We are mobilized by a search for Justice: full respect for people's rights, regardless of their social condition.