Most of our newsletter this week is devoted to our wide-ranging coverage of the XVII International AIDS Conference (AIDS 2008) in Mexico City, the world's largest gathering of HIV experts, activists and HIV-positive people. Much of our coverage is available as podcasts as well as written articles.

Although AIDS 2008 ends on Aug. 8, TheBody.com's coverage of this remarkable conference has barely begun! Visit our AIDS 2008 home page over the days and weeks to come for many more articles and podcasts, as well as a wealth of photos and videos.
THE PEOPLE OF AIDS 2008

Thembi Ngubane: Mother, Activist, South African ... And Proof Positive That You Can Thrive With HIV
When she tested HIV positive in 2002 at the age of 16, Thembi Ngubane of South Africa scarcely had an idea what HIV meant. Now 23, she is a model for global HIV advocacy. Thembi received worldwide recognition in 2006, when National Public Radio featured a stunning audio diary she kept in 2004 and 2005. Here at the XVII International AIDS Conference, she has given speeches and even co-chaired a major session on the state of the HIV pandemic. And did we mention that she has a 3-year-old, HIV-negative daughter? We were fortunate enough to have the opportunity to sit down with Thembi and hear her incredible story. (Article and audio from TheBody.com)



What Is It Like to Be HIV Positive in Egypt?
In Egypt, HIV stigma can be incredibly fierce and unforgiving. It can cost you your friends, your job -- and even the roof over your head. In this interview with TheBody.com, an Egyptian HIV-positive person named Ayman explains the many challenges that HIVers in his home country must face, including the fact that Cairo is the only location in all of Egypt where a person can get access to government-supplied HIV medications. (Article and audio from TheBody.com)



In Lebanon, Fighting for a Better HIV-Positive Future
Although hope has blossomed for HIVers in war-torn Lebanon, huge obstacles to getting effective treatment and care remain. In this interview with TheBody.com, Margarita, a Lebanese HIVer and activist, talks about how government support for HIV-positive people has been painfully slow to develop. Fortunately, people like Margarita are stepping up their fight to ensure a happier, healthier tomorrow for Lebanon's HIV community. (Article and audio from TheBody.com)
U.S. Annual Infection Numbers Have Been Deeply Underestimated for Years, Officials Report
For years, the U.S. government has said that about 40,000 people in the United States became HIV positive each year. No longer: On Aug. 2, the U.S. Centers for Disease Control and Prevention (CDC) announced that annual infection rates may never have been that low. Using new, more accurate methods, the CDC now says that about 56,000 people became HIV positive in the United States in 2006 -- and that the HIV infection rate has likely been at that level for many years. The report also noted that more than half of all new infections in 2006 were among gay men, while nearly a third occurred through heterosexual sex. Almost half of all new infections in 2006 were among non-Hispanic blacks, the CDC says. (Article from kaisernetwork.org)

To read the official CDC release on the new HIV estimates, click here.




Breaking Down, and Debating, the New U.S. HIV Infection Estimates
Kevin Fenton, M.D., Ph.D., led the team of researchers that reached these higher U.S. HIV infection estimates. He discussed the most important findings in this recent interview, and explained why he believes these new estimates are far more accurate than the old. (Article and audio from kaisernetwork.org)

It would be an understatement to say that there's been a lot of reaction to the new U.S. HIV infection estimates. Mainstream media jumped all over the story, and scorn has been piled on the U.S. government for taking so long to announce the new numbers, particularly since rumors had been flying for many months that the estimates were likely to be raised. Several HIV organizations reacted with strongly worded press releases; for instance, the AIDS Foundation of Chicago accused the government of virtually abandoning gay men and African Americans, while the American Academy of HIV Medicine demanded immediate steps to develop a comprehensive national plan to fight HIV.



The Debate Rolls On: Does "Undetectable" Mean "Uninfectious"?
One of the most provocative sessions of the XVII International AIDS Conference took place before the conference even officially began. In a charged satellite event before the opening ceremony, a panel of researchers and a huge audience took part in a debate over whether it's safe for an HIV-infected person in a monogamous relationship to have unprotected sex with an HIV-uninfected partner, provided the HIV-infected partner has an undetectable viral load, is on stable antiretroviral therapy and has no sexually transmitted diseases. In this talk at the end of the satellite event, Bernard Hirschel, M.D., of the University Hospital in Geneva, recaps the major points. (Article and audio from The Body PRO)

Another highlight of this satellite event was a lengthy but fascinating question-and-answer session with the audience, which included a large number of HIV advocates and HIV-positive people. Read or listen in as these audience members pepper the expert panelists with questions and comments about HIV transmission risk and HIV treatment.

"Album (Security)," 1995; Stephen Andrews

Visit the August 2008 Visual AIDS Web Gallery to view our latest collection of art by HIV-positive artists! This month's gallery, entitled "Medicine Show," is curated by Billy Miller.
HIV TREATMENT & HEALTH ISSUES
New Study Analysis Appears to Confirm Link Between Ziagen and Heart Disease Risk
Ziagen (abacavir) almost certainly increases an HIV-positive person's risk of having a heart attack, but that increased risk is only truly a concern for people who are already at a high risk due to other factors, according to an analysis presented at AIDS 2008. The new study appears to confirm the findings of another major study on Ziagen and heart disease risk that was presented at a conference in February. In this exclusive interview, Jens Lundgren, M.D., the lead researcher of the new study analysis, explains the findings and their significance. (Article and audio from The Body PRO)




Castleman's Disease: The HIV-Related Illness You've Never Heard Of
It's called Castleman's disease, and if you've never heard it mentioned before, you're not alone. It's a cancer-like illness that is rare, hard to diagnose and difficult to treat. There are also signs that it may be growing somewhat less rare among people with HIV. In this interview, Mark Bower, Ph.D., discusses his research on Castleman's disease in HIV-positive people. (Article and audio from The Body PRO)



Switching Protease Inhibitors Does Not Compromise Efficacy or Safety, Study Suggests
Sometimes, HIV treatment throws you a wrench: Your meds are working wonderfully, but you're having trouble dealing with the side effects, or there are drug-drug interactions. What do you do? Is it worth the risk to switch? When it comes to switching protease inhibitors (PI), at least, the answer may be yes. In a relatively small, 24-week study, people who switched from a stable PI-based regimen to another PI-based regimen were just as likely to maintain their undetectable viral load, and were no more likely to experience side effects, than people who didn't switch regimens. In this interview, study author Ben Young, M.D., explains the results. (Article and audio from The Body PRO)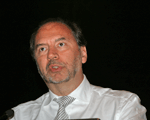 Head of UNAIDS Rails Against Homophobia
"There's something going on in the heads" of homophobes "that must mean that they are having a major problem with their own sexuality," says UNAIDS Executive Director Peter Piot. During a rousing summit on fighting gay stigma throughout the world (which was followed by a massive, day-long protest march through the streets of Mexico City), Piot put an exclamation point on calls for greater worldwide acceptance of homosexuality. "We will be nowhere with our AIDS activities if the gay rights agenda is not progressing," he declared. (Article and audio from TheBody.com)



Bill Clinton Dives Back Into HIV Activism
Former U.S. President Bill Clinton's speech at the XVII International AIDS Conference (AIDS 2008) may have been his most significant HIV-related talk in more than a year. Of course, that's not much of a surprise: Clinton's prominence in HIV had dimmed over the past year as he devoted much of his time to helping his wife Hillary in her bid for the Democratic U.S. presidential nomination. Still, he was back in form at AIDS 2008, exhorting world leaders to do more in their fight against HIV, and chiding the United States for not working hard enough to reduce HIV rates among African Americans. (Article from kaisernetwork.org)

Iran Detains Two Veteran HIV Physicians, Calling Them "National Security Threats"
In this interview with TheBody.com, Joseph Aman of Human Rights Watch explains the story of two prominent Iranian HIV doctors who have been detained by authorities since June. Although friends, family and aid organizations have been able to reach them since their detention began, Human Rights Watch recently learned that the two physicians were accused of conspiring to overthrow the government. (Article and audio from TheBody.com)



Abbott Agrees to Settle Lawsuit Over Norvir Price Hike
More than four years after it stunned and angered the HIV community by quadrupling the price of Norvir (ritonavir), Abbott Laboratories has agreed to settle an antitrust lawsuit that had been filed by HIV advocates and other drug companies. The settlement has yet to be approved by a judge, but it will reportedly cost Abbott between $10 million and $27.5 million. Abbott is still facing several other lawsuits stemming from its dramatic Norvir price increase in 2004. (Article from kaisernetwork.org)