The Debate Continues: Does "Undetectable" Mean "Uninfectious"?
Bernard Hirschel, M.D., Summarizes AIDS 2008 Session on "HIV Transmission Under ART"
August 3, 2008

Listen to Audio (6 min.)

Please note: These files can be quite large. Allow some time for them to download.
One of the most provocative sessions of the XVII International AIDS Conference (AIDS 2008) likely took place before the conference even officially began. In a charged satellite event, a panel of researchers and a huge audience took part in a debate over whether it's safe for an HIV-infected person in a monogamous relationship to have unprotected sex with an HIV-uninfected partner, provided the HIV-infected person has an undetectable viral load, is on stable antiretroviral therapy (ART) and has no sexually transmitted diseases (STDs).
In this summary at the end of the satellite event, Bernard Hirschel, M.D., of the University Hospital in Geneva, recaps the major points. Dr. Hirschel is one of the physicians who inadvertently ignited this controversy in February 2008 by helping author the now-infamous "Swiss statement," which you'll read about in a moment.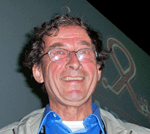 Bernard Hirschel, M.D.
[In addition to Dr. Hirschel's talk, you should also read the transcript of this lengthy, but fascinating, question-and-answer session with the audience.]
Advertisement
I'm not a member of the [Swiss] Federal Commission [for AIDS-related Issues]. I'm guilty by association. I have for a long time been a fan of Julio [Montaner]'s, particularly since his talk at the Toronto [International AIDS] Conference.
1
What we need are new methods for prevention. Vaccines are a pie in the sky.
Microbicides
have not worked so far. We have circumcision; that's partly effective.
2,3
We do have treatment, and we need treatment for prevention.
Pietro Vernazza explained to you what the Swiss statement is.4 It's directed at physicians. It is of help in counseling. It evaluates the relative risks of sex on HAART [highly active antiretroviral therapy] without condoms versus sex off HAART with condoms.5 And it is very tightly qualified: on HAART for at least six months, consistently undetectable viral load, no STDs, and perfect adherence. The Swiss statement does not advise against condoms and does not condone unsafe sex.
Behind the Swiss statement is the general idea that all risks are created equal, and that there is a problem when equal risks are unequally treated. Because how can one permit sex with condoms, untreated, while prescribing sex without condoms, treated, when the latter is equally or less risky than the former? I have not yet found an answer to this question.
Myron Cohen pointed out the great biological plausibility and that certainty is very difficult to come by.6 Events are rare and there are many confounding influences, such as the pharmacology of ARVs [antiretrovirals]. His pioneering study of discordant couples will give us some of the numbers we need, but will take a long time.7
Nancy Padian looked at the Swiss statement from the women's standpoint.8 She finds pros and cons, states that compliance with condoms is disappointing, and points out the issues related to power and gender.
Nikos [Dedes], from the standpoint of the people living with HIV and AIDS, states that9 the conscience of being infectious is a heavy burden to carry, and lifting it off is taking a load off of HIV-positive people. There are other issues: regaining the right to uninhibited intimacy, procreation, and -- a fact that I very strongly believe myself -- that being less infectious will reduce stigma and discrimination.
Catherine Hankins points out that first-world views are called the truth,10 and that most HIV-infected patients have no access to viral load testing and to diagnose STDs. It is therefore doubly difficult to, quote-unquote, be sure about ends of risk in less developed countries. The Swiss statement will find its first application in pregnancy planning, perhaps complemented by pre-exposure prophylaxis, but has little applicability to other situations where condom promotion, in combination with treatment and circumcision, must remain the rule.
Let me now hazard into the difficult fields of politics and philosophy. What do we do when we, as a panel, make recommendations? Well, we have to cope with what I would call the asymmetry of risk. To say that something is dangerous while in reality it is not has no consequences for the politician or the panel member who says so. The opposite, however, to say that something is not dangerous and then something bad happens is, at times, career-ending. Therefore, there is a natural tendency of panels and commissions to, first and foremost, protect themselves.
One way of protecting themselves is to ask for more evidence. But the time it takes to obtain perfect evidence has a great cost. Remember that for circumcision, between good circumstantial evidence11,12 that it worked and the acceptance through a randomized controlled trial,3 17 years elapsed. No offense meant to my attractive fellow panelists, but there is one sure thing at every World AIDS conference, and that is that the panelists are two years older. Of course, I'm part of them. And their sex lives are largely behind them. So I think we should take heed from that venerable institution, the Catholic Church, and make a second Swiss statement: Let us not be AIDS cardinals.
This transcript has been lightly edited for clarity.
References
---

This article was provided by TheBodyPRO. It is a part of the publication
The XVII International AIDS Conference
.
---
Comment by: jose
(san diego,ca) Sun., Jan. 13, 2013 at 2:58 pm UTC
my understand hiv undetectable hiv + for me still means the person is hiv +, regardless of hiv undetectable. i need to know if i am wrong guys being undetectable hiv believe they can bb with a person hiv neg and not transmit the disease. Will never believe it.
Comment by: Michelle
(Boston, MA) Thu., Nov. 6, 2008 at 7:40 pm UTC
I would like to hear more from discordant couples about conceiving. I am neg, my husband is pos. We want children, but he is afraid of sex without a condom. He has been undetectable almost all of the 22 years that he has been pos, and has high CD4 counts. I think carefully planned risk could produce the child we long for. Thoughts???
Comment by: Richard
(Philadelphia, PA) Thu., Oct. 23, 2008 at 9:16 am UTC
I'm at a loss when searching the answer to the question; "Is undetectable HIV testing detectable or not? And what testing scheme shows which result. I was diagnosed in 1995 and have been undetectable for most of my tenure with HIV however, recently I have been in a relationship (it's new; no sex as of yet). With all of the positive support that I have been given I'm afraid that my new girl friend does not share the same sentiment. I have no choice but to devulge my HIV status to her but I feel that the ending of our relationship is unavoidable. Finding out about the status of undectability could give me some time so that I might woo her to the support side however, when we take the test if it shows positivity I'm sunk.
Comment by: Marcey
(Washington) Sat., Oct. 11, 2008 at 5:29 am UTC
I am in a sero-discordant relationship. I am neg, my husband pos. I am an RN. I believe the statement was made not for everyone, but for physicians, in order that they may counsel people with more accurate information. You would want that if you or someone you love is pos wouldn't you? Or would you prefer the doctors decide for you what information you are allowed to have? AIDS is a terrible disease, my husband had a CD4 of 8 three years ago. Today it is over 500. So i do understand how devastating this disease can be, but I believe there is power in information. Just as an aside we do use condoms but had one fail, or maybe we failed it, i'm not sure, regardless out of that failure came a beautiful baby girl (I and she are both negative).
Replies to this comment:
Comment by: Paulo de Souza
(Brazil) Fri., Sep. 19, 2008 at 9:13 am UTC
I date a non-infected man for almost two years now, and despite my viral load being undetectable and my CD4 being around 550, he contracted HIV from me. From his insistence we had unprotected sex till he caught the HIV virus.
Believe me, it is not worth it.
Comment by: Jackline
(New York) Thu., Sep. 4, 2008 at 10:56 am UTC
I am in a sero-discordant relationship. I have had HIV for 13 years and my husband of nine years – thankfully - remains negative with use of condoms whenever we have intercourse. This has not dulled our sex life at all. As has been observed, the burden of being infectious is heavy on the HIV person - to think that you can 'kill' the person you love with a random act of carelessness or by taking unnecessary risks is unfathomable. Then again, in the best of these circumstances – low viral load, no other STD and strict adherence to HAART, I think the decision should lie squarely with the uninfected partner on risks that they can engage in. Risk, by its very definition, means exposure to the chance of injury or loss or dangerous chance.
Comment by: Paul
Mon., Aug. 18, 2008 at 9:32 pm UTC
After twenty years of listening to "experts" tell me to not have sex except when I am wrapped up in plastic, take their drugs, and now to cut off the end of penis, I have had enough.
If you can't come up with something better in 20 years, you might want to consider another profession. I for one am going to enjoy what ever is left of my life NOW, with my penis intact!
Bye.
Comment by: Amina Shali
Tue., Aug. 12, 2008 at 7:53 am UTC
I am from Kenya at a clinical site known as AMPATH (Academic Model for Prevention and Treatment of HIV/AIDS). In the year 2003 we were fortunate to receive aid in form of antiretoviral meds. There had been so much education on transmission of the virus that HIVers were scared to have sex. Among the HIVers here were the youth and young adults who were infected before they could have children. After seeing the success of these ARVs, in form of health and libido restoration, HIVers were conceiving and giving birth to healthy babies!(HIV FREE.) Some are on to their 3rd births.
The cost for a viral load is extravagant and unaffordable and we use the CD4 cell count to measure response to ART meds.
From my point of view, a study should be done to find out how the parents are doing this, because the babies are HIV negative, and the parents are not reinfecting each other, maybe it is true that if one is adherent of ARV and their CD4 is high (assuming their viral load is high) the rate of infection lessens.
Comment by: Robert
Sun., Aug. 10, 2008 at 2:55 am UTC
I agree with a key supposition made in this article. "Whether or not the infected partner is undetectable or with a high viral load is immaterial. If he or she is infected they do stand a risk, no matter the amount of risk, of passing the virus to their uninfected partner."
Risk reduction through circumcision or treatment adhearance, or any other method, does not make the subjects HIV uninfected and risk free of passing along the virus. Ignoring a much larger risk reducer as an appropriate condom, used properly, is unreasonable.
Add Your Comment:
(Please note: Your name and comment will be public, and may even show up in
Internet search results. Be careful when providing personal information! Before
adding your comment, please
read TheBody.com's Comment Policy
.)
Please note: Knowledge about HIV changes rapidly. Note the date of this summary's publication, and before treating patients or employing any therapies described in these materials, verify all information independently. If you are a patient, please consult a doctor or other medical professional before acting on any of the information presented in this summary. For a complete listing of our most recent conference coverage, click here.