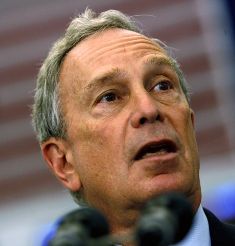 No need to RSVP, Mike
For the past 13 years, on World AIDS Day, city officials have joined Housing Works to commemorate the lives of those who have died of AIDS. The best way to honor the dead is to support those currently living with HIV/AIDS. Mayor Bloomberg and the City Council did not fulfill this duty with their nearly $6 million hit to HIV and AIDS services, prevention and care in this year's budget, which will slash services to those hardest hit by the AIDS epidemic.
In an effort to call attention to the city's neglect of its residents living with HIV/AIDS, and to hold accountable those persons that are in many ways responsible for this failure to protect our city's poor and ill, Housing Works is publicly disinviting Mayor Bloomberg, City Council Speaker Christine Quinn, and anyone from the mayor's office or members of City Council who voted in favor of this year's budget to participate in our annual World AIDS Day "Reading of the Names" vigil in December. The vigil, where names of people who have died of AIDS are read aloud, has become a cornerstone of New York City's World AIDS Day commemorations.
How can City Council members read names on World AIDS Day when the names of those who won't have clean syringes in the city will now grow? How can the Mayor provide a bagel breakfast on World AIDS Day to the leaders of AIDS service organizations, when more than $2 million dollars in HIV outreach to get people into services has been eliminated?
Advertisement
Funding for services for people living with HIV/AIDS and
harm reduction
programs was decimated. Money for HIV/AIDS counseling programs and a pilot program set up last year by Quinn to get HIV-positive asymptomatic people out of shelters and into stable housing was eliminated. Funding to provide clean syringes through syringe-exchange programs was cut by almost $750,000, or 30 percent. HIV rapid testing services received a $1 million cut, a particularly galling reduction given the New York City Department of Health and Mental Hygiene's effort to expand testing, including the recently announced plan to test every adult in the Bronx.
While many members of City Council have long been staunch allies of the AIDS community, their years of service have been undermined by this year's budget process and subsequent cuts. We are gravely disappointed that they didn't take a bolder stance by voting 'no' on the budget. We are appalled that those we elected as advocates for the most vulnerable New Yorkers did not push back against an administration protecting the wealthy and by our own community's deafening silence and lack of vehement outrage in the face of this destruction. Unfortunately, there is no way to undo this year's budget, and it will be the poor that will bear the disproportionate brunt of mayoral punishment and Council weakness.
But in 2010, we will demand and expect our Mayor and Council to take a bold stand against AIDS and HIV here in the epicenter of the epidemic by producing a fair, just and health-positive budget.