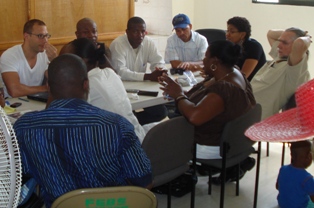 Housing Works staff in Haiti
On June 27, a million people turned out for New York City Gay Pride. The rural town of St. Marc, Haiti, has no gay pride parade; coincidentally, however, on that same June day, 18 gay men gathered in solidarity and shared their experiences of gay Haitian life.
The group, which has yet to be named, is the first gay rights organization in Haiti outside of the capital of Port au Prince. At the June gathering, the members shared stories of discrimination and outright violence. One man spoke of having stones hurled at him as he walked down the street. Another talked of his family banishing him from his town.
Advertisement
Like much of the Caribbean, Haiti is hostile to gay rights, and very few people are openly gay. The new group is supported by the Fondation Esther Boucicault-Stanislas (FEBS), an AIDS organization founded by Keith D. Cylar Award winner
Esther Boucicault
. The group met in a pavilion that is part of a small compound FEBS leases so that people can meet for support activities without worrying about being identified. "This group was marginalized and neglected," Boucicault said."Taking into account that this group is at risk and vulnerable to HIV/AIDS, we wanted to create a space where they can meet, exchange ideas and help them fight against the stigma."
While heterosexual sex is the chief mode of HIV transmission in Haiti -- a similar transmission pattern to sub-Saharan Africa, where people have concurrent multiple heterosexual partners -- the lack of men who have sex with men in the reported data is likely skewed because of the stigma associated with homosexuality.
"In my own private practice, largely due to our culture, not many people would admit to being gay or to having sex with anyone of the same sex. Homosexuality is completely taboo in Haiti," Fritz Lolagne, who was once a private practitioner in Haiti, told Positively Aware in 2005.
A delegation of Housing Works employees attended the Pride weekend meeting. They happened to be in St. Marc at the time, working on a future business collaboration between Housing Works Thrift Shops and FEBS. "It was really powerful to see the beginning of a gay rights movement in Haiti," said Matthew Bernardo, Housing Works' Senior Vice President for Business Enterprise.