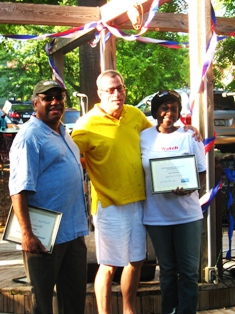 Mississippi AIDS activist Robin Webb (center) and Robinson (right) accept award on behalf of AAIM
The
Update
congratulates AIDS Action in Mississippi (AAIM), which was named Outstanding Community Organization by the American Civil Liberties Union of Mississippi on Friday June 11. AAIM was honored for pushing forward legislation that benefits people with HIV/AIDS and making Mississippians with HIV/AIDS aware of their rights. ACLU credits AAIM in the dramatic increase in the number of civil rights complaints they receive from people living with HIV/AIDS.
"AIDS Action in Mississippi has been doing some phenomenal work about the disparities in AIDS treatment in Mississippi and making sure young people can get comprehensive sex education," said Nshombi Lambright, ACLU of Mississippi's executive director. "In addition the work they've done to let people know about their rights brings an increased sense of awareness that there are organizations out there that can address these needs."
"We Will Not Give Up the Fight"
Advertisement
"I am proud that the ACLU is recognizing the work that's being done around the HIV and AIDS injustices in Mississippi," said AAIM field organizer Valencia Robinson. "People are realizing their rights are being violated. They're learning it's okay to speak up without feeling like you're going to lose your house. It's okay to speak up if you're not getting your meds. [Mississippians] are making some noise."
There will be an even louder noise at the Stand Against AIDS, a multi-armed cross-country caravan of AIDS activists that will descend on Mississippi for the first presidential debate in Oxford on September 26. This major grassroots undertaking is intended to force the presumptive Democratic and Republican nominees to commit to creating a national AIDS plan in his first 100 days in office.
While people from all across the country will participate, the lion's share of caravaners will come from Mississippi, with the ACLU of Mississippi, NAACP, and the Southern Christian Leadership Conference all pledging support. For such a strong message to come out of Mississippi, where people living with AIDS -- 7,300 of them, according to the 2006 CDC report -- haven't often been on the agenda, this effort is huge step forward.
"This will be the largest AIDS education and advocacy effort the state has ever seen," Robinson said. "People realize they no longer have to be silenced."
AAIM laid the groundwork in Mississippi with pioneering advocacy efforts. In April, at an AAIM-organized press conference, people with AIDS spoke up against the lack of Medicaid funding and transitional, supportive housing. AAIM is currently working with Craig Thompson, Mississippi's bureau director for STD/HIV, to make sure he sticks to his pledge of providing up to $200,000 a year for a four-year pilot program to create long-term low-threshold supportive housing for people with HIV. "Even if housing doesn't happen as soon as we would like, we will not end this fight until it happens," Robinson said.