Senate Approves $48 Billion for Global Health; Repeals Immigration Ban; Some Prevention Problems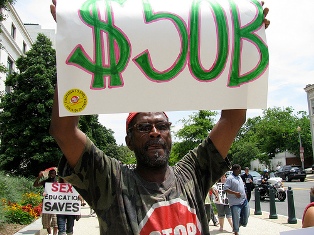 PEPFAR activism in action
Thanks to the tireless work of advocates and activists, the President's Emergency Plan for AIDS Relief (PEPFAR) reauthorization passed by a vote of 80 to 16 in the Senate Wednesday, with $48 billion for AIDS, tuberculosis and malaria ($2 billion was appropriated for health and safety projects on American Indian reservations at the last minute). A major highlight of this bill -- expected to be adopted wholesale by the House -- is that the
embarrassing Congressional HIV/AIDS travel and immigration ban
was overturned. Now the Department Health and Human Services administration can end this appalling piece of prejudice whenever it pleases (time to start lobbying HHS Secretary Michael Leavitt!).
Senator Jesse Helms originally put the first incarnation of the ban into place. Ironically, Senator Elizabeth Dole, unsuccessfully sought to rename the PEPFAR reauthorization legislation after Helms. It is currently named the "Tom Lantos and Henry J. Hyde United States Global Leadership Against HIV/AIDS, Tuberculosis, and Malaria Reauthorization Act of 2008."
Not Enough Pep for Some
Advertisement
The conservative Republicans that bucked Bush to vote against the bill because of the price tag aren't the only ones grumbling about PEPFAR. While most U.S. AIDS groups gushed about PEPFAR in a plethora of press releases yesterday, prevention and family planning advocates remained unhappy about the continuing abstinence requirements. While they are not earmarked in the bill, the reauthorization requires countries to report when they are not spending 50 percent of prevention dollars on abstinence-only programming.
The new legislation also does nothing to repeal the U.S. global gag rule on contraception and the so-called "prostitution pledge." (U.S. groups that don't specifically condemn prostitution can't get PEPFAR funding). This was a missed opportunity. Neither the gag rule nor the pledge are part of PEPFAR, but it would have been easier to repeal them in a PEPFAR package than as freestanding bills.
"The core of the bill is rotten," said Jodi Jacobson, director of advocacy for the American Jewish World Service, who has been one of the most outspoken advocates against the new PEPFAR (other than Sen. Tom Coburn, that is). Citing the U.S Government Accountability Office (GAO) and other studies criticizing PEPFAR's prevention provisions, Jacobson said, "This is really bad policy. It calls into question whether folks care about prevention or not."
Jacobson thinks that the bill should have been held off until next year, when there will presumably be a more Democratic Congress. "We would have had a good bill had Global AIDS Alliance and the ONE Campaign not intervened," Jacobson said. She believes that these groups compromised on prevention issues before necessary which resulted in a watered down bill.
Global AIDS Alliance's David Bryden dismissed these criticism. "We did the best we could to fit changes with sex workers and prevention," Bryden said. "It wouldn't fly. We perhaps would have gotten a party-line voted bill out of the House, but it wouldn't have made it through the Senate." Bryden also said it was important to reauthorize PEPFAR when Bush was still in office, since he was so supportive of the legislation, and also to get it done before the economy goes further down the drain. As economic woes worsen, Congress could be less likely to pass such a large spending bill.
Bryden said GAA is working to change PEPFAR's prevention policies but thinks advocates have a long way to go in making their case for sound prevention, and particularly regarding rights for sex workers. "We all need to work a lot harder and a lot smarter and make common cause with religious groups," he said. "That's just a political necessity whether we like it or not. [It's not like] in the case of the travel ban, when it's largely recognized as something that's antiquated. I don't think when it comes to prostitution that we're there yet."
As Health GAP's Paul Davis said in an e-mail to advocates, "There are major U.S. policy pieces we could NOT fix in this bill, like the sex worker pledge and the "Mexico City" policy! But for today, there is so much to be proud of!" Still, Davis said that before PEPFAR is signed into law, Congress needs to set a firm treatment goal of three million people.
The House is expected to take up the Senate bill. Bush has said he will sign it into law.