At NYC Pride, Activists Demand Next President Create National AIDS Strategy, Mobilize Against City Budget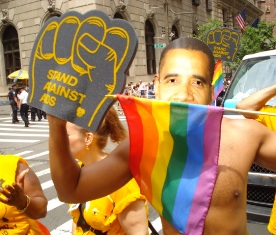 Obama impersonator stands against AIDS
On Sunday, rainbows brought rainstorms.
Despite a torrential downpour, more than 100 raucous HIV/AIDS activists from Housing Works and CitiWide Harm Reduction participated in a New York City Gay Pride float dedicated to the upcoming Stand Against AIDS, a multi-arm cross-country road trip to the first presidential debate between Sens. John McCain and Barack Obama in Oxford, MS, on September 26.
The goal of the Stand Against AIDS is to get commitments from both McCain and Obama to create a national AIDS strategy within 100 days of taking office, and the vocal marchers let the crowd know, cheering, "You've got 100 days to Stand Against AIDS!" They wore T-shirts and masks with caricatured images of Obama and McCain, carried banners and handed out Obama/McCain condom packs.
Advertisement
Marchers in Obama masks got more cheers from the gays and gay-friendlies on the sidelines than those who impersonated McCain -- this was New York, after all. However, the Stand Against AIDS, a project of the national activist network the Campaign Against AIDS, isn't affiliated with any candidate or party and seeks commitments from both candidates to end AIDS in the U.S. The U.S. requires foreign countries seeking billions in funding to fight AIDS to have a national AIDS plan, but doesn't have one itself. The U.S.'s patchwork AIDS infrastructure has failed to reduce new HIV infections for a decade and funding to fight AIDS is increasingly inadequate.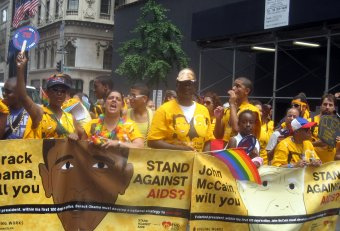 "Stand against AIDS!"
"We don't want another Reagan," said Erica Baez, referring to the late president's inaction that led to the swelling of the AIDS crisis in the 1980s. Baez was dressed in candidate-chic, with photos of McCain and Obama plastered to her legs, reflecting her bipartisan spirit. "I'm technically still 50/50 because I really wanted Edwards," she said.
Not Proud of Mayor and City Council
Along with condom packs, a last minute addition to Housing Works/CitiWide Pride party favors were action alerts asking Pride-goers to contact Council Speaker Christine Quinn, New York City Council members and Mayor Michael Bloomberg to vote against the New York City budget that cut lifesaving services, prevention and treatment for HIV/AIDS. Unfortunately the hush-hush budget passed later that night.
CitiWide marcher Rodney Mark said that as a person living with HIV, he was disappointed in the city's cuts. "People don't believe it, but New York City is the leading city in the country for AIDS, so if AIDS isn't fully funded in New York what can we expect for the rest of the country? We need to set an example," he said.