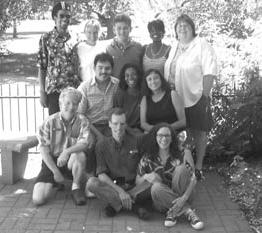 The PWACC gang in the summer of 2001. Top Row: Paul Miller, Mary Blanton, Tony Garcia-Pelaez, Shirley Nichols, Shannon Behning.
Middle Row: Rodolfo Martinez-Puentes, Lola Taylor, Amanda Rosas.
Bottom Row: Al McKittrick, Earl Thomas, Shelley Cohen McKittrick.
The PWA Coalition Colorado officially closed its doors on August 15th, 2004. Over the seventeen years of its existence, PWACC changed the lives of thousands of people living with HIV and AIDS through its education programs, its publications, its advocacy programs, its medication access programs and its fierce commitment to defending the rights of PLWH that had been so dearly fought for in the 1980's and early nineties.
The Coalition began in 1987 in humble settings; under the stairs at the old CAP offices with one desk and a phone. Earl Thomas, a Denver PWA, had just returned from one of his regular visits to D.C., where he was participating in the NIH AZT clinical trial. While there, he visited an organization called the National Association of People With AIDS(NAPWA). Inspired by their message of empowerment, Earl agreed to open a PWA Coalition in Denver. He returned home and enlisted the help of a Latino AIDS Activist, Steve Montano. Together with a lot of their friends and a Beer Bust at the Lumber Company that netted $65, they began to work.
The message was simple. "You are not a victim and you don't have to die." On the surface, the message seemed a bit naïve. Since the beginning of the epidemic, the American public and government had ignored the holocaust that had permeated the gay community. One can tend to feel like a victim when your pleas for help fall on deaf ears. Secondly, the medical establishment had no treatment to offer at an AIDS diagnosis besides, "I'm sorry." People were getting sick and disappearing at alarming rates. So the mental and emotional blow of an AIDS diagnosis didn't do much for the survival rate. The Coalition "was about changing that perception, I don't mind telling you," Earl told Resolute! in a 1999 interview.
PWACC also served as the Denver chapter of ACTUP in its initial years, and with a combination of activism and advocacy the Coalition was at the forefront of many battles in Denver to further the cause. Most ingenious of these was the protest and negotiation over Mayor Pena's proposal to cut services to the Infectious Disease Clinic at Denver Hospital to help balance the city budget. While orchestrating protests at Pena's home in North Denver and at the hospital, other organization members met with city officials to amicably resolve the situation.
Advertisement
As with most organizations, PWACC was not without inner conflict. An upheaval between individuals in the organization caused its dissolution as a nonprofit corporation in 1992. However a few months later, CHAP, Inc. (The Denver Buyer's Club) registered the dba of PWA Coalition Colorado with the Secretary of State.
In 1993, PWACC published the first issues of Resolute! Dedicated to Surviving. And then a man named Jeff Davis came back to town. Jeff was a Denver native who had moved in the eighties to Hollywood, where he was later diagnosed with AIDS. Under Jeff's leadership, the Coalition and Resolute! became recognized as models of empowerment. No one before or since has had the negotiation skills and the people skills to accomplish so much in such a short period of time. Jeff was instrumental in the Coalition's participation on the Governor's Council on AIDS, The Mayors Council on HIV Resources, the saving of ADAP funding at the State Legislature, the President's Panel on AIDS, and the promotion of Resolute! to a regionally recognized status as a resource for PLWH. His column about his lone missing T-cell, "Where's Ezmerelda?" was a source of laughter and delight in an all too gloomy community. Jeff died in September of 1996. Reader Warning: Caution! Author will down shift to first person in the next sentence.
I came to work at PWACC on September 6, 1996. Board President Chad Kenney met me on the steps and told me Jeff Davis had died that morning. My 27 year-old wife, Dee Dee, had died from AIDS just nine weeks earlier. It was the darkest of days just before the dawn. Time seemed incredibly precious.
Once again the Coalition went through a period of mourning and transition. Resolute! was kept going by Jeff's best friend and assistant-editor, Sarah Brighton and Chad Kenney. The Denver Buyer's Club was cut back to four hours a week. Somewhere in early 1997, I realized that a lot of guys who had been very sick were walking through our door looking much healthier. It seemed like the promise of HAART therapy was maybe going to come to fruition. Over the next two years, the Coalition continued to publish Resolute! and operate the Denver Buyer's Club and began to offer treatment information to PWA's who would stop by. 1999 was a watershed year for the organization. I became the Executive Director. A new Board of Directors was elected and met for the first time in three years. Shelley Cohen McKittrick came to work in January of that year; the Coalition became the home of Shannon Behning's Women's Lighthouse Project. Tony Garcia-Peláez from CAP and Rodolfo Martinez from Servicios de la Raza also joined the Staff. Shelley and Tony launched the Peer Advocacy Project with Congressional Black Caucus Funds that summer. It became a nationally recognized program for advocacy and self-empowerment. Advocates of every background were walking folks who were newly diagnosed into the system and helping PWAs who'd felt shut out, back into the continuum of care. The advocates were well trained and life experienced and were able to collectively make a difference in the lives of other PLWH in our community. Another inner upheaval took place in the Fall of 1999 and the Coalition set course to become a multi cultural, multi ethnic, bilingual organization of advocacy and education.
The next three years were some of PWACC's best. Earl Thomas, came out of seclusion and came back to help out at the organization that he had co-founded. Resolute! under Shelley Cohen McKittrick and Resuelto! under Tony Garcia-Peláez, became nationally and internationally recognized resources for not only PLWH but for providers as well. The Peer Advocacy program helped hundreds of people of color access treatment and was recognized by HRSA as one of the best programs to come out of the Minority AIDS Initiative. We were able to provide hundreds of PLWH with life saving medications through our drug exchange program. The Denver Buyer's Club provided great nutritional support, at affordable prices, to many PLWH. The seed of advocacy was planted throughout the community by the H.E.A.R.T. Institute and its training courses. We were riding high.
We approached 2002 with optimism and unfortunately a feeling of invincibility. We expanded our staff to 12 and projected a $500,000 budget. By mid 2002, we realized that traditional funding sources were drying up. Beyond the recession and the floor dropping out of foundation giving after 9/11, we took serious funding reductions from Ryan White funds. No other agency but PWACC had over a 66% reduction in funding from Title I in just two years. The next year PHRMA rules for Industry grants changed and this caused losses in funding that we hoped could make up for cuts from our friends at the HIV Resources planning Council. We started downsizing in the fall of 2002 in the hopes of salvaging the organization. Two years later, we lost those hopes. As Executive Director I was responsible for the financial well being of the organization. I would admit to financial mismanagement, though it wasn't the type that got me a Lexus. Many times we would buy another week in a motel for a client because they had run out of emergency housing resources and they would be on the street if we did not intervene. Or instead of paying one of our bills, we would pay for a medication, crucial to the life of a client without resources for even a co-pay. We were loyal to our employees and clients to a fault and they returned that loyalty. In hard times, the prioritizing of funds in this manner is not prudent. We made the right choices for humans but suffered the business consequences.
Although PWACC has gone, the principals and mission are being carried on by new entities and new people. Peer advocacy programs have begun at other organizations over the last couple of years. The Women's Lighthouse Project has been its own for two years now and has expanded its outreach to include women who are incarcerated. Rachel Hansgen at the Colorado AIDS Project has taken over the monthly community education forums and I am delighted that Shelley is continuing Resolute! and The H.E.A.R.T. Institute as a separate 501c(3) non-profit. Proyecto Nosotros will be continuing the drug donation program. Check the Resource Guide for their number
For seventeen years, the mission of the PWA Coalition Colorado remained the same; To Empower People Living With HIV and AIDS through education and advocacy. For seventeen years, the PWA Coalition remained an organization that was of, by and for people living with HIV. We always spoke the truth as we saw it and we never compromised our commitment to serve our community. All who participated should be proud of what was accomplished.
None of the above would have been possible without the tireless dedication of hundreds of volunteers, staff and Board members, many living with the disease themselves. They gave of their time, their money, their love and too often, their lives, to leave a legacy of hope, pride and empowerment for all of us who survive. It remains a sacrifice to be honored.
"Won't forget,
Can't regret,
What we did for love"
-- Chorus Line

Back to the Resolute! Fall 2004 contents page.