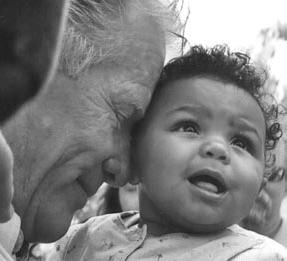 Most of us who are infected or affected by HIV and AIDS remember the day that HIV bulldozed into our lives. A visit to a doctor or clinic; a friend who died unexpectedly or those phone calls from friends or lovers with some really bad news. From that moment on your life is forever changed and was never the same again. My moment was getting the phone call. On the evening of April 9,1993 I was still on tour in Salt Lake City when my young girlfriend, Dee Dee, called me at my motel room. She had received the results of her HIV test that day and had not only tested HIV positive but with only 75 T-cells, was already at an AIDS diagnosis. Not good news for a woman of 24 in 1993. I received my test results about 5 weeks later.
Positive.
In June, I returned to Denver and Dee Dee joined me here. We were introduced to the community and its amazing infrastructure by an actor friend of mine named Greg Britten who also was a PWA. He took us to Denver Health ID Clinic and on to CAP. Everyone was compassionate and empathetic. Infected, affected and providers made up this incredible community of people where there was limited time for bullshit and everyone gave 100% for the continued good of others who were afflicted. The helpfulness that was extended to all, by people who were sometimes very sick themselves, created a heightened sense of awareness that had more than a few cosmic and spiritual overtones. It had a certain state of grace.
When Dee Dee passed away at the end of June in 1996, there was an incredible display of visual effects in her room until the mortuary took her away. The air glittered, and small oval shaped rainbows appeared in the room about every minute. All of us who were there felt like we were in the presence of grace.
After Dee Dee died, my friend Daryl and I drove straight through from Denver to Dallas for her funeral. It was an incredible drive through New Mexico and western Texas where tornadoes spread out on the panhandle horizon to warn that the journey could be perilous. But still riding the emotions of what we had seen at Dee Dee's death, we felt like no harm could come to us. Two months later, on the first day I went to work for the PWA Coalition, Jeff Davis died and I ended up going with the Board President to see Jeff's family. It seemed a continuance of purposeful predestination guided by powers not understood, but coincidence seemed like a less and less viable concept in the world of AIDS.
In the grieving process, one often has casual conversations with the deceased. I think it helps in the journey of accepting their physical absence. Because of this communication between the worlds, it took me many months before I wasn't living on both plains.
Advertisement
Almost a year later, I met Shelley at an AIDS, Medicine and Miracles Conference in Denver. We had known each other for a while professionally but not until that afternoon did we allow our hearts to be open enough for an incredible energy to flow between us that took over our lives. We believed that the AIDS angels in our lives had brought us together. It seemed like this dual existence of living in constant blessing was never going to end. We married 16 months later in a community ceremony that overflowed with love, hope and good wishes for everyone. Although we included hopes for children in our vows, I certainly didn't believe that would come to fruition. I was more certain of that when less than a year later, Shelley suffered an ectopic
pregnancy
on our third try of using donor insemination. We talked of trying again or adoption, but months turned into years and our work at the Coalition became all consuming. We lost touch with friends, we took on our client's lives as our own and that became a self fulfilling prophecy. Our lives were our clients' and our organization.
And yet, we kept putting one foot in front of the other to find a child. Faced with the incredible costs of international and private adoption, we began to look at foster adoption. In the spring of 2003 we started the process with Boulder County; went through our indoctrination, our weekend trainings, our Red Cross certification and endless paperwork. Early that summer, they rejected us. I lost hope. At the time when I needed some of that "grace" and some of those "blessings," I didn't seem to have any on reserve. Four years of giving hope to my clients had left me with no hope at all. I called tech support to draw upon my spiritual connections and discovered that due to neglect the lines had been down for years. I began to think of the events of the last decade to have been nothing more than coincidence. It was a dark time.
Two months later, on a Saturday in late July, our friend Shirley called with news of a young woman who was 6 ½ months pregnant and looking for a family for her baby. We met the young mother two days later and hit it off. On October 6, 2003 at Porter Hospital, I held the birth mom and Shelley cut the cord and our daughter came into our lives. We named her Grace. Grace Monet McKittrick. We took her home the next day.
Over the next two months, we were challenged, as all new parents are with the tasks of having a newborn. I felt assured that my experience as a caregiver would make parenting a piece of cake. Buzz! Wrong! But thank you for playing. Trying to balance clients, parenting and keeping an organization afloat seemed impossible and it was. I was frustrated and exhausted and basically toasted. Here was the ultimate blessing in my life, handed to me in a precious bundle and I was not being able to celebrate her presence as much as I wanted to. I remembered a minister I had heard in Indiana while I was on tour. It was around Thanksgiving of 1992 and she reminded us that many blessings were given to us daily, but we failed to recognize them. "So, quit it, just quit it" she had said to us. I also recalled all the friends I lost to this disease who hoped that someday people living with HIV could go on with their lives and not live daily in fear of when they would be the next to die. I was a beneficiary of that legacy and I wasn't fulfilling its promise. I had to make a choice, and I chose my family; my daughter, my wife and myself.
Grace has just turned one and I have been able to spend the past year watching this amazing young being grow from a helpless infant to a walking, running, talking and curious-about-the-whole-world toddler. She says Daddy and comes to hug me, pats me on the back and kisses my cheek. And then she lays back on the rug and stares up at me with those beautiful brown eyes and I'm just eating it up. With that gift comes the child's complete belief that you will always be there for them. I hope to be. I choose to take the legacy left to me to live long and prosper. All I need is a little Grace in my life.

Back to the Resolute! Fall 2004 contents page.