Recently I spoke with Chip Schooley about his and Connie Benson's impending move, his time in Denver, the history and the future of the HIV epidemic.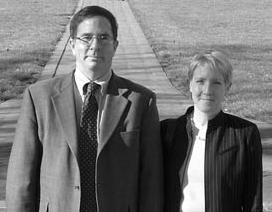 Denver loses two of the world's top HIV researchers: Dr. Robert "Chip" Schooley and Dr. Constance Benson.
Q: When did you come to Denver?
A: I came to Denver in 1990 from Harvard Medical School where I was an Associate Professor of Medicine.
What was the current state of affairs in Denver as far as research and clinical services?
Advertisement
There was a well functioning group down at Denver Health. They were doing primarily clinical trials and epidemiology. There wasn't any significant laboratory-based HIV research - - there was no AIDS Clinical Trials Group here.
Was there an HIV clinic at University Hospital?
There was one person, Ken Baum, who had just joined the faculty and went to see patients on Friday afternoons; otherwise they had to be seen in the ER.
So you started the ACTG site as well as the clinic, is that right? When did that get up and running?
We were able to do an initial study or two through the Boston program, and then we wrote an NIH grant that was awarded in1992. Steve Johnson came to Denver in 1994 to head up the Infectious Disease Group Practice.
I understand that you and Dr. Connie Benson are leaving us to go to the University of California at San Diego (UCSD)?
That's right.
What will each of your roles be there?
I will be the Head of the Infectious Disease Division and Connie will direct the UCSD AIDS Clinical Trials Unit.
What do you hope to be able to do there that you can't do here?
I think that the research infrastructure here is fraying to the point that it is going to be increasingly difficult to support multidisciplinary types of research. We've lost a lot of faculty in other divisions and disciplines that we work with. In contrast, the University of California at San Diego has been growing relatively rapidly. So the ability to do multidisciplinary research is much easier there than it is here.
What do you think the future of the ACTU in Colorado looks like?
I think it looks quite solid. The ACTU itself has been functioning very well. We have close ties with the community we serve. Clinical investigation can go on as long as the hospital continues to function and deals with the fact that clinical research is important.
So you think funding will stay in place here?
We hope so, yes.
Do you have any idea who may be coming in to replace either one of you?
Tom Campbell is going to take over the Colorado ACTU. A search committee has been formed to recruit a new Chief of Infectious Diseases. The bad news is they also have to find Chiefs of cardiology, oncology, gastroenterology, pulmonary medicine, clinical immunology, pathology, pediatrics and bone marrow transplantation and electrophysiology. Right now, with the melt down at the University, there are a lot of challenges in keeping it staffed. There's been a major exodus over the past 18 months.
[After our interview was over Dr. Schooley made the point that Colorado is one of the very few States that elects their Regents instead of appointing them. This has led to a situation in which the governing body of the University may have only limited expertise in medical research and health care. In many other systems, those governing medical schools and health sciences centers are appointed because of their specific expertise in the area.]
I will miss Chip very much. He is a true visionary and we were lucky enough to have him here for 15 years. I wish him the best and I know that he will perform very well in San Diego even though W is in the central office. He was very kind to all his faculty members in that he shared his spotlight. It will be difficult to find anyone else with his vision and stature.
John G. Gerber, M.D.
Professor of Medicine and Pharmacology
Divisions of Clinical Pharmacology and Infectious Diseases, UCHSC
What do you think is CU's most important contribution to the HIV research?
We've been the group that has been leading the overall NIH AIDS clinical research program -- coordinating it for the rest of the country from here. The leadership has been here in Colorado for the last decade -- myself for the first 7 years and Dr. Benson for the last 3 years. That's been something that we've been very happy to be able to do. In terms of antiretroviral therapy, we've been involved in pivotal clinical trials that have gotten us from the days of monotherapy to the current state of the art in which combination therapy is the norm. There have been some important studies in pharmacology and immune-based therapy studies that have been led from here. Those are the major areas in which we have distinguished ourselves.
Are there any individuals, people with HIV, who have left an impression on you, that you still carry with you -- or are there any memories that you would like to share?
One of the things that happened in the last ten years and the best thing about being a physician is that this has become a chronic disease. In the early 80's we'd get to know patients in the late stages of the illness and 6 months later you'd be helping them and their families to deal with their impending deaths. Over the last 10 years, I've seen people go back to work, have children, do things they've always wanted to do, and they've become friends. From my standpoint that's been the most gratifying thing that's happened to me in the last 15 years -- the ability to be involved in a disease in which the research has transformed what we can offer patients to a life expectancy that is not all that different from the rest of us. It has been really wonderful to see and it has given me a chance to get to know people as human beings in a much more long-term and intimate way than could ever be done before these advances in therapy came along.
That being said, do you promise to come back and talk to the community when we invite you?
Oh, absolutely.
What are your fondest memories here?
Well, I think the patients are the fondest memories. I'm going to miss all of them. Some of them come in from out of town already and are going to be coming to San Diego to see me. Others I'll keep up with by phone and by email. The people in the infectious disease department are some of the closest friends I've ever had in my life and they are family to me. I'm going to miss them terribly. The people in the division and the patients are my fondest memories.
What do you believe that the most important discoveries and advances in HIV research have been, breaking it down by decades -- the first 10 years, the last 10 years and the next 10 years?
The first 10 years starting in 1981 when the disease emerged and the end of the decade in 1990 the most important 2 things were discovering the cause of the disease -- HIV, and the first demonstration with AZT that if you could inhibit the virus, even a little bit, that you benefited people clinically, if only for a short while.
Between 1990 and 2000 we developed multiple additional drugs and learned about combination chemotherapy, which was based on a much deeper understanding of how the virus replicated in people. We understood in that decade that it required multiple drugs to get around the virus's error rate, which leads to high level of resistance. With this discovery the disease became one with which people could live for years.
Since 2000 I think we've learned how to use the drugs better with side effects for people. And we are about to see new classes of drugs that prevent the virus from integrating into the host DNA and prevent the virus from getting into the cell. So I think this will be a very exciting decade as well.
Do you think that entry inhibitors are the most exciting thing on the horizon?
I think integrase inhibitors are actually more exciting, but I think they both require active investigation.
What is it about integrase inhibitors?
Viral entry uses glycoproteins that are on the virus surface and directly exposed to the human immune response. This has led to a very plastic viral surface in proteins that exhibit tremendous variability. Thus, entry inhibitors may run into major challenges with rapid resistance development and significant differences from virus to virus in terms of susceptibility to these inhibitors. In the case of integrase, the enzyme is very conserved and doesn't seem to be able to change very much and still be able to maintain its infectivity. Thus drug resistance may be more difficult with this target. So I think it's a very exciting potential target.
I know there's been quite a bit of difficulty in the development of integrase inhibitors. Are those difficulties starting to be overcome?
Yes, there are several companies that have compounds that are looking very good.
I had a question about CROI [The Conference on Retroviruses and Opportunistic Infections]. You and Melissa Sordyl founded the conference, correct?
That's right.
Since arriving in Colorado in 1990, Chip Schooley has worked tirelessly to establish the University of Colorado as a premier AIDS research program with an international reputation. He has been a steadfast advocate for HIV infected Coloradoans. Dr. Chip Schooley and Dr. Connie Benson are two of the most prestigious and respected HIV/AIDS researchers in the world. Their departure from UCHSC is a terrible loss to our faculty, our patients, and the Colorado community. The University of Colorado needs to address the issues that have prompted Drs. Schooley, Benson, and many other distinguished faculty to leave UCHSC in recent years.
Thomas Campbell, M.D.
Associate Professor of Medicine
Division of Infectious Disease, UCHSC
What were your initial goals for CROI and have they changed?
To try to have a place where people could come and talk about HIV from the bench to the bedside. To make the kinds of advances you can't have if you only have the clinicians talk to clinicians and the basic scientists to the basic scientists. It's the place where a lot of the "Ah hahs" have happened. People understanding, for example, the replication rate at the basic science level, then clinicians saying, well good grief, the obvious solution to drug resistance is to use the drugs together. Those are the kinds of things that the Retrovirus meeting seeks to do.
Recently, I was giving a talk out of town and the doc who spoke after me made a point of saying that resistance testing wasn't yet very useful in clinical settings ...
I disagree strongly. Not knowing what the virus is like, and treating a patient blindly, is kind of like driving around Denver with paint on your windshield. It makes no sense to give patients drugs that aren't active against their viruses, with all of their side effects. And when you think one drug is active and it's not, the other two rapidly develop resistance. So that's the problem. Anybody that says resistance isn't important probably should be in another field.
What are your opinions on what is happening with the transmission of resistant virus, acute infection, and superinfection?
Like with any infectious disease that we have dealt with in the past, when treatments become available, more people in the community carry resistant organisms. HIV is no exception. It makes it more complicated than it used to be because we can't assume that just because a patient hasn't been treated, doesn't mean his virus hasn't. I think it's now good medicine when you see someone for the first time, to test their virus for sensitivity to antiviral drugs before you start treating them.
Do you think that's true even if people are chronically infected?
The problem these days is knowing how long people have been infected. It could be three years or it could be ten years. We know that as recently as three years ago there were a significant number of people getting resistant virus with their acute infection. I think you've got very little to lose by being reassured that you're starting out with sensitive virus as best you can. You have to also realize, of course, that you may miss it because the virus reverts to wild type, although we think now that when people are initially infected with resistant virus that it tends to stick around longer than virus that has selected for resistance by drug therapy. When you are infected with a resistant virus, you tend to not have as much of a mixture of resistant and sensitive viruses that are competing with each other so the resistant virus tends to stick around more. We used to think that if you didn't test somebody right away, you missed it. Susan Little has presented some very interesting data that shows that resistant virus may hang around for several years, maybe longer, in terms of being able to pick it up in the plasma. So unless there's a reason not to -- and there are very few other than figuring out a way to pay for it -- in my view, everybody should have their virus tested for resistance before they start therapy.
Don't you believe though, that over the long-term, resistance testing reduces the cost of health care?
I think it reduces the cost of care, both directly, because you end up not burning through a bunch of drugs in a patient that would otherwise work, [and instead use] drugs that were active against their virus; but it also reduces the cost of the disease to the community because it results in less resistant virus circulating.
What about treating acute infection?
I don't think we know yet whether that's the right thing to do, that's why it still remains a research question. But with today's drugs, there's very little evidence that you harm people and you might help them -- we don't know that yet. That's the kind of situation that can only be resolved by well-designed research studies.
And what are your thoughts about superinfection?
There are increasing data that show that it is something that happens not infrequently. We didn't have a way of looking for it very effectively in the past, because our techniques of picking up virus mixtures weren't as good as they are now. The first places it was picked up were in places where there is a lot of exposure, such as in commercial sex workers. Certainly there are also people in our community that get exposed frequently, and the incidence of superinfection is probably higher than we used to think it was. And the greatest risk for people is that you pick up a virus that your immune system can handle less well or you pick up a virus that's resistant to the drugs that you had been taking in the past -- so there are real down sides to picking up other people's viruses.
Can you give us your opinion on when to start therapy?
There is not a single time when everyone should start, which is one of the problems with the guidelines. There are people who want to simplify things to the point where it is no longer medicine -- just accounting. There are a lot of factors that weigh into [the decision]. Obviously, one of the most important ones is whether the patient is ready to start therapy and will take the drugs the way you need to in order to not have the virus develop resistance. In people who have high risk of cardiovascular disease you may wish to hold off for a little while; in people who have been stable for a long time, you may hold off on for a little while; these are the kinds of patient variations that we take into account in other areas of medicine and HIV is no exception. You have to think about the person in front of you because the guidelines are for the average patient and none of us are average; we're all individuals.
Chip's vision made the University of Colorado one of the premier research units in the country. He assembled an awesome team of researchers with a wide variety of expertise -- virology, immunology, pharmacology, and endocrinology. He built a program that is strong and we will be able to carry on his legacy. Our ability to remain a top research center will be a testament to the strength of the program he built. We will all miss his wit and his warmth. I hope San Diego will appreciate him as much as we do.
Graham Ray, Rn, MSN
ACTU Study Coordinator, UCHSC
Taking that all into consideration though, is there an area of immunological status that you are more comfortable with?
I hate to see anyone go below [a CD4 count] of 250 and I prefer to start people around 350. But there are a lot of people who we see that come in who are presenting with their first [opportunistic] infection, who didn't know they were infected and they have 10 CD4 cells. The good news is that most of them do pretty well. Nonetheless, I wouldn't recommend that as an approach to therapy.
What do you think the biggest challenge facing the HIV community -- all of us -- research and care ... in the US is, and then secondly globally?
I think in the US the biggest challenge is to continue to make certain that care is readily available to anyone who needs it and wants it. I worry about the insidious attacks on resources that are needed for both the drugs and the care structure that is required to deliver the drugs in an intelligent way. I think that the reason that we've had the success that we have over the last 10 years has been the Ryan White coverage and the decision on the part of this society that AIDS is not going to be a disease that we ignore. I think if we do begin to ignore it what we'll find is that the infection rate will begin to increase because people have no reason to be tested and it will cost us a lot more in the long run to not treat HIV than it will to treat it -- if you're just doing a cold-hearted economic analysis. I think it's not only morally right to make certain that care is readily available but it is economically a very smart decision.
It is also an obvious point that we must make certain that we can deliver care abroad the same way that we have been able to here. There are no short cuts and there is no easy way to do it, but if you look at a country like Zimbabwe where a third of the adults are infected, you don't have to be George Bush to figure out that your teachers and nurses and physicians and factory workers and parents and everybody in that 18 to 45 age group is at risk and if they disappear the whole society collapses. And that it is much more difficult to try and pick up the pieces from ignoring AIDS than from dealing with it up front. I really hope that we, as a global community, figure out that providing care is the right thing to do everywhere that it is needed. There's a very interesting study in Taiwan that shows that when they made the decision, about 4 years ago, to give antiretroviral therapy to anyone who needed and wanted it, the new infection rate dropped by 50%. And that's something that will happen everywhere when we make this a priority because people will realize that there's a reason to find out whether they are infected. When a disease is treatable it is less stigmatizing. When it is less stigmatizing, people stop hiding it. We already know from bitter experience that there is no better partner for HIV than secrecy. There are all kinds of reasons to figure out how to deal with this epidemic the right way on a global basis.
Are you hopeful?
Absolutely; I'm always hopeful. If I weren't hopeful I wouldn't have jumped into this disease like I did in 1981. The hope that we've had, has been rewarded with success; I believe it will continue. It's why we all come to work in the morning -- so things will be better next year than this.
Chip, thank you for your time this evening and for everything you've done for our community here in Colorado and for people living with HIV throughout the world.

Back to the Resolute! Fall 2004 contents page.