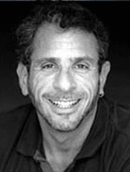 Michael Shernoff, M.S.W., L.C.S.W., A.C.S.W.
TheBody.com mourns the death of HIV-positive therapist and author Michael Shernoff, who died at home on June 17 after a two-year battle with pancreatic cancer. Shernoff, a pioneer in sex education for HIV prevention, had a private practice in New York City largely focused on gay men, many of them HIV positive. He also answered questions for The Body's "Ask the Experts" forum on mental health for six years.
Shernoff was diagnosed with HIV in 1982, long before the term "AIDS" was coined. He had already been HIV positive for years before his diagnosis; a test found the presence of HIV in blood he had donated for a clinical study on hepatitis B in 1977. From the moment of his diagnosis, Shernoff was at the center of the U.S. epidemic: In 1983 he began volunteering at Gay Men's Health Crisis, and in 1985 he created a pioneering workshop on HIV prevention with his professional partner Luis Palacios-Jimenez. The workshop emphasized a sensual, upbeat approach to safe sex, earning them recognition as the "Dr. Ruths of gay sex."
The HIV epidemic ultimately claimed many of Shernoff's loved ones. In the 1980s, his elder brother and Palacios-Jimenez both died due to AIDS-related complications, and in 1995 his partner Lee also died from complications of AIDS. Lee's passing inspired Shernoff to edit the first book ever published on gay men who have lost a partner.
Shernoff worked as a psychotherapist for gay men in New York City from 1975 until 2006, when he retired following the discovery that he had pancreatic cancer. Shernoff also taught at both Columbia University School of Social Work and Hunter College Graduate School of Social Work. He saw his first client with AIDS in 1981 (at a time when it was known as Gay-Related Immune Deficiency, or GRID), and throughout the next two decades he counseled hundreds of people living with HIV.
Professionally, Shernoff wrestled with some of the most difficult dilemmas the U.S. HIV epidemic presented, including the persistence of bareback sex among gay men who understand its risks, and the emotionally wrenching issue of how to cope with the loss of a partner to the virus. He edited and authored eight books on HIV and gay health over the last 15 years, including Gay Widowers: Life After the Death of a Partner, AIDS And Mental Health Practice: Clinical and Policy Issues and Without Condoms: Unprotected Sex, Gay Men & Barebacking.
Shernoff is survived by his partner of nine years, John Goodman; his brothers, Jeffrey Shernoff and Jerome Feldherr; and his sister, Barbara Safchik. A memorial service will be held September 7 at 3 p.m. at The Lesbian, Gay, Bisexual and Transgender Community Center. Donations in Michael Shernoff's memory can be sent to The Lesbian, Gay, Bisexual and Transgender Community Center, The Nature Conservancy or the Lambda Legal Defense and Education Fund.
Shernoff was remembered by The New York Times, Gay City News and Gay Men's Health Crisis. On TheBody.com, you can also read Shernoff's reflections on living with HIV and dating when you're HIV positive, as well as selected responses he wrote during his six-year tenure in our "Ask the Experts" forum on mental health.