The Papilloma Chronicles
A Personal Perspective on HPV and Anal Cancer
May/June 2008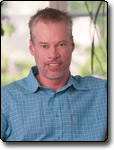 Photo © by Russell McGonagle
1981 -- Los Angeles
The first sign that I was infected with human papilloma virus (HPV). I discovered several little bumps on my anus that turned out to be warts or anal chondyloma caused by HPV, a sexually transmitted infection. I had them removed with acid, which wasn't the most pleasant experience I've had. But then those were the days before HIV, when any "venereal disease" was easily treated and dealt with. It was really no biggie, and the implications of what HPV could do were really not on anybody's radar at the time.
1988 -- Oklahoma City
Advertisement
My HIV diagnosis. It was obviously a turbulent time when HIV was hitting the Midwest hard. I was tested for HIV in the only anonymous clinic in OKC. I had no apparent symptoms and there were no further issues with anal warts at that time. But alas, I found out I was HIV-positive. I immediately sprang into action to fight this new and terrible disease by moving to the West coast, the center of the epidemic.
1998 -- San Francisco
Studying HPV. Ten years after learning my HIV diagnosis I entered a clinical trial studying the (HPV) natural history in gay men. At the time many of my buddies entered the study, wanting to further the research. We also were afraid of anal cancer -- which is caused by HPV -- and this study offered us examinations and diagnosis, and for the first time a better understanding of what might be happening "down there". My buddies and I had been at death's door with HIV, and now we were willing to be a part of anal cancer research. We knew we were at risk for HPV infection and wanted to be as aggressive as we had been with treating HIV. What we didn't realize is that even in 2008 there would be little medical consensus on diagnosis, monitoring or treatment for anal HPV. I continued to be followed in the study until I left the Bay Area for the Windy City.
2000 -- Chicago
I came to the Midwest with two diagnoses: AIDS and high grade anal dysplasia. But since leaving the HPV study in San Francisco, I had no concrete plan for follow up for monitoring or treatment. In Chicago my doctors never seemed that concerned, even when I showed them the pathology reports from the study. Despite the fact that there were no symptoms and no apparent progression, I remained confused and puzzled on how to deal with my situation, like the early days of HIV.
2001 -- San Francisco
Cross country HPV follow-up. I visited the Bay Area, and went back to the UCSF anal dysplasia clinic for monitoring. My HPV had not progressed but there was "concern" from the clinic as to who would follow my HPV progression back in Chicago.
2003-2007 -- Chicago
The first signs of cancer. I eventually was referred to a colo-rectal surgeon in Chicago for follow up. He was concerned but unsure about my case. We decided to continue monitoring my ever-changing HPV. Eventually in 2007, a biopsy taken during a routine colonoscopy presented me with a new daunting diagnosis -- anal carcinoma in situ -- which is sort of like a pre-cancer. Once again, I was left with the decision as to how to handle my situation. Surgery or chemotherapy? Wait and see? Or just follow-up in three months? No one could agree.
2008 -- New York City
The big "C" -- cancer. Frustrated, I found my way to the East coast where I begged for another opinion from an expert East coast butt doc who specialized in HPV. I had conducted considerable research in finding him. After a dozen biopsies that left my anus a battlefield, I received a full-blown "superficial" anal cancer diagnosis, in only one of the 12 biopsies. I knew it wasn't something like pancreas or lung cancer, but the fear was still pervasive. HPV had progressed to cancer despite all my efforts to deal with it for the past 10 years. Now I was faced with chemotherapy and radiation, certainly a big blow.
2008 -- Chicago
A second opinion. I wasn't sure I needed chemotherapy and radiation since I had very early stage cancer, and a lot of other high grade lesions. Horror stories of being hospitalized due to chemo were enough to make me delve deeper into other options. So the next few weeks got even more confusing. I made phone calls, more appointments and had conversations with doctors back at UCSF, in NYC and in Chicago. I joined anal cancer list serves and spoke to several friends I knew who had been through treatment. There seemed to be no consensus on what to do with me. After all the back and forth I found my way to another colorectal surgeon at Northwestern. I finally decided to have the lesion removed through an out-patient surgical intervention that would be a better option than the toxic chemotherapy and radiation. But the surgery was no cake-walk despite the fact that it was a 15-minute procedure. I was sore for weeks.
2008 and Beyond
What the future brings. As a "patient" I'm not sure being more aware of HPV has been a good thing, especially a disease where the care is sketchy and treatment indefinite. My own HIV advocacy was a totally different story, as I wouldn't be alive today had it not been for all the HIV drugs that I fought for. But with HPV, while I thought I was being proactive, the field of diagnosing and treating is all rather new. In fact, the researchers doing the HPV study at UCSF, Joel Palefsky and his colleagues, are pioneers in the field. It turns out I actually was lucky that I found out about my anal cancer before it was too late.
Over the years that I have dealt with HPV I learned that there is a lot of professional controversy over the best way to diagnose and treat, much to the detriment of people who don't find out until it's too late, or they have to cope through the confusion with less information than I had. I learned that the doctors doing HPV research appear to be more assertive, for good reasons, and some HIV doctors more passive. I knew through anecdotes from clients that some primary care doctors won't even take a look "down there" because "we don't know what to do with HPV." Or they'll prescribe treatments that are painful and not effective. Clearly, much more research needs to be done in this field. And the doctors need to agree to disagree and develop a standard of care for HPV disease for the sake of the patient.
Bottom line is that no matter what your doctor says, demand an anal pap smear. And if they look at you like you told them the world is flat, demand to see someone who will check your butt out. And remember, since we all have anuses and most of us are sexually active, both men and women should be checked.
Got a comment on this article? Write to us at publications@tpan.com
---

This article was provided by
Positively Aware
. It is a part of the publication
Positively Aware
. Visit
Positively Aware's website
to find out more about the publication.
---
Comment by: Adam
(UK) Fri., Dec. 12, 2008 at 6:51 pm UTC
Had anal warts 3 years ago, became hiv positive 2 years ago & recently discovered that the warts had come back. Does anybody know the time scale for hpv to become cancerous? I have recently had a high resolution anoscopy & the surgeon found a lesion which he biopsied. I am nervously awaiting the results.
Comment by: Mike H
Thu., Jul. 3, 2008 at 5:51 pm UTC
Thanks for your article Matt, and thanks you guys for sharing your experiences. I am a 61 year old gay male. I too have been positive since the mid 80s and I too have had the dreaded warts for about the same length of time. Maybe longer. In the new milleneum I was referred to an anal surgeon by my ID. The Dr. was a nice chap and was concerned about the warts becoming malignant. He perscribed a cancer drug which I applied for about six months to a year. During this time my stuborn virus always adapted to every new drug in every study I could get in. By this time I had had several hospital stays for dehydration and weight loss, and for years got along with a cd4 of "2". Needless to say my mind was not on my butt at this time.
In early 2007 I changed Drs. and entered a new study with a drug later called inesstra. Holy molely this drug worked and after finally finding a second drug I was not immune to (sustiva) I soon became undectable. Under 50 copies per liter. Yeeeehaw. So I thought I was doing great. I ignored my anal bleeding and by then had a fistula. Eventually I returned to the
anal surgeon. Oops too late. I now had full blown anal cancer which had invaded my spencture.
I took the radiation , full 31 treatments and limited chemo due to my low hemoglobin.
The radiation worked, but only reduced the size of the tumor. I now have intrusive anal cancer and am trying to find the best treatment. The consensus is that a salvage resection is my best bet, but, due to an elarged liver and spleen from taking all of those antivirals for all of those years, I am not a good candidate for surgery for fear of hemmorage of the vessels around the liver.The resection is not the probem.I am in the southeast region and my surgeon referred me to Duke. I am taking androgel to raise my hemogloben. The Duke surgeon will do the job but he is referring me to other spec. for options. One suggestion is Gardisil as a treatment. Anybody got any other suggestions? Thanks for reading.
Comment by: Matt
Sun., Jun. 29, 2008 at 8:40 pm UTC
I'm vaccinated for HPV with the Gardasil vaccine, and I'm a 28-year-old HIV-positive man. (Undetectable, CD4 619, ratio 34%) My doctor routinely checks my anus for any signs of irregularity every 6 months during our physical. If we think anything is awry, I'm immediately referred to my proctologist, in order for him to do a followup inspection. All of this is approved through my medical provider.
The key is to demand a physical every 6 months. The best question I asked my doctor, one of the top HIV doctors in San Diego, was how many of your positive patients have died? He said, four in the last five years. I said, how? He said, one from AIDS due to a resistant strain, and three from HPV-related anal cancer.
Think we don't need to be proactive? Think again. Shell out the $700 for the 3-stage Gardasil vaccine and screw the FDA. If your doctor says no, go down to Tijuana, Mexico and they'll give it to you for cash.
I know I have peace of mind knowing I'm protected and that I'm taking the appropriate precautions.
Comment by: Bill
Thu., Jun. 26, 2008 at 6:28 am UTC
Anal issues are not the only ones that cause concern. A year and a half ago I was diagnosed with HPV leisons in my urethra. No surprise how I got them! I have had several removed with one recurrence, again surgically removed. I am monitored quarterly. If any further leisons appear my clinic (Duke University) will use a three month treatment topically with the HPV creme Aldara, normally used on the skin and anus. This will involve application every week at the clinic. Depending on my reaction to Aldara, this should do it. I have used the creme before externally and it works well. As with anal HPV, urethral HPV can cause cancer. That is not a plesant prospect and is another reason to use condoms whenever anal sex is contemplated. I fee fortunate in that my clinic knows what to do.
Comment by: Richard in SF
Tue., Jun. 24, 2008 at 6:02 pm UTC
Even in San Francisco, in the early '90's, when Dr. Joel Palefsky was getting started with anal cancer, there was no consciousness whatsoever about HPV screening, let along anal cancer.
I too had anal warts burned off, with electrocautery (ouch!) in the 1970's here. I thought that was that.
And I have been HIV+ too since the very early 1980's. My CD4 count went below 200 in the last 1980's.
I had a 5 cm. tumor that had invaded my sphinctor, found in 1989, when the surgeon went in to 'drain an abcess'. Man, I didn't need that huge incision to biopsy a mass ... but I digress.
I was lucky. Chemo and radiation worked, but left permanent damage, nerve and tissue scars, burned the heck out of my butt and innards, but long story short: 18+ years later I'm still here, with an functional sphincter.
HPV disease and anal cancer are no joke folks. Get checked.
Thanks for the informative article, Matt.
Comment by: Mike C
Tue., Jun. 24, 2008 at 6:34 am UTC
In MS, HIV care is relegated to the sometimes quarterly, mostly every 4 months, Dr. visit with: "Your labs are ...", "How ya doing?", and "You're next appt. is ... ". Personally, I've never been examined - anywhere - other than blood pressure, body temp and weight, yearly flu and pneumonia shots, and one tb test. This has been the same song and dance since 2002 with CD-4s from 255 - 800 and one change in meds. Next visit, I'll pop this big question and look for the jaw to hit the floor - "You want me to what?" I can see it now. I've heard of friends with "warts" or "lesions" and having them removed. No one mentions HPV. Even in the media, it's mentioned only for young girls and vaccines. Advocacy on this issue ranks low, and will only improve with people pushing the issue over and over again. Since it took us three years to get a combined clinic with most resources, sadly, it will probably take more than that for HPV, much less a simple physical exam. Doctors outside of the HIV arena are so unfamiliar with the disease, they are of little use in any of the side-effects. I've wondered about my own HPV status compared to the other complications I've had. Hopefully, one day, before it's too late for me, or anyone else, some doc here will become proactive in the national scene. Maybe with a few less billions of dollars overseas, a few extra funds will entice more thorough care here.
Add Your Comment:
(Please note: Your name and comment will be public, and may even show up in
Internet search results. Be careful when providing personal information! Before
adding your comment, please
read TheBody.com's Comment Policy
.)