Thai Activists Unite With Harm Reduction Advocates to Demand Thailand Stop the Drug War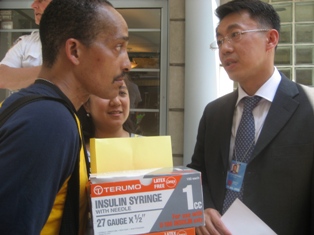 VOCAL member Jones (left) talks to Thai embassy official Atsavaprace about harm reduction
"Thai government! We are watching you!" That was the relentless refrain of a coalition of some 50 international activists and active drug users from New York who protested outside the Thai embassy in Manhattan on Monday. The demonstrators came out in the scorching heat to demand that the Thai government end the drug war that killed 3,000 people in 2003 and was resurrected this spring. Prime Minister of Thailand, Samak Sundaravej, announced in April that the police would have special powers to track down drug users in order to reduce the demand for drugs.
The protest coincided with the UN High Level Meeting on AIDS, where the Thai government was being lavished in (well-deserved) praised for standing up to pharma and providing antiretrovirals to its citizens. But while new HIV infections in Thailand have declined overall, 50 percent of new infections occur among IV drug users and those numbers are going up. Many drug users were and continue to be systematically denied access to medical care, including HIV medications.
Advertisement
Activists from the Foundation For AIDS Rights in Thailand and Voices of Community Advocates and Leaders (VOCAL) User's Union tried to present Thai embassy officials with boxes of syringes to deliver to the Thai government. Embassy official Pirawa Atsavaprace, who met with protesters, said he'd deliver their message to his higher-ups but refused to deliver the clean syringes back to Thailand. Although needle exchange is illegal in Thailand, Atsavaprace suggested that the Thai activists deliver the syringes to Thai non-government organizations that could distribute them. He said decreasing infections among IV drug users was one of the top five priorities in the country's national AIDS plan. But activist Supatra Nacapew, from the Foundation For AIDS Rights, said the government's actions didn't back this up. "If this was true, they would not implement a policy that hurts IV drug users." Clean needles are sold in pharmacies in Thailand, but drug users risk arrest by purchasing them.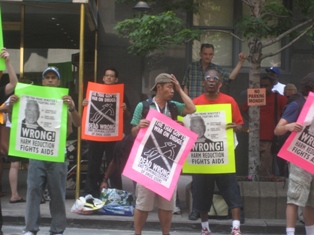 Heat doesn't stop protesters
Thanks to quick action on the part of activists to bring international pressure on the Thai government, the latest incarnation of its drug war has thus far been much less violent than in 2003, when suspected drug users were taken from their homes and beaten. However three suspected drug users have died. "We need to keep up the public pressure and show this [policy] conflicts with universal access and public health," said Jennifer Flynn of Health GAP, one of the protest's organizers. Activists from ACT UP/NY, African Services Committee, CitiWide Harm Reduction, Community HIV/AIDS Mobilization Project (CHAMP), Harm Reduction Coalition, Housing Works, Physicians for Human Rights, and the Thai AIDS Treatment Action Group were also in attendance.
Many of the protesters were with VOCAL, the only U.S. coalition of active drug users. Louie Jones, a VOCAL member and advocacy coordinator, saw parallels between the war against drug users in Thailand and the one in the United States. "Whether you're in Thailand, England or Brooklyn, drug users are the most criminalized group in society," he said.