As I pushed open the door to Steve's room that morning, one look told me his long battle for life had been lost. His skin was even a darker yellow-
green than it had been the first day I arrived, and he was laying against the white hospital sheets, gasping for breath. I went to his bedside, took his hand, hugged him, and softly called his name. He didn't respond. It was apparent he didn't even know I was there. I didn't need to call the nurse in to confirm my suspicions, I knew Steve was dying.

I phoned my oldest son, Henry, who lives in Phoenix, Arizona. "Steve's dying," I sobbed into the phone. "Can you and Suzanne get off work to come over here?"

Henry and Suzanne had helped me throughout Steve's illness by driving over to see Steve when I couldn't be there with him, and Steve had visited with them in Phoenix a lot before he got too sick to travel.

"We'll be there as soon as we can," my son replied.

Advertisement

Next, I called Steve's companion John. "Can you come home now?" I asked. "I need you to be here. I'm so scared."

"It will be late tonight, but I'll be there soon as possible," he assured me.

"Hurry!" I cried into the phone. "Please hurry. I don't know how long he will last."

The next call went to George, and through him, word got back to Kim and my sister who lives in California, that Steve was dying. George and a friend of mine who worked with me in Dallas arranged for Kim to catch a plane from Missouri to Dallas, and my boss arranged an emergency pass for her to get the rest of the way to California.

I sat down in a chair at Steve's bedside and cried. Nurses with worried faces moved in and out of the room. Their eyes said it all. Dr. Reed came in and examined Steve later that morning. He didn't say anything to me, he didn't need to, the look on his face told the whole story. He had tried so hard to help Steve live and I could tell he was shocked at this turn of events.

A couple hours later my sister Sue, and her husband Jim, walked through the door of Steve's hospital room. I can't begin to tell you the relief I felt as they hugged me and let me sob out my sorrow. They stayed with me all that day and tried to comfort me as I held Steve's hand and cried.

A nurse came early in the afternoon and shooed us out while she bathed Steve and made up his bed. Normal, daily, routine things seemed so out of place under the circumstances. Yet, those normal, routine things seemed to say, "Maybe they are wrong, maybe it's just a mistake." But, inside, I knew that was not true.

One by one that day, the machines that had been feeding and medicating Steve for about 10 months were turned off. The bags of TPN were taken down; the racks that had held the blood, and the timed pain-release machines, were all replaced by an oxygen tank, a bag of pain killer, and a bag of sterile saline that dripped into to his arm. This, of course, was due to his directive that "no special action should be taken if things go wrong," and now, one step at a time, that directive was being carried out. Steve would no longer get the life-sustaining TPN. No more medication for his HIV infection, no more antibiotics to fight other infections. It was over.

I cringed each time someone came into the room to remove another piece of equipment. "They can't even let him keep the equipment until he's dead," I thought to myself, as I sobbed into a tissue.

Steve had hated the noisy monitors that kept him pain-free and that fed him the TPN. Every time he moved his arm a certain way the machine would sound an alarm. All of us got quite good at resetting the buttons to stop the beeping.

Now, I longed to hear that sound. It would have meant there was a chance that I could take him home again. The silence in his room was deafening.

At one point a young Hispanic man came in to remove one of the pain medicine monitors. I lifted my head up and looked at him. He seemed to know I resented the removal of the machines while my son was dying. He took the machine off the pole that had been holding it, and then came over to the side of the bed where I was sitting.

"Could I pray with you, ma'am?" he asked.

I was surprised by his question, but it didn't seem like a such a far-fetched idea. I could use all the help I could get right now.

"Of course," I said. "That would be fine." And there, in the dimly lit room, the young man said a prayer for strength and for God's will to be done. Somehow, I felt comforted when the prayer was over.

"Good luck to you," the young man said as he closed the door behind him and walked away with the machine. Suddenly, it struck me, someone else probably needed that machine to stay alive or to relieve pain, and I had been selfishly wanting it to sit unused in the room of patient who was dying.

That day, as I waited for my children and John to arrive, I worried that Steve might not be alive when they arrived. Steve didn't move much or seem to know anything that was going on around him during the long hours as I waited. Memories of Steve filled my mind as I waited. I told my sister about how I marveled at Steve's long thin, perfectly formed feet and hands when he was born. About Steve's first steps, all the times he fell down when he was learning to ride his first bicycle, his first day at school, the discovery that he was almost legally blind which caused him to wear glasses with lenses so thick, we called him our "little owl." My sister smiled as I reminisced.

Steve had the usual great dreams of owning a big house, having a fancy car, and all the money he needed to do anything he wanted to. Dreams of a child, yes, but for Steve dreams that had come true. He had enjoyed all those dreams in real life and he always told me: "No matter what happens, I had a bitching good time."

Steve seemed to wake up a little and recognize his brother when he arrived at the hospital that evening. And he knew his sister Kim when she arrived. Kim burst into the room like the ray of sunshine she always is, and Steve smiled. "What can I do for you, little brother?" she asked. Steve shook his head at her in amazement and said, "Sit down and shut up." Kim laughed and the room felt warmer than it had all day.

Steve seemed content that his family was there and he fell back to sleep. It was John's arrival in the wee hours of the morning, though, that brought the only real sign of awareness that Steve knew what was going on around him that day. He woke up, sat up in bed, hugged John and said, "Kitty, I'm so sick and I'm scared." Kitty was a pet name that Steve always called John. John gathered Steve into his arms and they stayed that way for quite some time.

Dear, sweet John, the one who had borne the brunt of this hideous disease called AIDS. The one who for the last three years had been there to clean up the mess when Steve was sick, the one who had carried and cleaned bedpans, who had spent his days, nights and every ounce of his energy running between hospital and home keeping Steve happy and caring for him. The one who made sure Steve had anything and everything that would make him happy. That same John now slept on a chair at Steve's bedside the rest of the night, while Kim and I slept on couches across the hall. He was the light of Steve's life and I loved him for it.

Friday morning, things seemed better. However, in actuality nothing had changed. Steve still had a hard time breathing, the dark yellow-green cast to his skin was even darker, but Steve seemed more alert and rested. He acted like the same young man who had fought this terrible disease for over twelve years, and might try to fight it again.

It was hard to realize that despite this facade of normality, Steve was dying. I knew deep down inside, that the end was getting closer and closer, nothing had really changed. Steve sat up in bed most of the day and seemed to be acutely aware of everyone and everything that went on around him. It was as if he knew this was his last day with us and he wanted to be a part of the day's events, no matter the outcome.

All of us remained at the hospital with Steve that day. But it was just the three of us, Steve, John and I, in the room that afternoon sitting at Steve's bedside, when John asked Steve if he had told me about the bricks.

"Oh, no," Steve said with a laugh. "I forgot. You tell her, John."

It was then that I learned about a historic old house in Santa Monica that was being turned into library.

"The town wants to protect the building by building a brick wall around the perimeter of the house," John told me. "They are selling personal bricks to people to raise money. They cost $25.00 a piece and Steve and I bought four bricks. One brick has your name on it along with the words 'best mother,' the second one has Steve's grandmother's name on it, the third is dedicated to Miss Kitty, and the fourth says 'Steve and John forever.'" I was deeply moved.

It was hard to hold back my tears. I certainly had never thought of myself as the "best mother." In fact, quite the opposite. For years I'd let the children and myself suffer physical and mental abuse at the hands of the man I knew as my husband and the children, as their father. I hadn't had the courage to leave when the abuse started and even as it continued and grew worse, I stayed. I told myself I couldn't make it with three kids and no skills. But, I knew I was just a coward. A lot of women had made it, I could have too. I was just too scared to try to buck him.

The kids were all grown and on their own the day I called my oldest son to tell him I was divorcing his father. I'll never forget his words: "It's about time, Mom." Even though the kids seemed to understand and even encourage the divorce, there are times when I know they wondered if somehow their father and I couldn't have held our marriage together. I guess their thinking was, "If you made it twenty-six years, why not a few more?"

I knew that someday they would understand that, at some point, even the strongest branch will break. My only regret is that I didn't reach that breaking point while I still could save them from some of the beatings they took. Those beatings, and the constant controlling of everyone in the family, contributed to the reason Steve had not even spoken to his father for the ten years since the divorce.

It had been only in the past few months that a sort of telephone relationship had been kindled between the two of them. Yet now, even as Steve lay dying, his father was absent. I had noticed Steve, minus his contact lenses, the first day he was losing the battle for life, trying to decide if my brother-in-law Jim was his dad or not. He kept asking me, "Who is that?" It made me angry that this was such a momentous point in Steve's short life and his father wasn't there.

That evening Steve rallied on and off. At about eight o'clock he sat up and announced that we should send out for pizza. Since Steve hadn't eaten anything in three days, it was clear his request was not really for himself, but rather to make sure John and I ate something. John laughed and said, "Why not?" Steve dozed off again, but a few minutes later he sat up and told John to get his wallet out of the drawer to pay for the pizza when it arrived.

John found his wallet and Steve handed me a hundred-dollar bill and said, "Here, you pay for the pizza when it gets here." John and I smiled at each other. Later Steve woke again, looked at his watch and said, "Where is that pizza man? It's been forty-five minutes since we called him."

John and I assured him that the pizza would arrive any minute and he fell back to sleep. With family members in and out of the room constantly, Steve stirred again. He looked at me and said, "Where's the change from the money I gave you for pizza?"

I laughed and told him that it was back in his wallet in the drawer. He seemed all right with that answer and went back to sleep. That was the last real communication I had with Steve. He became restless and complained of pain, so the nurse came in and gave him a higher dose of pain medication. A few minutes later he went into a drugged, deep sleep.

I went across the hall later and made an attempt at sleep, but I knew if Steve made it through the night, it would be a miracle. I woke every few minutes to check on him, usually only to find that Kim was just returning from his room. On her way back to our room, Kim would stop at the nurses station, talk with the nurses, who didn't mind sharing information with another "nurse," and then she would return to the room and give me an update. Exhausted, I'd doze off again for a few more minutes.

About 5:30 the next morning I crept into the darkened room and sat by Steve's bed holding his hand, while John slept. I couldn't see Steve very clearly in the darkness, but I could hear his labored breathing. It was different somehow, but I didn't know the gravity of that difference as I sat there and hummed "lullaby and good night" to Steve with tears dripping down my face. Thirty-three years ago, I'd sang that song to him, and he'd smiled as he looked up at me from his bassinet. Now, as he lay dying, I sang it for him again, over and over, hoping it would let him know that I was there and that I loved him.

Steve was in a deep coma. His mouth was agape and his eyes half open, he was fighting to take each breath. He apparently did not know his sister, brother, and I were there. We stayed by his bed, holding his hand until he died about noon that day. As his last breath left his body, the three of us cried for him. I don't really know if someone just peeked in the door of Steve's room and realized he had died or if Kim or Henry told the nurses, but about ten minutes later, a doctor came into the room and pronounced Steve officially dead.

John had gone to a nearby apartment to take a bath and was not there when Steve died. When he returned to the hospital, we held each other and cried. Together, John and I sat by Steve's side on the bed and held his hands. We talked about what he'd meant to us and how much we would miss him, then finally, we pulled the sheet up over Steve's head and left him to his long sleep.

I look down at my hand now as it moves up and down on the keyboard of my computer. A ring stares up at me, a constant reminder of what was and is no more. It sparkles and glistens in the light. Its blue hue captivates the eye. A blue diamond securely set in a wide band is surrounded on each side by four small white diamonds graces my hand. My heart aches each time I see it, but I won't take it off. The ring was a gift from Steve. A special last gift, from my youngest son, my baby.

I didn't expect his death. I was sure that one of the new miracle drugs would do for him what it had done for many others. But there was no "miracle" cure for Steve or for the hundreds of other AIDS victims just like him. Parents who have lost a child to this terrible disease know the pain, the heartbreak, the feeling that something, somehow should have worked to save their child.

Coming face-to-face with the death of your child is never easy. Your child just should not die before you. They are supposed to live, supposed to be a comfort to you in your old age, laugh, be happy, and be successful. When they die, whether suddenly or after a long illness, the world is crooked, out of focus, no longer dependable, predictable. No longer safe and secure. Stability disappears and our own mortality appears.

Children generally bring two things along with them in life: the gift of joy, and the realization that nothing we as parents can do or say will change the outcome of their lives one iota. As they grow up, we learn that life is not a fairyland where dreams come true.

In most cases, children do not grow up to be what we expect and, in some cases, even what we think we can accept. Some of our children take roads in life that lead to horrendous consequences for themselves and others. Most of them never become the dragon slayers we thought they would be when they were little, and they bring us challenges we thought we could never bear. Some, like Steve, bring us races to run. Races, where the winner gets life, and the loser, death.

We try to understand our children, hide our disappointment when they fail at something, our criticism when we think they should do things our way, our dashed hopes and dreams of what we thought they'd do and who they would become. We want to accept them as they are and love them anyway. But often, we find ourselves bewildered and confused by the paths they take.

Most parents try to handle those ups and downs with an assumed confidence. They pat themselves on the back for "understanding their child," for being "open-minded," but in reality, parents are just trying to tread water.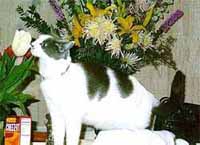 Miss Kitty sniffing the tulips on Mother's Day, 1997, while I was visiting Steve.

A lesson I did learn, though, is that, "To know is not necessarily to understand." On the Sunday morning after Steve died, I sat at the table in his apartment looking through some pictures taken on Mother's Day a couple months before. Steve loved fresh flowers in his apartment. Inside the envelope were pictures of the two dozen red roses Steve and John had gotten for me, and Kitty sniffing a large vase of tulips. I opened an unmarked envelope I found on the table with the pictures. The note wasn't written to me; instead it was written to Steve's life companion, John. That note caused me to pause and re-evaluate ideals that I had held all my life as "the right way" of doing things.

In part, the note said:

"I guess I'm pretty sick now. John, I love you. I truly can't figure out why you love me, but who cares? You've made these last years a 'great time.' I hope you have a great life. You sure made me happy. What a treat. We had so much fun together. You are really Mr. Perfect to me. You dear, you have helped me fight this illness and I love you."

There, I found the roots of Steve's "right way" -- a path he took that I had never really understood. He had found unconditional love. None of this is to say I have thrown out my own beliefs in favor of my son's, but it is to say that I have looked deeply into how my son loved and was loved in return, and I finally realized my own bias and lack of understanding.

I know now that Steve thought I was the best mother, because I still loved him completely even though I didn't understand his lifestyle. Oh, I thought I did, I said I understood, but looking back I know I didn't have a clue, until I read his note to John that day.

When I first learned Steve was gay he was about eighteen years old, I was confused and irritated. "Where did I go wrong?" I kept asking myself.

He was just past twenty when I found out he was HIV-positive; I was angry, scared, and then defensive. "This can't be happening to my son, I won't allow it," part of my brain exclaimed.

When I learned he had full blown AIDS, I was terrified. "He could die from this disease," I told myself, but inside, I never really believed it would come to that. I was so sure a cure would come in time.

I call the belief that nothing bad can happen to your child, "Mother Armor." Mothers never want to accept that there is anything they cannot conquer when it threatens their child. I fully believed that we (Steve, John, and I) would win this battle against AIDS. I didn't heed the admonition that I had preached to my children as they grew up, "Beware when you think you are standing, lest you fall."

I wanted to understand Steve, to accept his way of life, to be there for him, whatever the outcome. I wanted to be the mother he could depend on through all the trials I knew that would follow when the AIDS was diagnosed. And most of all, I wanted to do anything and everything I could to keep him alive.

When he was racked with pain and chills, hallucinating, sweating or vomiting, he would beg to die and I would realize the agony he was going through, but I still urged him to keep trying.

I know that sounds selfish. I wanted him to live so much that I felt angry each time he announced that he couldn't bear the side effects of the drugs that I believed could save his life.

He'd ask the doctor to try something else, always hoping that somehow, he'd find a drug he could take without the horrendous side effects. A drug that might save his life. I prayed that would happen too.

I tried to understand and accept his life and I read everything I could about the terrible disease he had. I scoured the newspapers, magazines, and the Internet for any word of a new medicine that might save his life.

I prayed a lot and cried a lot, just as the mothers and fathers of other AIDS patients are doing now. I can't offer words of wisdom about AIDS and its effect on the family. I don't think I really have anything to say that hasn't been said before. But, I can speak as a mother and as a human being to all those parents who don't understand gay life or AIDS.

Listen a lot more than you speak. Open your heart and mind to what your child is saying about his or her life. Stop making judgments based on your perception of how things should be, what your morals say should be done. Learn all you can about your child and then be there when they need you.

Steve's father was so busy with his own small-town life that he couldn't, or wouldn't, be there when Steve died. He missed a once-in-a-lifetime opportunity. He can't come back next year and get it right. His long estrangement from his son, caused by bias and religious dogma, caused him to miss the second most important event of Steve's life: his final day with us.

Don't let pride and prejudice sever your relationship with your child. Keep the lines of communication open. Read, learn, and listen. You are not your child. Your child is a person who has been given the same gift of life that you were given. Your child is going to do and say things that you will find hard to accept, things that may frighten you, things that might even make you feel ashamed, and certainly things that you may not understand, but don't forget this is your child.

Love your child with all your being, hug your child every chance you get, support them as they go through life's trials, don't condemn what you don't understand. Dig in and try to find out why you don't understand it. We as parents will never have all the answers and, even if we did, the answers could not change the outcome for some of us. But we have to grow from the events of our life, and with that growth we can help others as they face the same or similar events.

I have some pictures at my office desk now of Steve and John, Miss Kitty sniffing the tulips, and the view of the palm trees and ocean off the balcony of Steve's apartment, as well as a copy of Steve's note to John. These are reminders of how happy Steve was to live the life he had chosen to live. They say that time heals the pain, but I think knowledge and understanding help more than time.

I'm glad that Steve had the things he needed and was with the ones he loved during those last days of his life. I talk to my daughter Kim very often now. She is still suffering from a deep depression since Steve's death. As a nurse, she knows the reality of AIDS all too well, but there is a huge gap in her life. She cries frequently and wishes that she could have done more to help Steve.

John and I had Steve cremated. Soon, my two children and I will return to Los Angeles to help scatter Steve's ashes on the ocean he loved so much. We plan to have a small memorial for him then that will include his friends. I will miss picking up the telephone and hearing Steve's voice every few days. I will miss traveling to see him regularly in California and, most of all, I shall miss holding him. But, I'm not by myself. John and our entire family will miss Steve, but he will not be forgotten as long as we remember the lessons we learned from him about love and happiness.

Every time I look down at my hand, and see the blue diamond sparkle back at me, Steve is with me. When the phone rings and my heart beats faster, he's with me, if only for a moment. Every time I talk to John, and we share with each other how much we miss Steve, he is with us. In fact, as long as we keep Steve in our memory, he will never really be gone.