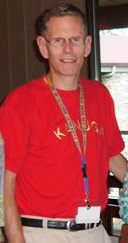 Gerald Mitchell Hoyt II
Long-time Atlanta HIV/AIDS activist Gerry Mitchell Hoyt, II, died suddenly of a heart attack Sunday, May 18, 2008 at the Cartersville Medical Center in Georgia.
Gerry, who had been living with HIV for over 20 years, worked tirelessly in support of people living with HIV disease. "He had his thumb in every pie," says Wilton Towe of the AIDS Alliance of Northwest Georgia. Gerry was a member of the Board of Directors of the AIDS Alliance of Northwest Georgia, serving as an officer for the past six years. He was Chair of the Province IV Network of AIDS Ministries of The Episcopal Church HIV/AIDS Retreat Planning Team from 2006-2007.
Gerry's AIDS activism began in 1997 when he volunteered with and was later employed by AIDS Survival Project in Atlanta. He stayed there until 2004, serving in a number of different capacities including editor of the AIDS Survival Project newsletter, Survival News; program manager of Operation: Survive!; peer counseling program manager; and program manager of the AIDS Survival Project's Treatment Resource Center.
Advertisement
"Gerry didn't chase fame, so I don't think it was ever acknowledged how devoted he was and how hard he worked," says social worker Terri Wilder, who worked closely with Gerry for a few years at AIDS Survival Project.
Gerry not only worked at AIDS Survival Project, he also participated in local and national advocacy events. He participated in the Georgia AIDS Drug Assistance Program (ADAP) Lobby Day for several years, and flew to Washington, D.C. in 2001 to advocate for the re-authorization of the Ryan White CARE Act.
Born December 18, 1956, in Cartersville, he was the son of James Mitchell Hoyt and the late Emily Pittman Hatfield. Gerry had worked in customer service for Shaw Industries for the past five years.
Gerry was known for his mischievous sense of humor in addition to his devotion to HIV activism. "He was quite the character, quick-witted, always with a comeback, jovial and serious at the same time," says Towe. Gerry loved spending time with his family, especially his grandnephews and grandniece whom he treated as his adopted children. Gerry was also a very active member of The Episcopal Church of the Ascension, where he sang in the choir, served as clerk of the vestry, and was a lay eucharistic minister. Gerry was also a member of the Etowah Chorale in Cartersville.
Survivors include his father, James Mitchell Hoyt of Lopez Island, Washington; his sister and brother-in-law, Kathi and Joe White of Cartersville; his half-sister, Mary Conroy of San Diego, Calif.; his half-brother, Jamie Hoyt of Washington, D.C.; his nieces and their husbands, Elizabeth and Ricky Wiggins of Acworth and Emily and Chad Roberson of Cartersville; his grandnephews, Mitchell Bolton, Shane Roberson and Ricky Wiggins, Jr.; his grandniece, Kate Roberson; his aunts, Lelia Johnson of Cartersville and Mary Barker of Perry; several cousins; and his companion, his dog, Precious.
A memorial service will be held at The Episcopal Church of the Ascension in Cartersville on Saturday, May 31, 2008 at 11:00 a.m. A visitation and gathering of family and friends will take place on Friday, May 30, 2008 from 5 until 8 p.m. at the church.
In lieu of flowers the family suggests memorial contributions be made to either The Church of the Ascension, 205 W. Cherokee Avenue, Cartersville, GA 30120 or to AIDS Alliance of Northwest Georgia, 13 Elizabeth Street, Cartersville, GA 30120.
Parnick Jennings Funeral Home and Cremation Services, 430 Cassville Road, Cartersville is in charge of the arrangements.