Justice Department Investigates Potential Discrimination Lawsuit Against Alabama RV Park That Denied Toddler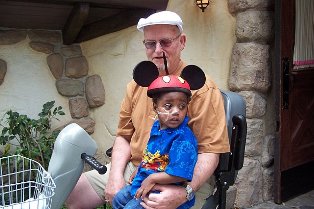 Dick and Caleb Glover in Disneyland
(photo credit: Valerie Sarmiento)
Who would have thought a little boy could make such a splash? Last July Caleb Glover was denied entry to the Wales West RV Resort in Alabama's pool and showers because he was HIV-positive. Then on Labor Day, joined by Campaign to End AIDS activists on a "family reunion," he was finally allowed to go for a swim at the same park where he was discriminated against earlier that summer. In March, through a private fundraisers of Caleb supporters, he and his family were flown out to Disneyland and received a check for $10,000 from donations collected at supportcalebglover.com.
Now, the Justice Department is working on a possible discrimination lawsuit against Wales West on behalf of Caleb. According to the Mobile Press-Register, the court filing said the Justice investigation has not concluded because officials have been unable to find the manager who spoke directly to the Glovers. They have now asked to depose Caleb's adoptive father, Dick Glover, 70, though, because he is currently dying of non-Hodgkin's Lymphoma. Caleb's health has also deteriorated, and he now has to eat through a feeding tube.
Advertisement
But despite the health problems of her son and husband, Caleb's mother, Silvia Glover sees the bright side. She told the
Press-Register
, "Dick's been sick ever since we've had Caleb. Caleb will get up in his lap in his recliner and watch cartoons and play, so the bond they have is so much stronger than the average dad and son. Most dads don't get to spend that much time [with their children]."

This article was provided by
Housing Works
. It is a part of the publication
Housing Works AIDS Issues Update
. Visit
Housing Works' website
to find out more about their activities, publications and services.