Gubernatorial Candidate Fortuño Demands Answers on AIDS; HRSA Blows Off Clinton Inquiry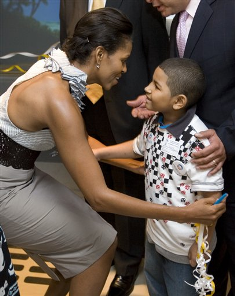 But will Chelsea and Michelle talk to Puerto Ricans about the AIDS crisis?
On May 7, in a letter to Health and Human Services Secretary Michael Leavitt, Puerto Rico's Rep. Luis Fortuño (R-PR) expressed his "deep concern" about the "chronic mismanagement of federal [AIDS] funds on the part of the government of Puerto Rico." He also asked HHS to endorse his bill H.R.5292, introduced in February, that would allow HHS to directly administer Ryan White grants to Puerto Rico.
Fortuño's bill is short on specifics -- and Rep. José Serrano (D-NY) is the only cosponsor -- leading advocates to believe that Fortuño's letter is basically a ploy to gain goodwill in his run for Puerto Rico governor. Still, the letter is better than the total lack of action Puerto Ricans have come to expect from their politicians regarding the mismanagement of AIDS funds on the island.
Advertisement
"Everything he can do for us is more than welcome," said Puerto Rican AIDS activist José Colon. An HHS spokesperson told the
Update
that HHS has yet to receive the letter.
Puerto Rico is Primary
U.S. presidential candidates are taking an unusual interest in Puerto Rico. Puerto Ricans are allowed to cast votes in the Democratic presidential primary on June 1, though not in the general election, prompting visits from Michelle Obama and Chelsea Clinton this week. Colon said both were given information about the Puerto Rican AIDS crisis.
Sen. Hillary Clinton sent her own letter to Leavitt in February, asking "exactly what steps HHS has taken since my letter from May of last year to improve accountability and create an oversight mechanism to ensure that those living with HIV get the care they need." Elizabeth Duke of the Administrator of the Health Resources and Services Administration replied at the end of April with an unhelpful response "that HHS was providing ongoing technical assistance and was examining other options to address the needs of people living with HIV in Puerto Rico." Neither Sen. Barack Obama nor Sen. John McCain have released statements about HIV/AIDS in Puerto Rico.
Analysts expect Clinton to win the majority of Puerto Rico's 55 delegates, but that it won't be enough to put her ahead in the delegate count.
Puerto Rico receives more than $53 million in Ryan White Care Act funds but activists have documented numerous cases of people living with HIV/AIDS who are unable to access medication. The commonwealth still offers no prevention programs for IV drug users, who account for a majority of new infections, and community-groups still wait for desperately needed funding. In December 2006, the FBI raided four San Juan Health Department offices, seizing 400 boxes of documents in a criminal investigation into possible misuse of Ryan White grants.