• LIVING WITH HIV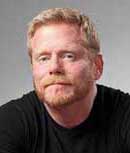 Hollywood in the 1980s: Fighting HIV in the U.S. Epidemic's Darkest Hour
When Mark King was 20, he moved to West Hollywood. It was the early 1980s, and King was set on pursuing his acting career and soaking up the gay scene. He never expected to find himself in the middle of the darkest time in the U.S. HIV epidemic, caring for close friends as they became sick and died, while struggling with his own diagnosis. In this powerful, emotional interview with The Body, King recounts the tremendous courage of people who fought through the epidemic in those early years.

Click here to read a chapter from Mark King's new memoir, A Place Like This. In this excerpt, King writes of his encounter with Rock Hudson in 1982.


HIV and Aging: The Challenges of a Graying Epidemic
Better HIV treatment has enabled positive folks in the United States to live longer, but as HIVers age, a host of new public health challenges is emerging. "[F]or older people with HIV/AIDS, living well and aging successfully is more than just taking pills," says Stephen Karpiak, Ph.D., the associate research director of the AIDS Community Research Initiative of America (ACRIA). A recent study from ACRIA shows that older HIVers often struggle with multiple health issues in addition to HIV, and that most also live alone, without the social support that's so critical for people living with HIV. In this study summary, Dr. Karpiak also sounds a warning about how few preparations have been made to address the future health and social service needs of aging HIVers. (Article from Miller-McCune.com)

Click here to download a PDF of the full ACRIA report, "Research on Older Adults With HIV."


HIVers Over 60 in San Francisco Sought for Study on Cognitive Health
A group of researchers at the University of San Francisco is looking for 40 HIV-positive volunteers over the age of 60 to help them study the effects of HIV and HIV medications on cognitive health in older HIVers. "We'd like to know if [HIV-positive people over 60 are] likely to have more problems with memory and thinking, and if they are, why?" explains Dr. Victor Valcour, one of the researchers. Volunteers will receive $150 during the first year they participate in the study, and $50 in subsequent years. (Article from the Bay Area Reporter)
• HIV NEWS & VIEWS


"Not in My Family": African Americans Tell Their Stories About HIV in New Book
When Gil Robertson's brother Jeffrey tested positive in 1982, their family defied the norms of the time and immediately surrounded Jeffrey with love and support. Inspired by his family's experience, Robertson began gathering stories from dozens of African Americans about how HIV had altered their lives. The result is Not in My Family: AIDS in the African-American Community. In this interview with TheBody.com, Robertson discusses the anthology, which contains essays by leaders such as the Reverend Al Sharpton and entertainers like Mo'Nique, as well as activists, artists, and HIV-positive people and their relatives.

You can be sexy and safe at the same time, according to the Los Angeles-based acting troupe 3 Blacque Chix, creator of the play "Herotique-Aahh ...," a "sexistential comedy" that celebrates sex among women over 40. In this essay from Not in My Family, the troupe discusses how they make condoms erotic, and offer advice on how you can have a good conversation with your partner about protection and HIV testing -- without spoiling the mood. As troupe member Mariann Aalda quips, "If you're gonna bring it up ... then you've got to bring it up!"


On an HIV Anniversary, Scientists Talk About the Progress of HIV Research
Twenty-five years ago this month, the first scientific papers describing the virus that causes AIDS were published. To commemorate the occasion, two top scientists studying HIV spoke on the National Public Radio program "Talk of the Nation" and took questions from listeners across the United States about the state of HIV research today. In this in-depth, occasionally technical discussion, they discuss many issues, including the difficulties of creating an HIV vaccine, the power of circumcision and how HIV treatment has changed in the last few years. (Podcast and article from National Public Radio; be aware there's a one-minute audio glitch eight minutes into the recording)


Ziagen's Heart Attack Link: How Long Has Glaxo Known?
We've known since February that Ziagen (abacavir) may increase an HIV-positive person's heart attack risk, especially for those who already have other risk factors for heart disease. But the company that makes the drug reportedly knew about Ziagen's possible heart risk two and a half years earlier. GlaxoSmithKline was alerted about the possible heart risks associated with Ziagen back in May 2005, according to the British newspaper The Independent; however, the company publicly expressed surprise when the story broke early this year, and it has called into question the validity of the new study findings. (Article from The Independent)


The Nonbelievers: How to Make People Stop Trusting Science
How can a drug company cast doubt on a major study finding its drug is dangerous? The same way many AIDS denialists cast doubt on the existence of the pandemic: by questioning the science itself. In recent years, we've seen the growth of a movement that tries to use scientific reasoning to call accepted scientific theories into question, from evolution to the big bang to the fact that HIV causes AIDS. In this in-depth, three-part series, Daniel Engber of Slate explores how healthy skepticism can bloom into paranoia -- and how some major corporations sometimes use our own natural cynicism to cast doubt on solid scientific evidence. (Article from Slate)
• HIV TRANSMISSION

Invincible Vaginas: Some Women's Genital Secretions May Protect Against HIV, Study Finds
Could your vagina learn to fight HIV? According to a new U.S. study, some women appear to develop natural vaginal secretions that may protect them from getting HIV. HIV-negative female sex workers in the study were found to have developed mucous that actually neutralized the virus. Researchers say the finding could be helpful in developing microbicides and vaccines. Earlier this year, we interviewed Richard Novak, M.D., one of the researchers involved in this study, to get the details on these intriguing findings.


Senior U.S. Health Official Calls for More Money to Fight HIV Among African Americans
African Americans make up half of all people living with HIV in the United States, even though they're just 13 percent of the U.S. population. Although this has been true for a while, it seems like U.S. policymakers are often unphased by the epidemic within the United States. One federal official, however, is speaking up: Julie Gerberding, the director of the U.S. Centers for Disease Control and Prevention (CDC), last week called for more money to fight HIV in the African-American community. "We have not succeeded in our prevention efforts," Gerberding admitted. "You have to scale the money to the scope of the problem." Gerberding's remarks come as the Bush administration has proposed a budget reduction for CDC's HIV prevention efforts.
• HIV-RELATED HEALTH PROBLEMS

HIV-Associated Pneumonias: An Overview
HIV-related pneumonias were incredibly common in the early days of the U.S. epidemic, but if you're living with HIV, you may still be at risk for this kind of serious respiratory infection, especially if your CD4 count is below 200, or if you smoke or use intravenous drugs. But how can you distinguish between the common cold and the onset of something more serious, like pneumonia? This article from the San Francisco AIDS Foundation gives an overview of the most common HIV-related respiratory infections, their symptoms, treatment and prevention.


HIV May Reduce Body's Ability to Control Hep C Infection, Study Says
HIV-positive people who are newly coinfected with hepatitis C may have more trouble keeping hep C under control than HIV-negative people do, according to a group of international researchers. In a study comparing HIV-negative and HIV-positive people who had recently acquired hep C, people with both viruses had higher hep C viral loads and weaker immune responses to hep C than people with hep C alone. The study supports previous research suggesting that HIV prevents a person's immune system from responding fully to hep C infection. (Study summary from aidsmap.com)

Click here to read the abstract of this study, which was published in the June 1 issue of the Journal of Infectious Diseases.


Bone Marrow Growth May Be Slower in HIVers Who Start Treatment Late and Don't Gain CD4
If you start HIV treatment with a very low CD4 count, increasing your count may be just as important as reaching an undetectable viral load. The latest evidence to support this comes from a small study in Italy, which found that bone marrow growth may be impaired in people who start HIV treatment with a very low CD4 count, but whose immune system doesn't become stronger even though HIV meds were able to suppress their HIV. (Study abstract from Clinical Infectious Diseases)
• HIV TREATMENT & SIDE EFFECTS

Drug Watch: Next-Generation NNRTIs
With all the excitement over HIV medications in new classes, it's sometimes easy to forget that new drugs in established classes can also be critical for people with drug-resistant HIV. Two such medications are the recently approved NNRTI Intelence (etravirine, TMC125) and the NNRTI in development rilpivirine (TMC278). Both drugs are important in that they're the first to provide new options to people who have developed resistance to existing NNRTIs, such as Sustiva (efavirenz, Stocrin) and Viramune (nevirapine). This article from the San Francisco AIDS Foundation gives an overview of the two next-generation NNRTIs.


Combining Sustiva and Viread May Increase Liver Risk, Case Reports Suggest
Could the combination of Sustiva (efavirenz, Stocrin) and Viread (tenofovir) potentially increase a person's risk of developing liver side effects? Doctors in northern Italy have reported three cases of people with healthy livers taking Viread with Sustiva who experienced elevations in liver enzymes, a warning sign of liver damage. Sustiva is known to cause liver problems in about 2 percent of people taking it, and there have been case reports suggesting Viread may increase levels of Sustiva in a person's body. Sustiva and Viread make up two of the three drugs in the combination pill Atripla (efavirenz/tenofovir/FTC), one of the most popular regimens for people just starting HIV treatment. These findings are just anecdotal at this point; much larger studies would have to be done before anything more is known about the possible liver risks from combining Sustiva and Viread. (Study summary from aidsmap.com)
• MAKING A DIFFERENCE

The Evolution of the World's Wealthiest Charity
The foundation created by Microsoft founder Bill Gates and his wife Melinda spends $3 billion a year and has become one of the most important players in worldwide HIV prevention efforts. Such immense power is bound to inspire awe, envy and criticism. In a recent interview with the National Public Radio program "All Things Considered," Bill and Melinda answered the criticism of those who say they have ignored the advice of experts on how to prevent diseases like HIV and tuberculosis, and discussed the foundation's aspirations and plans. "We're focused on the diseases that are ignored, the diseases of the poor," Bill Gates said. (Podcast from National Public Radio)

Join the Cause on Asian and Pacific Islander HIV/AIDS Awareness Day
Because Asian Americans make up a relatively small chunk of the U.S. population, it's easy for most people to forget about the large, and growing, impact of HIV on this group of people. Maybe that's part of the reason why
HIV rates are on the rise among Asians and Pacific Islanders in the United States
-- and why it's more important than ever to get the word out about the need for better HIV awareness and more testing. As National Asian and Pacific Islander HIV/AIDS Awareness Day approaches on May 19, consider doing your part to help spread the word. Educate others, encourage testing, fight stimga and
put up this poster
!

Take an Internet Study About HIV Testing and Disclosure
Researchers at the University of Connecticut are conducting a Web-based study to learn more about how people living in the United States decide to tell others about their HIV test results -- and how their decisions affect their overall sense of well-being. Eligible participants will receive $25 for completing two Internet surveys. To learn more about the study and see if you qualify,
visit the study's Web site
or e-mail
rpiproject@gmail.com
.
"A Day in the Life," 2001; Curtis Carman
Visit the
May 2008 Visual AIDS Web Gallery
to view our latest collection of art by HIV-positive artists! This month's gallery, entitled "Linear Progression / Progressive Deterioration," is curated by Steven Gordon and RJ Supa.

At The Body's Bulletin Boards
Just Diagnosed and in the U.S. Army
(A recent post from the
"HIV/AIDS in the Military" board)

"I have just been given the news I am HIV positive. I am overseas right now and I guess will be sent back to the States very, very soon. I have almost 20 years in the service and I am just lost as to what to do and where to go from now on. After reading some [other] posts and what info I have found on the Internet, [I realize] it is quite possible to live a somewhat 'normal' life. Now I am concerned about health insurance, how I can afford the proper medications once I retire, how I live with the stigma, who I let know. All kinds of stuff just pops up, and [it] would be great if I can talk with someone who has [gone], or is going, through it now."

-- lkn4u

Click here to join this discussion thread, or to start your own!
Having a Down Day
(A recent post from the
"Gay Men" board)

"I have always been good at taking [HIV] meds on time, and never missed a dose. Now the doctor says I might [be] becoming resistant ([I've] only been on Atripla for five months), so I need to go see him again next month to make sure it is not a blip in the numbers. I know I have been working too much and have been feeling run down lately. ... I know I need to find the time for myself to rest properly, eat properly, exercise, and so on. ... I think I just need to have someone snap me out of the mood and say let's go for coffee, with no alternate purpose."

-- westernbear69

Click here to join this discussion thread, or to start your own!