Meth Burial
May 2008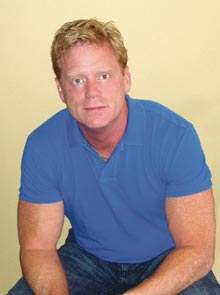 The support group is full, and the general anxiety level approaches something between last call and the moment when the bar lights come on. I've probably slept with someone in this room -- or worse. Note to self: You might be an addict if you can't decide if his arms look familiar from the gym, or from shoving a syringe into one of them at some point -- you know, just as a favor.
"Sharing" will be expected. I begin a mental scan of my drug-related dramas, considering something to spill. It's like calling up stories at the family picnic, but with crystal meth and paramedics involved.
A boyfriend once fell from the sling and cracked his head, but I was partying in the next room and was too busy to check up on him. That might rate some gasps. I wonder if barebacking is provocative enough. Probably not. Not anymore.
View Full Article
---
---
Comment by: Robin P
(Atlanta, GA) Sun., Sep. 28, 2008 at 2:15 pm UTC
Mr. Morales may have a point speaking from one end of the sprectrum. On the other end, we have Ana, Peter & Lisa, to name a few, who expressed a wonderful, positive feeling from Mr. King's writing. I feel if one can bring a positive something to someone else, one has done a great deed for another. Thank you!
Comment by: jeff
Wed., Jun. 4, 2008 at 1:47 pm UTC
Jeez, Louise, Mr. Morales! For someone who doesn't "have the patience", you certainly had enough patience to write a very long and angry post about something you obviously know little about. Sure, addicts are self-centered; and many continue to be so well into their recovery. "Regret"? Mr. King's writing shows me that he's got plenty; and hapily he is willing to share stories of his personal mistakes. His motives? Fame? Fortune? Get real. To help himself? Perhaps. And the problem with that is..? Maybe he wants to help (or warn) others? I've found that the most effective tool in helping others to recover is my ability to share my experience. In King's case, the "messenger" has been through the wringer. Bashing the messenger because his story is dramatic is pointless. Sorry that you don't get it, Mr. Morales. Lots of us do.
Comment by: Chris
Wed., Jun. 4, 2008 at 11:28 am UTC
John M. writes liked a spurned lover. Hey, I'm the spurned lover who encouraged Mark to write his book. I can testify to the fact that Mark sincerely works on his recovery. Writing is a way for many of us to work things out that we cannot control. It's therapeutic, it's healing, and hopefully for others as well.
Comment by: lisa C
Sat., May. 31, 2008 at 4:43 pm UTC
thank you for sharing recovery is not just putting the drugs away it's about healing and loving ourselves and for me and a lot of recovery addicts it is the first time that we are blessed with a chance to finally know what love truly is....it's learning to embrace our past... it's learning to let go of the past and most important is learning to love ourselves unconditionally...for the first time in my 45 years of life i'm learning to like me and it's such a blessing that at times it's overwhelming...but it sure beats what life used to be like...may you always know peace and serenity
Comment by: Ana
Fri., May. 30, 2008 at 3:30 pm UTC
Thank you. Tears stung my eyes reading this, I never saw it quite in that perspective- its so true. We bury our former selves in our addiction. Its not the horror or the war stories that is our truth; it the person we were before that we've warped, stretched into a stranger and abused far more then ayone could ever abuse us. We did that to ourselves & we need to uncover that and heal. We need to remember always that we are human beings now, not human doings any longer. Thanks you and bless you
Comment by: Peter J
Fri., May. 30, 2008 at 8:58 am UTC
I totally agree with John M. Instead of this non judgmental perpetual acceptance of bad behavior and the concomitant results of that, we need to harshly judge the actions of other and use that as a point of instruction for others as oppose to a sop. John has it right, "meth mind" and ego gratification are what Mr. King's book is about. The only lesson he could teach is the cautionary tale of the dangers of excess, instead he goes for the redemptive story of the bounceback from the brink. As John says, I don't begrudge him. In our celebrity oriented culture where ANY form of celebrity is idolized and rewarded, he is simply using his sordid story to get a reward .... seals want to eat after their performance. The shame of it is that this redemptive story serves fair fewer social purposes.
Comment by: Danny V.
Fri., May. 30, 2008 at 7:56 am UTC
I totally applaud you for your honesty, and willing to help others as for john M. e really needs to take a look at himself rather than judging others for their contribution others should be more open and unselfish as to help those of us who really need help in this fight with DUAL-DIAGNOSIS THANK_YOU and keep ojn telling your story as it truly inspire me.
Comment by: Joek
Thu., May. 29, 2008 at 10:31 pm UTC
Hey John: you seem to be angry about something. Do you know this guy? Are you homophobic? "post addict" writing? What's that about? Lots of people write about their feelings after being addicted to drugs...it's kinda of genre and it's helpful for those of us still trying to recover!!
Comment by: John Morales
Thu., May. 29, 2008 at 9:49 pm UTC
There is nothing to learn here in terms of why you should not use drugs.
He did, and did so to the extreme, yet he's still hear to "testify." Testify to what? You can have HIV, and spend a long time doing Meth and survive to tell your story as you make yet another effort to claim the celebrity status Hollywood would not give you.
Summed up, it's all about how he became of "victim" of himself, thanks to his selfishness and refusal to say no to any good time offered to him.
This is one great example of someone NOT learning from HIV.
It's his excuse to indulge, and be who he is. He cynically uses his early volunteerism in fighting against HIV as a "good guy" costume.
He has to if people are going to believe he's seen the error of his ways.
I've seen this story in gay culture b4, a culture of excess, selfishness and shallowness.
It's pretty sad that theBody is so unfamiliar with Meth that they don't recognize the typical "moods, feelings the negative ones" that go with the abuse.
Meth makes everyone "think." It originally was used to stimulate mental ability and scientifically proven to enhance intelligence, perception, understanding Etc. That his writing sounds full of brutal honesty and full of pathos should be NO surprise. It's classic meth mind.
Everyone who uses it, has similar thoughts, which encourages more use to make them stop.
This "post-addict" writing of his is just more of the self-indulgence that got him into this mess, but who knows perhaps this time it will get him what he wants - and that's to be the perpetual center of Attn. of a captive audience ready to feed his ego by believing he truly regrets what happened.
I see no regrets. I see no different person due to drugs.
I see a self-centered, selfish person finding out he can make money and attain a celebrity status of sorts sharing it.
That I don't begrudge him. I just don't have the patience most have for his con job.
Add Your Comment:
(Please note: Your name and comment will be public, and may even show up in
Internet search results. Be careful when providing personal information! Before
adding your comment, please
read TheBody.com's Comment Policy
.)