Join Activists on May 6 in D.C. to Protest Thai Drug Crackdown That Threatens People with HIV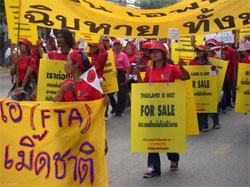 A 2006 Thai protest fighting drug laws
Back in 2003, the Thai government launched a massive war on drugs, leading to the extrajudicial killing of thousands of Thai drug users. Suspects were beaten, tortured and forced to confess to false accusations. Many drug users were and continue to be systematically denied access to medical care, including HIV medications. It's estimated that half of people living with HIV/AIDS in Thailand are IV drug users.
Now, it seems the Thai government is renewing its terrifying assault on drug users. According to the Thai Network of People Living with AIDS and the Thai AIDS Treatment Group (TTAG), the Prime Minister of Thailand, Samak Sundaravej, announced last month that the police would have special powers to track down drug users in order to reduce the demand for drugs. The interior minister of Thailand was quoted as saying "for drug dealers, if they do not want to die, they had better quit staying on that road. Drugs suppression in my time as interior minister will follow the approach of [former Thai Prime Minister] Thaksin. If that will lead to 3,000 to 4,000 deaths of those who break the law, then so be it. That has to be done." (For more on the situation in Thailand click here.)
Advertisement
Join activists in the U.S. who are showing solidarity with their Thai brothers and sisters at a symbolic die-in at noon on May 6 in front of the Thai Embassy at 1024 Wisconsin Ave NW, Washington, DC. Before the die-in there will be a rally featuring TTAG Executive Director Paisan Suwannawong and TTAG Policy and Development Director Karyn Kaplan. Suwannawong, a former heroin addict who is living with HIV, founded an organization called the Thai Drug Users' Network partly to bring attention to the Thai government's human rights violations against drug users. He gained worldwide attention when he secured a speaking spot at the 2004 International AIDS conference in Bangkok.
The growing list of groups sponsoring the D.C. action includes ACT UP Philadelphia, the American Medical Student Association, DC Fights Back, Health GAP, Housing Works, Proyecto Sol Filadelphia, and the Student Global AIDS Campaign.
To endorse the action or if you have questions, e-mail Kaytee Riek from Health GAP at kaytee@healthgap.org.