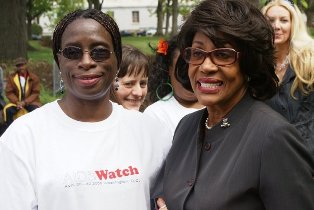 Janet Johnson (left) introduced Waters at the AIDS At Home rally
At AIDSWatch's "AIDS At Home" rally on Tuesday, Rep. Maxine Waters (D-CA) called for a national AIDS strategy to stem the tide of the epidemic in the U.S. The U.S. requires all countries receiving millions from the President's Emergency Plan for AIDS Relief funds to create a national strategy for fighting AIDS, but here at home there are only piecemeal efforts to fight the disease.
"America can -- and must -- do more to fight this disease and to help those who are living with HIV/AIDS. I agree with those gathered here that we need a comprehensive national strategy to end this epidemic and to address the needs of everyone in America who is affected," Waters said. The rally was sponsored by the National Association of People with AIDS and the Campaign to End AIDS (C2EA). Other speakers included Sen. Dick Durbin (D-IL), Rep. Donna Christian-Christensen (D-VI), POZ editor-in-chief Regan Hoffman, NAPWA executive director Frank Oldham, and C2EA members Greg Fordham and Chakena Conway.
Advertisement
The call for a national AIDS strategy was a running refrain at NAPWA's 16th annual AIDSWatch from April 28 to 30. "We need to stop nickel and diming Congress based on what we need," said HIV-positive C2EA national organizer Larry Bryant.
Despite tornadoes in Virginia, 450 people -- 80 percent of whom are people living with HIV/AIDS -- from almost every state gathered in D.C. to share their voices with legislators. At this AIDSWatch, NAPWA observed the 25th anniversary of its founding in 1983 when the Denver Principles were drafted. The groundbreaking Denver Principles demanded that people living with HIV/AIDS be involved in AIDS policy decision-making and given respect by the government and other institutions. "That was really the beginning of the movement as we know it," said NAPWA board chair David Munar.
Legislators Listen
In the spirit of the Denver Principles, the AIDSWatch training sessions were co-led by policy directors and people living with HIV/AIDS. In addition to lobbying for a National AIDS Strategy, the participants demanded their legislators pass the Early Treatment for HIV Act, impose a moratorium on proposed Medicaid changes, pass the Microbidicide Development Act, repeal the HIV entry ban, eliminate funding for abstinence-only education, increase HOPWA housing, and increase funding for HIV/AIDS.
The Illinois contingent met with Durbin, the second highest ranking Democrat in the Senate, who supported all of the above proposals. "It was a fantastic visit and he's absolutely on top of the issues," Munar said. Munar was also impressed by Rep. Bill Foster (D-IL), a rocket scientist by trade and the replacement for former Speaker of the House Dennis Hastert. Foster was supportive of health care reform and the expansion and the preventive benefits of HIV treatment. The AIDSWatch contingent also met with Jan Schakowsky (D-IL), Eleanor Holmes-Norton (D-D.C.) and Ileana Ros-Lehtinen (R-FL).
Also a highlight: Rep. José Serrano's (D-NY) staffer confirmed that the representative will be introducing a bill to lift the federal ban on needle exchange next week.
Sen. Hillary Clinton staffer Ann Gavaghan "knew the issues we had and what we needed," Conway said. Conway visited New York legislators with a group from Gay Men's Health Crisis. "We put out our call to action and a lot of people were listening," she said.
Some office visits weren't quite so successful. Fordham, the C2EA Virginia co-chair, met with Rep. Thelma Drake's staffer, who didn't know about the federal immigration ban in people with HIV. "It was like going to see Alex P. Keaton," Fordham said.