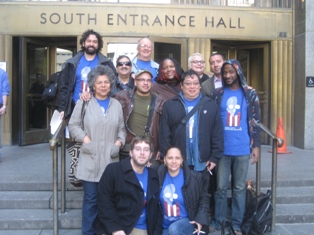 Activists smile after charges dismissed
After almost six months and three court appearances, charges against twelve AIDS activists who blocked traffic in Manhattan to demand federal intervention in Puerto Rico's AIDS crisis have been dismissed. In November the "Broadway 12" lay down on Broadway in lower Manhattan near the Health Resources and Services Administration's New York offices, snarling traffic for almost an hour. On Wednesday, when police officers neglected to show up to in New York Criminal Court, a judge said the group was free to go.
The activists say they are ready to get arrested again to force HRSA to take control of Puerto Rico's Ryan White funds. The mismanagement and fraud of these dollars has gone on for years while people living with HIV/AIDS are denied access to treatment and prevention. This week more information surfaced regarding the commonwealth's AIDS chaos. Puerto Rico's Office of the Controller revealed that it has no record of a Pharmaceutical Benefits Manager (PBM) that was ostensibly managing $78 million in AIDS Drug Assistance Program funds.
Municipalities hire a PBR to control costs of medications. The controller's revelation contradicts information that the the Puerto Rico Department of Health told the President's Advisory Council on HIV/AIDS (PACHA), the U.S. Department of Health and Human Services, Congressional Hispanic Caucus members and the Senate Health Education, Labor and Pension committee that it has a contract with McConnell Valdes, LCC. That contract may violate rules against no-bid contracts and flout a federal drug pricing policy called 340B that gives deep discounts to agencies that purchase medications in bulk. The discounts are supposed to go to help either buy more drugs or improve program infrastructure and are for federal programs. Jorge Delgado Rivas, assistant to Puerto Rico's Secretary of Health would not comment to the Update.
Advertisement
There have been recent glimmers of hope that HRSA will clean up Puerto Rico's mess.
Last month
HRSA
responded
to a
letter
from activist José Colón. The letter from HRSA's Deborah Parham Hopson stated HRSA "understands and shares your deep concern and frustration with the challenges of the care and treatment systems" in Puerto Rico. But she did not recognize advocates' demands that HRSA appoint a third party intermediary to oversee Puerto Rico's federal AIDS funds.

This article was provided by
Housing Works
. It is a part of the publication
Housing Works AIDS Issues Update
. Visit
Housing Works' website
to find out more about their activities, publications and services.