Five Activist Heroes Honored at the Fourth Annual Keith D. Cylar AIDS Activist Awards and Benefit Gala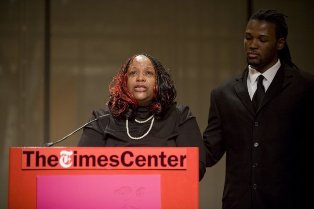 Diane and Reggie Williams
The locations just get better and better -- but the love, family spirit and activist dedication to ending AIDS are always the beating heart of the best activist party of the year, the Keith D. Cylar Awards and Benefit Gala. This year Esther Boucicault, Gloria González, Diane Williams, Paul Davis and Asia Russell were honored with Cylar Awards at the regal Times Center on Thursday, April 17. The honorees' incredible stories of bravery in the face of AIDS stigma (told in three different languages) prompted standing ovations, laughter and tears. The gala was the culmination of a week's worth of activities associated with the Cylar Awards, given to AIDS activists who demonstrate extraordinary courage and commitment in the fight to end the HIV/AIDS epidemic. The award is named for Keith Cylar, the cofounder of Housing Works and a legendary AIDS activist who died of AIDS-related complications in 2004.
Special guests included the ceremony emcee, TV personality and celebrity stylist Bev Smith, POZ editor-in-chief Regan Hoffman, CBS News correspondent Randall Pinkston, Assembylman Dick Gottfried, and 1998 Miss America and current star of Broadway's Legally Blonde star Kate Shindle, who hosted the cocktail party before the awards ceremony.
Advertisement
Chair of the Housing Works board David I. Cohen introduced Smith, a master improviser who immediately broke the ice with a well-timed crack about a useful trip to the open bar. After an invocation by Reverend Violet L. Dease, Housing Works President and CEO Charles King presented a tribute to 2006 National AIDS Activist Awardee winner Stephanie Williams, who died last October. With her friend Karen Bates, Williams spearheaded the creation of the South Carolina Campaign to End AIDS chapter. "Stephanie was one of a handful of women in the state who was open about living with the virus," King said, choking back tears. "She told anyone who would listen that she had HIV, often doing impromptu outreach to young people on the streets. Her generosity was seemingly boundless."
Esther Boucicault, International AIDS Activist Award
After the moving tribute, Pinkston gave a powerful history of Boucicault's work in Haiti and introduced her daughter Michele Maegnan. Maegnan was one of three children who would introduce an activist parent that night. King later remarked to the Update, "This year's Cylar Awards was particularly special because it so visibly highlighted the roles of families impacted by the AIDS epidemic, and the strength that families give to advocacy."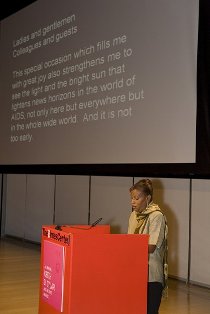 Boucicault accepts award
The quadrilingual Maegnan introduced her mother and gave her mom a fierce, lingering hug before Boucicault accepted the $10,000 Cylar Award amid a rousing standing ovation. In a series of interviews in 1998, Boucicault became the first person in Haiti to publicly discuss living with HIV. For more than a decade, she has run the successful Fondation Esther Boucicault Stanislas, the only organization in Haiti that provides psychosocial services to people with AIDS. "This special occasion which fills me with great joy also strengthens me to see the light and bright sun that lightens new horizons in the world of AIDS," Boucicault said in French as a screen above her displayed her words in English. Before leaving the stage Boucicault invited her fiancé Cesar Vincent to join her. Also HIV-positive, Vincent met Boucicault when he received services at her foundation. He and Esther were a powerful pair when they hit Capitol Hill last week with the other Cylar awardees.
Gloria González, U.S. AIDS Activist Award
Next up POZ Editor-in-chief and Kenneth Cole anti-stigma-campaign model Regan Hoffman introduced González, a former injection drug user from Fajardo, Puerto Rico, who now works to organize injection drug users in the shooting gallery she frequented as an addict. "Gloria's work makes it clear that there is no coherent government policy for syringe exchange, treatment, support and housing of injection drug users," Hoffman said. González plans to use her $10,000 prize to develop a cohesive program that addresses the complex social problems that lead to drug abuse.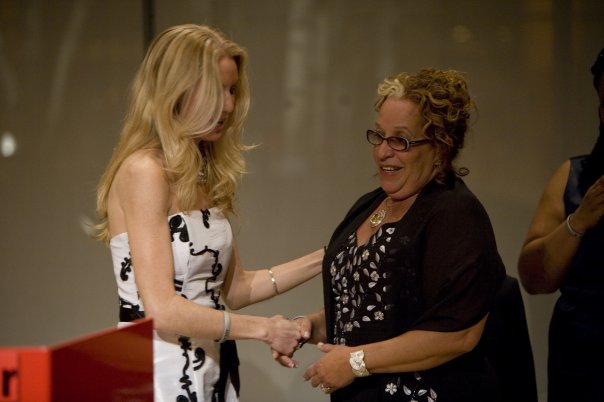 Hoffman and González
González's 12-year-old son introduced his mom in English that improved astronomically in only days in the U.S. "I love you, baby," he said, blowing González a kiss. Like Boucicault and all the awardees that night, González got a standing ovation
González gave a speech in Spanish (also translated on a projection screen) in which she commented, "In a community that could be in any part of the developing world, I take food, clothes and words that inspire to sustain those who live in deplorable conditions. Frankly, many pets live better lives than my friends in Fajardo. And because of so much bureaucracy to change, it is almost impossible for them to escape those living conditions. But it is possible when we fight the system," she said.
Paul Davis and Asia Russell, Virginia Shubert Courage Award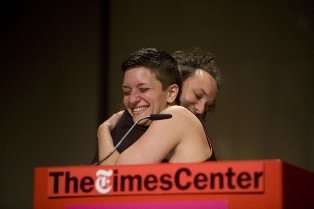 Davis and Russell share an embrace
Smith introduced Housing Works cofounder Ginny Shubert as a woman who "needs no introduction," leading Shubert to joke, "Next year, I'm going to demand an introduction." Shubert then gave the award named after her to Health GAP's Davis and Russell. Seeing an unmet need for global treatment activism, the pair were part of a small cadre that formed the now powerful Health GAP out of ACT UP Philadelphia, much as Shubert, Cylar, King and Eric Sawyer (who attended the awards) formed Housing Works as an outgrowth of ACT UP New York.
Health GAP's work has had a profound influence on the U.S.'s commitment to the fight the global AIDS epidemic and the group now has offices in both D.C. and Geneva. Davis joked that "we work with boring, soulless disgusting people you'd rather spit on then talk to," and said that Cylar had taught him "the strategic beauty of the crowbar and the crack, and that audacity opens doors rather than closing them." Russell graciously praised Housing Works, adding, "When Housing Works gives you an award, you must be doing something right." Then to rousing cheers she chanted, "Act up! Fight back! Fight AIDS!"
Diane Williams, Housing Works AIDS Activist Award
Last but not least, Williams received the $5,000 U.S. Activist Award. When Smith first introduced Williams' handsome 19-year-old son Reggie, she cracked, "I'm about to become a cougar!," dramatically fanning herself. Reggie, a graduate of Housing Works' summer youth program and a Columbia University student, handled himself with poise, as he spoke about growing up as part of the "Housing Works family." He introduced his mother as one of Housing Works' most passionate grassroots activists who gets arrested at nearly every civil disobedience action she can. "Mom, you are a true AIDS warrior, and I know that Keith is smiling on you right now. You inspire all of us with your courage," he said.
Williams then bravely shared that courage with the audience, which she moved to tears with her story of her infant daughter Veronica's AIDS diagnosis and death. Williams, who was diagnosed with HIV shortly after Veronica, told of the brutal stigma she and her daughter endured in the hospital for a year and a half: Hospital workers would leave food trays outside Veronica's room out of fear. Williams had to teach herself how to insert Veronica's feeding tube and draw blood because nurses refused. "This is why I go to the rallies and protests," Williams said. "Because I don't want no women or child to be treated like I was treated. I go to remind myself that there is someone that is newly infected out there, and they don't know where to go or what to do like I was."
King concluded the ceremony with remarks in Spanish, English and Creole, leaving the audience with this final thought: "None of the awardees has found fame, much less fortune. Rather, they are ordinary, even humble. When confronted with AIDS each one has chosen to act not once, but again and again, on behalf of others."
"Continuing the Fight"
Bill Keyes, the partner of last year's Housing Works Activist Award winner, the late Mark Hayes, and Cylar's mother Anna Patton, attended the ceremony. Both said they were proud that the pioneering work of their loved ones continues.
"When I saw Housing Works in the news in Albany last month fighting the budget cuts, it was like seeing Mark continue the fight," Keyes said.
Patton concurred. "I feel very joyful. To Keith, this really wouldn't have mattered. He'd be proud but he'd go right on doing what he was doing."
To donate to the Cylar Award fund, click here.