Almost all mothers feel that they share an extra closeness with their children. Many of them will tell you stories about a sixth sense they seem to have when it comes to things that involve their children. They know, for instance, that their child did not do their homework, clean their room or carry out the garbage even when they assure her they did. This sort of an internal intuition at times even prompts mothers to take action before it is needed. Children call it "knowing what I did before I did it," or "my mom who has eyes in the back of her head." It could be just a deep seated feeling mothers have that things are not exactly as they appear and certainly not what they should be at particular times of the child's life.
Mothers don't understand why they seem to know certain things about their children; they just know that they do. Occasionally though, mothers will disregard those feelings. I too have tried to override those motherly premonitions by telling myself how silly I am. It's only later that I have been heard to say, "I knew something was wrong, I should have done this or that or..."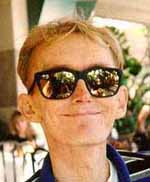 Steve -- 33 years old, six months before he died -- at a 1997 New Year's get-together.
My entire family seemed to have that sixth sense or internal intuition. My mother, my two sisters and I, would often comment that we had just been thinking about each other when one of us called the other. That same kind of bond existed between my three children and myself. So, when a call came from my youngest son, Steve, one hot July Saturday morning, I was unusually unresponsive to that "intuition."
Steve wanted me to come to Los Angeles because, he said, he was "really sick." I'd been to California just a couple weeks before and he had seemed about the same as he had the trip before and the trip before that one. Although Steve had full blown AIDS, he seemed to have stabilized. Lately however, he had been having problems adjusting to his new medications. I was scheduled to start a new job in a week and I had a lot of work to complete for my present manager before I started in my new position.
Advertisement
"I just can't come over this weekend," I told him and explained my job situation. He said he understood. But, I hung up the telephone feeling guilty about saying I couldn't come, and not really convinced that he understood my saying "no," since usually I jumped at the opportunity to spend a few days with him. He assured me he'd keep me posted and no doubt would feel better in a few days.
"What if something really is wrong and he doesn't want to say so because he thinks it might hurt your chances on the new job?" I asked myself.
I gritted my teeth and stubbornly pushed that thought aside.
"He'd tell me if he really needed me," I reasoned. "Wouldn't he?" I thought back over our conversation and he had said he was "really sick," was I so involved in my work life that I was really not listening?
A little butterfly started a strange dance in my stomach and the assurance that I was doing the right thing, by not going immediately, began to go downhill.
I called Steve the next day and he sounded better. He said he'd been sleeping a lot and would call me back later. When he did call later that evening, he said he was feeling "better." I breathed a sigh of relief.
Before I left for work on Monday morning, I called Steve. The news was not good. He told me he was hurting all over, his back ached, he had lots of pain, and "something is sticking out of my stomach that really hurts." The hair on the back of my neck stood up. The butterfly metamorphosed into an elephant and became a kamikaze taking off on a mission of no return.
"What does the doctor say?" I asked as calmly as possible.
"I haven't spoken to him yet," he replied. "But the visiting nurse is coming today." I asked him to call me when she was gone. But now, I was really worried.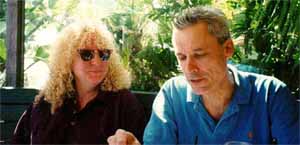 Peggy and John at a 1997 New Year's get-together.
I then spoke with Peggy, a long time friend who was taking care of Steve while his companion of 10 years, John, was out of town on business. Peggy told me she had rubbed Steve's back a lot on Sunday night and again that morning because he had complained that it hurt so much.
"I stayed here last night," she told me. "He was in so much pain I didn't want to leave him alone."
I asked her if she thought I should come. She told me she didn't really know but "I think they're going to put him in the hospital," she whispered into the phone. "I've tried to get him to go for two or three days. He really is sick."
I hung up the phone with the sick feeling that I should have already been there. I cursed myself for being so self-centered. "I should have just gone on Saturday like he asked," I lamented to a friend that evening.

Steve had hit rock bottom on several occasions. One time, ten months earlier, Steve had been so sick that John and I had even talked about how we would handle estate things, if Steve didn't make it through that hospitalization alive.

A nagging anxiety sat heavily in my chest as I drove to work. "What if this is his last day and you're not there? What if things go wrong?" I asked myself. "He could be dead before you could catch a plane and fly over there." I kept telling myself that I was overreacting, but somehow I knew I was not.

By Tuesday morning the tension inside me was approaching the detonation point. George, my significant other, prompted me to get the time off from work and leave to see what was really going on. I was torn, I knew how hard it was on George every time I left to go take care of Steve. George suffers from manic-depressive illness, and my leaving so often to take care of Steve left George alone, fending for himself in a hostile world. George never complained about the visits, but it was always clear when I returned home that he was glad the visits to California were short.

That morning, I approached my boss with the idea that I take my work with me and do it while I visited with Steve. Knowing the situation, my boss agreed. I called Steve with the news that I would be arriving that afternoon.

"I'm going to have to go to the hospital," he told me. "I think I need blood again. Peggy was going to take me to the hospital right now, but we'll wait until you get here and then we can all go together." I said a prayer for Peggy being there with Steve. Through the years she and Steve had been close friends, and she had always been there when he needed help.

The fact that they were not calling an ambulance for him, and that he was planning to wait until I got there before going to the hospital, gave me the mistaken idea that none of the medical community was rushing him toward medical help.

"He must be better than I think," I told myself. However, deep inside, the elephant was battering my stomach with a sledge hammer and I had the feeling that everything was not nearly as good as it was being made to sound.

Something had happened in Steve's body that caused him to need blood about every two or three weeks. No one seemed to have the "real" answer for why this was happening, but a trip to the hospital for blood had become a common occurrence. I kept reassuring myself that this was just another one of those times and that everything would be fine, as I boarded the plane that afternoon in Dallas.

I thought about Steve's situation as the plane headed to Los Angeles. Going to the hospital was not a new phenomenon. Steve had been in and out of the hospital or in a hospice a lot over the last year. He had full-blown AIDS and he was having horrendous side effects from the so-called "AIDS cocktail" the doctor prescribed for him.

Steve had tried every new medicine that came along, but the side effects of each one were just as bad as the medicine before, or worse. Steve would always just get something new and try again. Every time he got really sick we'd put him in the hospital or in a hospice. When he seemed to get better, we'd take him home again.

Even though this appeared on the surface to be a maintenance-type trip to the hospital, the feeling that I should have gone on Saturday kept nagging at me. I wondered and questioned myself over and over if I had really been listening over the past couple weeks when Steve had called and said he didn't feel very well.

I grabbed a taxi at the Los Angeles airport for the ride to Santa Monica. I had hoped to try to relax and calm down before I got to Steve's apartment. Hopefully, then he wouldn't know how worried I was, but during the taxi ride I was so busy holding on to the door of the cab to keep from falling off the seat, that I worried more about my own survival than Steve's as the cab sped down the highway.

As the cab driver swerved this way and that, I prayed Steve could make it though this illness without me since I felt sure I'd never make it to his apartment alive. "Steve would laugh at you," I told myself as we careened along the streets. Steve loved the speed, the crowded freeways, the narrow escapes, but I felt like kissing the sidewalk as I paid the cab driver and crawled out of the cab.

I looked up at the balcony of Steve's apartment expecting to see his friend Peggy waiting for me, but no one appeared, so I gathered my bags and searched through my purse for the apartment keys.

Silence greeted me as I opened the door to the apartment. Steve's cat, Miss Kitty, darted under the table as my "hello" echoed through the empty rooms. "Steve, Steve," I called. "Hey, where is everyone?"

Looking around, I found a note on the table along with a set of car keys, telling me that Steve and Peggy had gone ahead to the hospital. The note said the hospital had called and alerted Steve that hospital bed space in the Critical Care Unit was rather limited. To make sure he could get a room in that unit, they had wanted him to get there as soon as possible. My heart stopped pounding so hard. I read through Steve's note and ripped out the page with directions on how to get to the hospital.

Driving anywhere in California is not one of my favorite things. In fact, terror fills my heart every time I get into a car and onto the freeway. I'd been to the same hospital a number of times, but always with someone else driving, so I was more than a little apprehensive about driving there by myself. However, there was no one else to drive me this time, so reluctantly I grabbed the car keys and made my way down to the garage.

I got lost twice before I reached Cedars Sinai hospital in Beverly Hills. Thankfully, when I arrived there, I was able to find a place in a parking lot near the hospital. I had to sit in the car for a few minutes so my knees could stop shaking and, even as I climbed out of the car, I realized that although I might have made it to the hospital, I still had to face the California freeways on the drive back home tonight. I shuddered.

At the hospital reception desk they gave me Steve's room number. Thankfully, it was on the floor where the nurses were accustomed to working with AIDS patients. If you had to go to the hospital, at least you knew where you stood with these people. They always went more than the extra mile to make sure Steve was as comfortable and pain-free as possible.

As I pushed open the door to his hospital room, I realized why my nerves had been on edge. I certainly was not prepared for the sight that I saw.

"Hi Mom," Steve called to me as I came through the door. I smiled and gave him a big hug, but it was apparent this was not a routine maintenance visit to the hospital. Steve looked really sick. He was extremely pale and his skin had a dark, yellowish-green cast to it. I tried not to let my concern show as I pulled a chair up to his bedside.

At work, when people would ask how Steve was doing, I often described him as a reject from a concentration camp, which they had a hard time visualizing until I showed them a picture of him. That perception seemed even more true now.

At 6'3", Steve weighed less than 93 pounds. This day, he was jaundiced and appeared even thinner than he had when I'd visited him a couple weeks earlier. His eyes were set back in his head like dark caverns, and his nose and cheek bones noticeably protruded from the thin skin that covered his face. I hoped he could not hear my heart pounding, or the panic in my voice, as I sat by his bed trying to find out how long he'd been like this.

Nurses came in and out of the room as we talked. One male nurse told me Steve should have been in a coma, or at least unresponsive, based on the tests he had just performed. He said he was surprised that Steve was alert and talking with me.

But talk we did, as nurses worked around us getting medications hung and setting up monitors. Blood transfusions had been ordered, and when I left at 8:30 that evening, Steve was already beginning to regain some pink tone to his skin. I breathed a sigh of relief.

The next day, Steve seemed to be back on the road to recovery. A lot of the yellow tinge was gone and he said he was "feeling much better." We talked and laughed most of the day. John called Steve several times during the day and that raised Steve's spirits even more.

The only flaw in the day came when nurses talked about having a full-time nurse for Steve when he returned home or having him go to a permanent hospice. Steve loved his home overlooking the ocean. He was deeply disturbed that people were hinting that he might not be able to go back home this time.

Steve's doctor came late in the day, and it was then that I realized the extent of his concern when he asked the doctor bluntly, "Am I going to die?" The doctor assured Steve that he saw no big problems and told him that the hospital would do tests on Thursday to see why he was experiencing so much stomach pain. Dr. Reed did tell us, however, that it appeared that Steve had contracted PCP, which he explained to me as a form of AIDS-related pneumonia.

"We're going to start treating it right now," Dr. Reed told us. "Even though we're not sure it is PCP, it can't hurt anything, and if it is PCP, we'll have a head start in getting it under control right away."

Just before the doctor left he stood close to Steve and quietly said, "I have to ask you this question, Steve. We ask everyone who comes into the hospital. What do you want us to do if something should happen and things go wrong?"

Steve seemed confused at the question. "What do you mean?" he asked. "You just said I wasn't near death."

"Well, for instance, if you had a heart attack or something like that, would you want us to do everything we could to keep you alive? Or would you want us to discontinue aid when we realized it was hopeless?" the doctor asked patiently.

Steve's face looked shocked. The fright shone in his eyes. I realized that though Steve knew he could die from AIDS, he had never considered the possibility that something unexpected could happen. And, Steve had no idea, that not very long ago, that same question had been mine alone to answer.

"What do you think, Mom?" Steve said as he turned toward me.

I swallowed hard. Of course, I didn't want him to let him die under any circumstance. When I'd been forced to make that agonizing decision ten months earlier during one of his hospitalizations, I had made it reluctantly.

"What can I say?" I wondered. "Will what I say scare him even more? Will he think that I don't love him if I give an honest answer?" What can you say when your child asks you a question like that? Your heart is crying out, "Do everything you can to save him," but your brain is remembering the pain in his voice those many times he'd cried into the phone that he wanted to die because he felt so sick.

"It's really your decision, honey," I answered. I took a deep breath and decided to be honest. "Last September when you were so sick," I told him, "I had to make that decision for you and I asked that you not be resuscitated. I thought that you wouldn't want to live if you had no quality of life."

"That's what I want done then," Steve told the doctor. "If things go wrong, I don't want you to do anything out of the ordinary to keep me alive."

"Well, as I said," Dr. Reed remarked with assurance, "there is no reason for me to believe that something will happen, but we have to ask all our patients that question. I'll see you tomorrow."

Steve seemed somewhat relieved after the doctor left. He really trusted this doctor and felt like he was truly a friend. I followed the doctor out of the room and mentioned that Steve was being upset because the nurses were telling him he couldn't go home again by himself. The doctor assured me that he'd speak to them. I also asked why Steve was spitting up so much blood when he coughed.

The doctor explained the blood was from blood vessels that ruptured during the cough. "A normal response to PCP," he said. Then he reassured me again that death was not imminent and he saw no reason why Steve wouldn't be going home in a few days. I felt a couple of tons fall off my shoulders as I returned to Steve's room.

"How long do I have?" Steve asked me as I went back into his room. His doomsday approach to the doctors visit seemed to have put him on edge.

"The doctor didn't tell me anything he didn't tell you," I assured him. "I just wanted to know why you were spitting up so much blood."

"Are you sure, Mom?" Steve asked me.

"Yes, honey," I said "I'd tell you if he had given me some new information, you know that."

But I don't think Steve was fully convinced. I didn't know then, that for several months, Steve had been anticipating death. It was as if he knew the medicine wasn't working, wasn't going to work, and that his days with us were limited. In a phone call to John later that day, Steve told John how scared he was. "I'm really sick," he said, "and I'm scared I won't go home this time." John did his best to reassure Steve, but a sort of pall hung over the room the rest of the evening.

It was about eight o'clock that evening when I left the hospital. Peggy was visiting with Steve when I kissed him goodnight. I nuked a fish dinner I found in Steve's freezer, did a bit of typing on my laptop and then turned on the television. The two-hour time difference between California and Texas was hard to adjust to. It was really late when I called home. I was on the telephone bringing George up to date on Steve, when a beep came over the line for call waiting. Thinking it might be Steve wanting to talk, I answered it.

It wasn't Steve. Instead, it was my daughter, Kim, calling from Missouri. She sounded panicky, and again my usual good intuition didn't kick in. I was, in fact, a bit annoyed at the interruption. I told her to call back in a few minutes. George and I were still talking when she called back the second time.

"Mom, I've got to come out there right now," Kim said frantically.

"It's after midnight, Kim," I chided her. "What in the world are you doing up?"

"I couldn't sleep. I had that bad dream again, Mom," she told me. "The same one I had when Grandma and uncle Ron died." Kim and I had talked about that terrible, recurrent dream. I'd tried to ease her anxiety, but each time she had been right about the outcome and the dream had taken on a life of its own. The kamikazes started flying in my stomach again. I had just left Steve a couple hours before and he was doing fine. I started to explain this to Kim when she interrupted me.

"There's a full moon tonight too, Mom. I've got to get out there! Can you get me a ticket?"

I assured her that the doctor had visited Steve earlier that day, and that he had told me he saw nothing that indicated death was imminent.

"I don't care what the doctor said," Kim declared adamantly. "I'm coming out there tomorrow. I'm even scared he's going to die before I can get there."

"Well, we'll see what happens tomorrow," I told her. "I'll let you know what we find out from the tests. If things are not good, I'll call you and you can come then. But, for right now, go back to bed and try to get some sleep."

Kim seemed resigned to the fact that she would have to wait at least until morning, but she was still adamant about coming as soon as possible. As I hung up the phone that night, I caught myself hurrying to the balcony to look out at the last sliver of the moon as it hung over the ocean. The kamikaze elephants suddenly became a frenzied herd and now they were using jackhammers inside my stomach.

Kim had worked as a nurse for several years. She and I talked often about the times she stayed all night with a dying patient who had no family to be with them. I told her I thought that she was too soft-hearted to be a nurse. Eventually, she recognized that this was true. Nursing took a piece of her spirit she just couldn't replace. She had given her love to all the sick and dying people she nursed, and finally her candle had burned out.

She had always said the full-moon nights were the worst for the patients and the nurses. She had spent many full-moon nights at the bedside of a dying patient, waiting with them, until death finally came. Her contention was that people died more often during the full moon. Of course, I assured her that more babies were born then too. We laughed a lot together about the "full moon foolishness," as I called it. I wasn't laughing this night. An eerie feeling seemed to emanate from the ocean as it lapped against the shore. There was a silence that seemed surreal. A chill ran over me, and I shivered from head to toe as I turned from the balcony to go back inside the apartment.

My own dreams that night were filled with weird events. I was joining a group called "The Daughters of Rebellion." Five sisters who were plotting to overthrow the US government. It was one of those dreams that seems to go on and on. I never sleep well when I'm away from home anyway, and as usual, I'd wake up every few minutes, look at the clock, and then go right back to that same crazy dream.

At about three that morning, I got up and turned on the television. I ran though the channels but nothing held my attention, so I turned it off and tried to go back to sleep. I must have dozed off at some point because Steve's cat, Miss Kitty, decided I made a pretty good pillow and she woke me up several times lying on my legs. All in all, it was not a good night. I longed to be in my own bed and to have Steve safely sleeping here in his apartment.

I was brushing my teeth the next morning about 7:30 when the phone rang. Assuming it was Kim again, I prepared firmly to tell her that she was just going to have to wait to come to California until I knew something solid. My heart stopped when I discovered it was a nurse from the hospital instead.

"I think you'd better come over," she said. "Steve isn't doing very well this morning."

I reached to pick up the phone and call Kim, but then decided I'd check things out first, and call her if I really needed to. I soothed my frayed nerves by reminding myself that during a previous hospital stay, Steve had run the poor nurses half to death by wanting this and that, and then not being satisfied with anything they did. The nurses had called me several times during that stay, just to come and sit in Steve's room so they could get their other work done. I hoped he was just being irritable again, but this morning the elephants were driving army tanks in my stomach, so I hurriedly dressed and drove to the hospital.




Go to Part Two of this story.