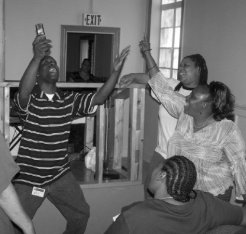 Eric Bailey, Christine Campbell, LaWanda Burns and Sandra Thompson get recharged during an AAIM 4 Life break by singing "Going Up Yonder."
Things are heating up in Mississippi. Last Friday and Saturday, 75 current and future AIDS advocates -- most of whom are living with HIV -- gathered in the House of the Lord church in Hattiesburg for the third AIDS Action in Mississippi (AAIM) summit, AAIM 4 Life. Intended to empower participants to get involved in AIDS advocacy, the summit was one of the largest gatherings of people living with HIV that the state has ever seen.
"After three summits, I feel like AAIM is a self-sustaining organization," said Robin Webb, a founder of AAIM who co-organized the first summit three years ago. AAIM was founded in crisis in 2005, when HIV positive people held a community meeting about the lack of state funding for Medicaid and the need for AIDS policy reform in Mississippi. Hindered initially by the effects of Hurricane Katrina, AAIM has rapidly become a force to be reckoned with. In a state where, according to the 2006 CDC study, there are more than 7,300 people living with HIV/AIDS, AAIM has pushed hard for supportive housing for people living with HIV and an end to a cruel drug cap that only allowed Mississippians on Medicaid to have two name brand drugs a month.
Advertisement
The state is facing another
Medicaid crisis
by refusing to spend $90 million on Medicaid, which, with matching dollars, would give the state $360 million in Medicaid dollars.
One person who is key to tackling the challenges facing Mississippians living with HIV is State AIDS Director Craig Thompson. Thompson, who addressed the crowd at AAIM 4 Life, is working with AAIM field organizer Valencia Robinson and a realtor to develop supportive AIDS housing using HOPWA and Ryan White dollars.
"I Really Want to End This Epidemic"
In addition to Thompson, who spoke about how people with HIV/AIDS in the state need to advocate for themselves because they have more power in the legislature than he does, notable summit speakers included dentist Alicia Rose, who spoke about expanding access to dental care for people with HIV/AIDS, and insurance provider Donald Watts, who talked about how people with HIV/AIDS can get life insurance. But without question, the stars of the summit were the advocates themselves.
On Friday, participants compared notes about the lack of affordable housing, transportation, access to affordable medical care and education. While some folks didn't think they could make a difference on these issues, AAIM field organizer Valencia Robinson pushed people to challenge themselves. "We really pressed the concept of 'How do you advocate when people aren't educated?' Education is a key component of advocacy. People need to know what services we have here and what services we don't," Robinson said. "Even people living with HIV often don't understand, especially the policy side."
Cedric Sturdevant, 42, had never been involved with advocacy until, on the advice of his HIV counselor, he attended AAIM 4 Life last year, which was being held in his hometown of Greenwood. Now he is the new state chair for Mississippi's chapter of the Campaign to End AIDS, and at this year's AAIM 4 Life, he brought five people with him from Northern Mississippi. Diagnosed with HIV in 2005, Sturdevant said he was infected while in a six-year relationship. "Even if you're in a relationship, you still need to practice safe sex. Like most of the younger people today, I thought it can't happen to me. I want to make sure people are educated to know that that's not the case," he said.
Sturdevant was one of the many summit participants who signed up to participate in AIDSWatch in Washington D.C. in May and a 175 mile walk from Jackson to the presidential debate in Oxford, Mississippi, on September 26. "I really want to end this epidemic and do a lot of prevention work," Sturdevant said.