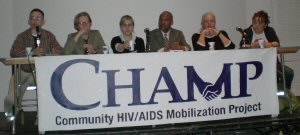 6:30-8:30 PM, The LGBT Community Center, New York City
As HIV/AIDS continues to impact our communities in the U.S. and abroad, thousands of us are responding directly to the epidemic in our daily lives and workplaces. Many of us are a part of the AIDS service sector; many of us are a part of the AIDS movement -- an activist movement. But why do AIDS activism and service provision often seem so disconnected from one another? With most AIDS organizations relying on government and pharmaceutical industry money to survive, are these efforts to build a strong and visionary movement to end AIDS and fight for social justice limited or restricted?
This forum explores how we can bring advocacy and community organizing into AIDS service organizations. Panelists shared their own experiences in bridging activism and service, and helped us strategize together to build a more viable and sustainable social movement.
Speakers:
Amber Hollibaugh, National Gay and Lesbian Task Force
Frances Kunreuther, Building Movement Project
Amanda Lugg, African Services Committee
Michelle O'Brien, Gay Men's Health Crisis (GMHC)
Frank Oldham, National Association of People with AIDS (NAPWA)
Moderated by: Julie Davids, Community HIV/AIDS Mobilization Project (CHAMP)
Co-sponsors:
African Services Committee
Building Movement Project
Community HIV/AIDS Mobilization Project (CHAMP)
Gay Men's Health Crisis (GMHC)
LGBT Community Center
National Association of People with AIDS (NAPWA)
Summary of Discussion
Welcome: Julie Davids, Executive Director, CHAM
Thanks for coming tonight. It's a much smaller crowd than usual, and I would like to note that. The place of HIV/AIDS advocacy in our AIDS service organizations (ASOs) is a big challenge and a big question. Yet, this discussion does not seem to be a big draw tonight. This is a hard discussion.
Early on in the AIDS epidemic there were not any ASOs, but now there are many. But they are experiencing and facing funding cuts. Non-profits in general are under attack through funding cuts and for doing advocacy work.
Today our society has transitioned to a service economy -- and "service" means social services, too. ASO workers are the factory workers of today. In the past, we looked to factory workers to compose the grassroots of advocacy. Should we look to ASOs for this base of support today? Are they the right folks to do this?
Michelle O'Brien, Gay Men's Health Crisis (GMHC)
Tonight, I won't talk about the community organizing program at the GMHC. Instead, I will take a step back and talk about the role of accountability in AIDS organizing and ASOs.
How many people in the audience either currently work or have worked for an ASO? [Several hands rise.]
How many people have received services from ASOs? [A fewer number of hands remain up.]
Keep your hands up if you have organized advocacy work through your ASO. [Many fewer hands remain up.]
If advocacy reflected your needs and you had a say in how it happened, keep your hands up. [Even fewer hands remain up.]
Accountability? What does it mean?
Comment from audience: "Responsible."
Comment from audience: "Responsive as well; listen to what people want and give it to them."
Accountability is about answering to someone. At the end of the day I answer to my supervisor, and if s/he does not like what I do, then I don't get paid!
A typical HIV/AIDS group (ASO) provides services to PLWHAs, which can, for instance, range from direct services to case management. Usually, such an organization primarily receives government funding, though some paid staff sometimes receive salaries funded by other types of funders.
This is a key consideration to consider in the AIDS movement right now.
We have a huge AIDS service infrastructure that we fought for and won. But what are we fighting for now and for whom? Who are we accountable to? AIDS organizing is about fighting for others and being accountable to funders. When we do this, it narrows the work one can imagine and do, and one is not accountable to the people for whom the HIV/AIDS services are for -- People Living with HIV/AIDS (PLWHAs).
So when I work in an ASO, I end up working for the funders rather than the people I work with (PWLHAs). The staff of ASOs who work directly with their constituents (i.e., PLWHAs and others who access services) grapple with problems and work with people from different demographic backgrounds than the folks with the money. What results is a skewed accountability that reflects power imbalances between the people who manage and the people whom they serve.
ASOs benefit their organizations and their services when they do organizing -- they get funding to keep doing their work. From time to time, ASOs feel a need to convince PLWHAs to show up and be the face and voice of AIDS, but they generally have no control or say in what happens in these advocacy efforts. PLWHAs may be manipulated by organizations that may or may not have PLWHAs in leadership roles (like board representation or on staff).
So, PLWHAs are moved around like pawns and are not involved in changing how power works and how decisions are made.
This part of accountability does not get asked.
Draw this from insight -- the revolution will not be funded. Radical social movements in the 60s and 70s threatened to change what happens in the US, but they were contained as the movements were steered into a model of professionalized non-profits instead.
AIDS is at the heart of many systems of domination and oppression -- like poverty, racism, incarceration, police violence, misogyny, and other forms. These processes do not just affect one's individual behavior, but violence and domination limit the efforts of people to have a say in their own lives.
How can we build movements of social change to address forms of violence and structural domination? One place to start is within our own organizations -- what does it look like now and what could it look like?
In a better world, we would answer to those most impacted by the epidemic: men who have sex with men, drug users, folks in prison (just to name some groups that don't receive enough attention). We can only decide on a new direction through direct involvement, community accountability, and democratic decision-making and structures that we have not developed yet. This must be lead by PLWHAs, and that is what it will take to end the epidemic. The big challenge is that this is not a question that many people are up for asking.
Frances Kunreuther, Building Movement Project
The Building Movement Project advocates for non-profit organizations to build a strong social justice ethos into their vision and activities and to strengthen the role of non-profit groups as sites of democratic practice. The project was developed to look closely at the role of US-based non-profits in building democracy by offering weight, voice and scale to marginalized and disenfranchised populations through social change organizations.
The big issue is one of accountability. It is hard to decide who a group is accountable to when the organization has to pay everyone and keep itself running. It can be hard to stay connected to the actual service base -- that is, the clients the organization is charged to serve.
The assistance that the Building Movement Project offers is process-guided. How does work get done in an ASO? I'm going to go through our Transformation Model -- what the process means. When organizations engage in this process, individuals in it transform it and the organization does not come out the same at the end as it was when it entered the process.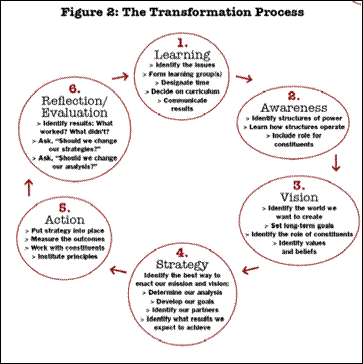 Comments on the Transformation process:
Step 1: We ask people to stop for a second to learn about systems and root causes of the symptoms of the problem for which an organization sees its clients. For instance, in a soup kitchen we worked with -- why are 2,000 people a day coming in? Answer: Other facilities cannot serve enough meals for everyone.
Step 2: When dealing with power, what is the breakdown of power in the community and organizing? Who has power in positive and negative ways and how is it being used? We advise organizations to explore the role of their constituents in systems of power.
Step 3: Everyone can tell you what an organization's mission is, but it takes much longer to say "why." What will the world work like if we achieve our mission? One person can't achieve a vision. An articulated vision calls out for collaborations. Who do we bring together? What is the organization's role in that vision?
Step 4: Strategy and action sometimes go together, but we need to think about strategy first. And we don't want to get stuck there. Action is simply testing the vision.
Step 5: Put the strategy into place, measure the outcomes, work with constituents, and institute principles.
Step 6: Reflection & evaluation -- what went wrong? Usually, we only look at what works right.
Many of the groups we work with focus on the first three points of the transformation process, but it is possible for a group to initiate this process at a later point in this model.
Question: The model assumes that the organization has buy-in, but what about a group's constituents?
Frances: The constituents must participate in the process. The executive director needs to sanction the work. In the first step of the process, the learning groups should include a constituent learning group. Some groups do not do this, but it is imperative to bring the constituents in by the third step -- or the group is in trouble.
Learn more about our findings and download information about how to incorporate social change into your organization by visiting our website.
Frank Oldham, National Association of People with AIDS (NAPWA)
NAPWA -- the National Association of People with AIDS -- is the oldest PWA group. It was founded on The Denver Principles, which declare that PWAs must be involved in every aspect of planning for PWAs. Next week, we will assert this principle during AIDS Watch -- please join us there and/or on our website.
All of us as individuals and organizations have strategies for survival in the US. In 2005, in the aftermath of Hurricane Katrina, we witnessed on CNN what happens to all disenfranchised by society. Ironically, during the disaster, 50 black gay men were gathered in a consultation with the CDC to discuss why a staggering 46% of black gay men are HIV-positive.
AIDS for African American gay men is like a Hurricane Katrina, but AIDS causes destruction over a longer timeframe (a 25 year period).
When I joined NAPWA, I discovered that the organization was in a hostile and contentious relationship with lawmakers and funders. NAPWA's tactics were more passionate and angry than strategic.
Right now, we are dealing with an administration that has reduced funding, support services and planning for all PWAs. They want to dismantle the AIDS care system because it brings together gay men of all colors to get organized, and this administration does not want this. Rather, it promotes homophobia and hatred. Substance abusers, too, are ignored.
Also critical to research is to know who our allies are. At the CDC and HRSA, we have friends in government, and we need to build on these relationships and not build on our own anger.
One of the worse things that happens to African American men is that we get angry and destroy ourselves. We must not do this.
We need to get out of the bunker mentality in which we are under siege. This would be an important change now because we have Democrats in control of Congress.
NAPWA lost many of its staff and much of its funding in 2005. Our website angered people in power in a way to allow them to justify cutting off our funding.
I have worked for mayoral administrations in New York City, Washington, DC and Chicago. I learned that it is possible for AIDS advocates to work with political leaders to gain support for HIV/AIDS in such a way that they do not leave fingerprints -- that is, be publicly associated with something that is politically difficult for them.
This is how ASOs lose funding: the government funder tells an ASO that the agency wants to rethink how to do a program. Therefore, the agency issues a new RFP, and encourages the existing grantees to apply, assuring them that their application will be reviewed fairly. But very often the agency does not get the funding -- and such defunding can cause the organization to fold.
Housing, food and health should be everyone's right. But we live in a capitalistic society and everything is based on resources. My job as an executive director is to raise money and to make sure that PWAs are represented in Congress and in ASOs. It has been borne out that whoever raises the most money wins in presidential elections, after all.
We should not become complacent and we must become competitive.
An example of this is National HIV Testing Day, which is a program that NAPWA started. A new RFP for the program came out and we had to reapply. Basically, the staff told us that we would continue to get the grant, and this remark could have prompted us to not do much work on the new RFP and write something mediocre, since we expected to get funding. We acknowledged, however, that the RFP needed some work. In the end, we won the RFP and in the process repaired our relationships with the CDC.
We have people who listen to us in government, but they also have to listen to their administration -- and therein lies the moral conflict that we have to deal with.
Amber Hollibaugh, National Gay and Lesbian Task Force
ASOs historically and traditionally operate from the position that they are for people and not of the people -- that is, people who want to attend to a problem. This is a construction of social work, which is driven by the idea of caring for people who are needy and service organizations are framed that way.
ASOs emerged from a movement that birthed AIDS activism because there were no organizations that had services for people with HIV or those at risk. The stigma was so profound; hence, ASOs started with advocacy embedded in how they did their work.
But today ASOs have become more professionalized. More service providers came to have no advocacy component at all -- even if they saw the value of it or maybe had a little advocacy embedded somewhere in the organization. The GMHC has always had an advocacy unit, but even then, its policy area has a different relation to power than the services. At GMHC, services and policy (advocacy) operate in silos, especially as the organization provided more and more services.
Smaller ASOs are in a better position to be more engaged. The question of infrastructure becomes another kind of question. Groups that are small and embedded in communities where they are doing work face challenges as they grow. If the group gets more funding and grows, it gets further removed from its constituents.
There really is no "movement" now -- it is very hard to build capacity for a radical vision of what you want an AIDS organization to be. It is even harder to hold on to this when a group is trying to provide services for vulnerable people because advocacy may be an activity a group may perceive as actually threatening its funding.
During the last six years (the Bush administration), most LGBT workers have never done radical social change activism, even if they consider themselves as social change people. But this self-perception actually means electoral activism or service provision -- not direct action or some other more confrontational or radical vision. Though these folks are concerned about injustice, many of them think more traditionally about how to solve that problem.
A complicated issue to talk about on this topic of ASOs and activism is that most people who work in them are not taught the tools they need in order to actually do advocacy. For instance, there often is no understanding of class analysis or race and racism. And if a person has no tools to understand how these processes work, then it is hard to figure out what social justice work to do to undo it. Without an analysis of class, race, gender, and so on, when these individuals seek a seat at the negotiating table, they will be willing to give some people up to get that access.
When service provision tries to figure out advocacy, it is a difficult conversation. An example is the GMHC back when it did not have a history of advocating for women. For years, the lesbian unit dealt with all women in the agency because the agency did not know what to do with the women constituents in it. It was perceived to be a "values" fight. Gay men and gay men of color for some reason felt they could not represent everyone. When confronted with racial, economic and gender questions, they were uncomfortable, and by default the Lesbian AIDS Project did the work because the agency itself was not able to do that work, even though there was some sympathy for it.
Women with HIV were caught in a bind of being invisible in some aspects of service provision as well as having a second-status in the ASO itself.
Things have changed dramatically at GMHC today. Now the GMHC has a unit called the Women's Institute. After a struggle, women now have much more representation within the agency. One of the bits of rhetoric I heard during efforts to provide better services to women was that some gay men told me that the reason there is a Lesbian AIDS project was because this population had "virus envy." That is hard to hear in a movement when you share the issue.
We need to train ASOs in the skills of movement building and leadership. People who work in ASOs can shape the agenda of the organization in which they are a part. If we do not this, ASO staff feel shut out of advocacy and decision-making. This leads to frustration, especially if staff feels conflicted in the way they serve their constituents.
We need to be smart about strategy. Also, activism can be independently and externally driven in an activist/advocacy movement. Then, groups like the GMHC can sign-on or join as a part of a broader coalition.
We need to be partners with other service providers. We need to understand that their advocacy tactics and strategies present contradictions because of the source of funding. We need to develop a vision of advocacy that will become more central to the work they do and allow them to partner with activism independently. Together, activists and service providers can work together to guide ASOs with advocacy at the center of their mission and vision.
Amanda Lugg, African Services Committee
I will shift this discussion slightly by speaking to how African Services Committee integrates advocacy into our work.
African Services started as an immigration resettlement agency in 1981. We began by addressing the Ethiopian famine. Today, a majority of our direct services are HIV/AIDS related: case management and support, integration, nutrition. An especially important part of the work African Services does is to educate the broader immigrant community about the role that HIV stigma plays in the lives of people in it. One way we help our clients sidestep stigma is by designing our programs in such a way that constituents with HIV can say they are accessing services for things not explicitly identified as AIDS services. We offer other, more general services in the organization, like a food pantry and legal services. So, clients can say they went to African Services for a reason other than HIV.
The majority of Africans who settle in New York City arrive from Francophone West Africa, and about 90% of them are undocumented/without legal status. This presents challenges when trying to integrate advocacy into our work. Though integrating advocacy into our programs has been a long road, we are now successful at doing this. Nevertheless, as recently as six years ago, we really did not have a reputation of advocacy for African immigrants.
For our constituents, advocacy presents several challenges. First, the undocumented status of the people we serve requires sensitivity to exposure. Second, language can be a problem -- our clients speak a number of different languages. Third, most immigrants come from societies that value cohesion and frown upon dissent and conflict. Therefore, there are real concerns about African Services' constituents participating in demonstrations, rallies and actions that involve arrests.
We have a much higher attendance of members who go to actions in Albany and DC than in NYC. If they participate in actions in NYC, some members are afraid that other members of their community will see them. There is the possibility that whoever saw them demonstrating might then tell others in their community, and a possible result is ostracism from it.
We see such vibrant AIDS activism in Africa, but why not in the United States, especially since there is not as much risk for imprisonment here? The reason is that the support structure at home is not quite the same here in NYC -- it is a small support system in NYC. And if a local person is vocal and visible, there is a chance that person will lose the support of people in the local immigrant community. Losing social support is a huge risk, and it is a valid reason for many who feel they cannot participate in our advocacy/activist efforts.
African voices in the US must be heard and those voices can represent the voices they left back home. African Services is working on ways to make this happen.
Three years ago, we got our first advocacy grant from the Ms. Foundation. It was a small grant to hire a part-time peer organizer. This has helped us to build leadership and help African Services become a better immigrant advocacy group. Even though it feels like we are taking baby steps, the effort is a success and we are extremely pleased with it.
We are working to build safe, cohesive support systems for the people we serve, so that they can go out and advocate -- and then have a safe, informed and protective environment to come back to.
Summary of Questions and Discussion:
Question: Frances, in your example about the soup kitchen, what were the results from it?
Frances: They use staff meetings to do readings together. They read about poverty in Detroit. Commuters work in the city of Detroit, so those people don't live in the community and don't know about poverty. We held a men's group, a women's group and a clients' group -- and the clients' group was most successful. They started their own bakery, sell bread outside of churches and live in a communal house situation using that money.
The focus of the staff of that soup kitchen changed to allow clients to make signs to protest a neighboring store that refused to deal with one of their clients. Also, in their evaluations, they are measuring a commitment to community development. Questions about community development are on their evaluation now, and they are measured on them.
Comment: Regarding Frank's remarks, there are very few funders and getting direct services for poor people is difficult. Changing consciousness to fit the current political reality is a big concern of mine. When ASOs adopt positions that are not science-based in order to keep their funding base for services is problematic. There are other ways for ASOs to deal with this reality of the conflict of source of funding and the mission of the organization. For instance, Housing Works took strong positions and Giuliani chopped funding -- but they got it reinstated.
Amber: Housing Works can take those positions because the agency is big enough to cover their losses. But what if a cut means that the organization will no longer exist because they do not have the luxury to kick Giuliani's ass? A density of resources meant Housing Works could make hard decisions, but I see situations when ASOs decide they will not provide any more services. So, for instance, when a decision is made to cut out abstinence-only-until-marriage funding, the argument is made that people need this info; however the funding mandates that the ASO provide bad information. Adhering to the strictures of abstinence-only funding devastates groups that do youth work. How do you get smarter than the funder and get around what they want you to do? The risk is not only the loss of a staff position, but also that people will not get the information and services they fundamentally need.
Frank: Laws exist to protect property. Housing Works raises money and strives to be independent. But poor people and most organizations run by and serving people of color are dependent on government money. How many progressive people are around to give money to progressive causes? That is a full-time job and a dilemma for us. We solve it by being strategic. In terms of abstinence-only-until-marriage funding, we could focus on people who have a certain upbringing and resources that influence or enable them to be abstinent. But, of course, because of the restrictions, it is really hard to take that money.
Julie: One of the features of the history of the AIDS movement is the establishment of federal advisory boards and community advisory boards (CABs) as a result of community pressure. CABs provide opportunities for clients and advisors to speak out. CABs are funded and provide training, but this advocacy money trains people to speak only in a certain way. One of our concerns at CHAMP is that we tell people not to be on CABs that ignore the needs of the clients their own organizations serves, because it goes against what we are trying to accomplish as activists.
What do we do with our leaders who get snapped up by planning bodies? Should people be focused on organizations themselves or should there be a movement on the outside?
Frank: I recommend going inside the power structure itself. It is a wonderful idea to take on the power structure. Politics are constantly changing. Once Giuliani and Laura Bush could be described as liberal democrats. CHAMP as an independent group is critical; Fenton at the CDC works to change things on the inside (in the government), perhaps in a smaller way.
Amber:It is good to know the inside, but realize that inside is not the place where we will do the work. How can we link advocacy and activism so that a person does not risk losing their agency and can still do their work? For example, earlier in the epidemic when people with AIDS were dying in large numbers, I had an experience when I had to talk to a hospital administrator. It was a sobering moment because I couldn't stay just either on the inside or on the outside. It was not so simple to conceptualize my activism as being more "moral" to be outside and "immoral" to be inside. Remember, you can be in two places. It is not unimpactful to be a case manager working to house people who need housing -- but it is not the same as realizing that there is not enough funding for housing. Social justice advocates need to be better at figuring out how to choose their own role and own way to be in dialogue with each other. Service provision and advocacy just are not identical places.
Michelle: It is not simple to figure out what "leadership development" means. One approach is to teach people basic office skills and track them into planning councils and specific advocacy roles. In these structures, PWAs are told what to lobby for and speak about, which is opportunistic. Instead, ASOs should open up space for people to develop visions of social justice. Organizations need to open up the issue of what we need to do to end AIDS. Right now, no organizations or movements have what is needed to end AIDS. Now, in my work, I try to open up room so that we can imagine what kind of movements we could build that will go beyond what GMHC, for instance, can do or be.
In the mid-1990s the client advisory board at GMHC got out of hand. It was perceived by management as being too critical and they dissolved it and reformed it without any explicit power. The new client advisory board had no decision-making authority at all and a mean staff person who coordinated it administered it. Then this person left and clients seized that opportunity to demand a new group that will let us express what we feel and think. Under pressure from clients, the board was renamed. Also, this advisory board won the right to elect a client seat on the GMHC board. This would ensure that this person would not be a token picked out by the board or the management, but that the board member would be someone actually accountable to clients and someone who has to answer to clients.
This is a small example of a revolutionary moment when democracy takes on new meaning.
In Czechoslovakia, as the government was transformed and the USSR collapsed, students took over the university and voted on who they wanted to stay. The students elected one art professor as a leader. She taught people how to make lace and they voted her in. How can we create revolutionary moments like this one to create the kind of society we want now? How can we open up groups that allow us to achieve our vision?
Question: What is the African Services Committee doing to connect to other African groups in New York City?
Amanda: We will not turn anyone away who is not African, but we see a lot of people from Central America. They come to us so that other people in their communities will not see them accessing our services. This May, we will start to identify as African-led and as providing services to the African community. We have a promise of funding to gather immigrant Africans and HIV+ immigrant communities in the US.
Question: What is at stake for people who are most affected in terms of stigma, when we open up spaces for people to address advocacy? For instance, in needle exchange programs, people either don't want to go to meetings or they say that they do not have the time.
Julie: In recovery houses in Philadelphia there are teach-ins. At the beginning of the teach-in, we simply address the issue of arrest as being central to direct action -- which, of course, is not the case; direct action is much more than that. So we get that topic out of the way immediately.
Amber: People will do different things if it allows them to participate. For example, in rural organizing around gay issues, LGBT persons in a community will often go to a nearby town to organize so that they are not so visible and targeted in their own communities. In fact, LGBT activists often "swap towns" so that they can do things so they can do more in their organizing as an anonymous person. There are also multiple roles for activists -- for instance, someone who cannot be arrested can be support staff for those who do get arrested in a demonstration. We need to organize in such a way as to give activists a range of choices in their work. We need to cultivate an energy that allows everyone to help because we need everyone to help. We need to sustain and support other peoples' actions that we are not individually able to do. So, it is important to give people a range of risks to choose from when they do direct action. One does not have to choose nothing or everything.
Frank: In the current political environment, everything is at stake because Republicans want to dismantle everything. Planning councils initially determined HIV/AIDS funding allocations, but now these structures have lost power because there is a movement afoot in this country to "normalize" AIDS. The emerging frame of AIDS as "normal" could be thought of as the way that people view the homeless -- that is, how a homeless person is seen as a "normal" part of the landscape.
Comment: When ACT UP started, activists understood that poverty breeds illness. Now it feels like the flame is burning out. Older AIDS activists are not able to be arrested like we used to. The grassroots fought for the Minority AIDS Initiative and the Ryan White Care Act, but today I don't understand why the community is not mobilizing anymore like we did in the 80s and 90s. I guess that the first wave of AIDS activists are aging and have moved on to other things in our lives. But now we need to hold gatekeepers accountable, and all the remaining ACT UPs need to stand up!
Question: What about intergenerational work? Can we expect a new generation of AIDS activists to do things the same way or differently?
Frances: There is some misunderstanding between "Generation X" and "Baby Boomers." We need to have conversations and understand those stories. People born since 1979 understand this work, but they came to it differently. They have always lived with it. Since there are differences in experience of how they came to this work, we need to talk to each other without blaming each other. We need to talk about these differences in a non-antagonistic way.
Amber: There is an incredible hunger for activism. Those that came out of the 60s, 70s and 80s do not seem to be good at discerning that there are things we need to learn. Instead, people in this generation tend to lecture younger activists without acknowledging how we also really screwed things up in advocacy and grassroots activism. We assume that we do not have anything to learn; we have this attitude of "listen to me but I will not listen to you because I have been there." Younger people need to generate activism on their own terms -- and to generate their own mistakes, too.
Activism is not generational. It is also about feeling welcomed. If I feel mistreated as an older person when I join a group, then I won't organize. We need to frame a dialogue about what we, as older activists, have to learn in a new world.
Comment: My child is my greatest teacher and greatest student. I bring my child to meetings and rallies, but people ask me why I bring him. Without that experience, would he really want to engage?
Comment: We should stake out a new position of young people and activism. Globalization and the environment are big issues for young people. As a first cohort boomer, there is a tendency to say that my experience is "the" experience. Young people's relationship to HIV is different than mine, but that does not mean that their experience is less than our experience. Older people need to get out of the way to allow new leadership. We need to support them by making ourselves available -- and, to get out of the way, too.
Julie: Thanks for coming tonight. Let's keep working towards a better world that is not completely privatized or "service-ized."