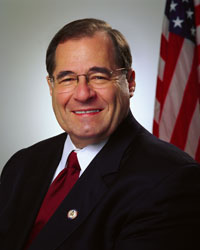 Tell your rep to follow Nadler's lead!
"Patron saint of HOPWA" Representative Jerrold Nadler (D-NY) and Joseph Crowley (D-NY) released a programmatic sign-on letter on March 4 to the Chair and Ranking Member of the House THUD Appropriations Subcommittee requesting $470 million for the Housing Opportunities for Persons With AIDS (HOPWA) program for FY2009 -- the amount required to provide housing assistance to an additional 40,000 low-income people with HIV/AIDS and their families.
The President included a recommendation of $300 million for HOPWA in his FY2009 budget representing flat funding from the current fiscal year, which is not enough to make a real dent in fighting homelessness among people with HIV/AIDS.
Advertisement
Here is the challenge: Sign-ons from members of Congress are urgently needed!
The deadline for your member to sign on to this critical letter urging the Chair and Ranking members of the House THUD Appropriations Subcommittee to fund HOPWA at $470 million is Wednesday, March 19.
Follow these easy steps to request that your Representative sign on:
Call the Capitol Switchboard at (202) 225-3121 and ask to be transferred to your Representative's office. (Don't know who your rep is? Visit www.house.gov to find out.)
Ask to speak to the staffer in your representative's office that handles housing funding issues.
Tell the staffer that you are a constituent, that HOPWA is important to your community, and that you urge the representative to sign on to Nadler and Crowley's letter to the Appropriators asking for $470 million dollars for the HOPWA program in FY2009. He or she can sign on by contacting Jillian Youngblood in Nadler's office or Kevin Casey in Crowley's office.
The following representatives have already signed on:
Steve Cohen (D-TN)
Joe Courtney (D-CT)
Joseph Crowley (D-NY)
Keith Ellison (D-MN)
Sam Farr (D-CA)
Al Green (D-TX)
Maurice Hinchey (D-NY)
Carolyn Maloney (D-NY)
Jim McDermott (D-WA)
George Miller (D-CA)
Jan Schakowsky (D-IL)
Bobby Scott (D-VA)
Carol Shea-Porter (D-NH)
Chris Van Hollen (D-MD)
Henry Waxman (D-CA)
Robert Wexler (D-FL)
If your representative is on the list, feel free to still call his or her office and give a hearty thanks! But if not, tell your rep to get a move on! (Afterwards, please e-mail the National AIDS Housing Coalition at latoya@nationalaidshousing.org to let them know your success.