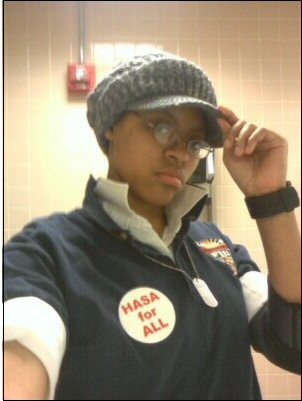 Conway became a full-fledged AIDS activist after YAI
Do you want to work to end HIV/AIDS as an epidemic, but aren't quite sure how? Are you between the ages of 16 and 26? Are you available from June 25 to 29? If you answered yes to all three questions, then listen closely to these three words that could change your life: Youth Action Institute.
Just send in an application by March 22 and you could be headed to Albuquerque, New Mexico, for the Youth Action Institute, the jump-off for an incredible summer-long journey to AIDS activism. At YAI, participants discover how they can join in the fight against the epidemic from experienced activists living with HIV/AIDS, network with other young people from around the country, and learn the basics of AIDS advocacy from grassroots organizing to lobbying to direct action (i.e. protests and demonstrations!).
Advertisement
When Chakena "C.C." Conway, 21, applied for YAI, she didn't know what to expect. Conway, who was prenatally infected with HIV, had long volunteered in schools, teaching about safer sex. But YAI taught Conway that AIDS activism is more than just prevention and education. "YAI stirred up a lot of passion in me," said Conway, who participated in her first-ever protest
"Trick or Treat" protest
in Philadelphia, and has since participated in the protest in
Myrtle Beach
and a
HASA for All rally
in New York.
But Conway's biggest accomplishment was her YAI project.YAI participants also plan an eight-week project to work on once the June session is over. The goal of the project is to work with a local AIDS organization and YAI staff to build participation in the Campaign to End AIDS, a national network of people living with HIV/AIDS dedicated to ending AIDS worldwide. Conway and her Miami cohorts, including Quintara Lane and Fredia Webster, spearheaded a caravan to Alabama to participate in the pool party for Caleb Glover in Silver Hill, Alabama where Caleb, then 2 years old, had been denied entry to a swimming pool because he was HIV-positive.Caleb's situation resonated with Conway, who was also HIV-positive since birth. "I put myself in Caleb's position, and really felt sympathy for what he went through," Conway said. "He was too young to understand what was going on, and it was like I felt it for him."
Conway's all-youth caravan exceeded their fundraising goals and their youth proved a disadvantage in only one case: In Florida, you have to be 25 to rent a van. But the caravan found an elder to co-sign, and the caravan exceeded fundraising goals and was even able to purchase a GPS for the van, which was "key" to surviving the 10-plus hour journey, according to Conway said.
Applications are due March 22! For more information contact Johnny Guaylupo at johnnyc2ea@yahoo.com, Lolisa Gibson at lolisadede06@yahoo.com, or Kahlo Benavidez at kahlo@santafemc.org. To read about last year's YAI click here.